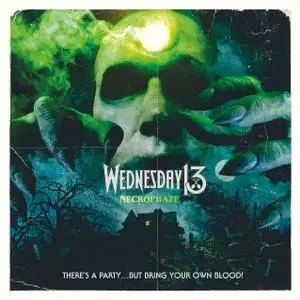 Wednesday 13 - Necrophaze (2019)
U.S.A. | MP3 CBR 320 Kbps | 97 MB
Horror Rock | Label : Nuclear Blast
The Duke of Spook has returned once more from beyond the grave to reveal the »Necrophaze«! This latest, full length offering from the ghouls of WEDNESDAY 13 will be available on September 27th, 2019 via Nuclear Blast Records. Heavily influenced by the real life night terror occurrences of Wednesday himself, historical serial killers, and a slew of 80's horror films, the ideas behind »Necrophaze« are bizarrely familiar, frightening, and a hell of a lot of fun. Being a collector of both media and toys, Wednesday 13 was inspired by a craving for variety to create dual album artwork for this release. »Necrophaze« is also the first WEDNESDAY 13 record with planned & performed guest spots which include appearances by Alice Cooper, Roy Mayorga of STONE SOUR (who provides an eerie, authentic, 80s inspired synth soundtrack-score to the album), Alexi Laiho of CHILDREN OF BODOM, and Christina Scabbia of LACUNA COIL. Also making an appearance on the album is Jeff Clayton: member of legendary punk bands ANTiSEEN & GG Allin's MURDER JUNKIES.
Tracklist:
01. Necrophaze
02. Bring Your Own Blood
03. Zodiac
04. Monster
05. Decompose
06. Be Warned
07. The Hearse
08. Tie Me A Noose
09. Life Will Kill Us All
10. Bury The Hatchet
11. Necrophaze Main Theme (End Credits)
12. Animal (Fuck Like A Beast)
Total playing time 41:12