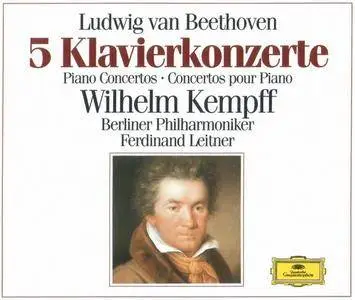 Wilhelm Kempff, Berliner Philharmoniker, Ferdinand Leitner - Beethoven: 5 Piano Concertos (1998)
EAC | FLAC (image+.cue, log) | Covers Included | 03:15:22 | 811 MB
Genre: Classical | Label: Deutsche Grammophon | Catalog: 427 237-2
Five Piano Concertos and the Piano Sonata No. 32, opus 111, recorded in stereo in 1962 and 1964, respectively, by Wilhelm Kempff [1895-1991] and the Berlin Philharmonic Orchestra under Ferdinand Leitner [1912-96]. The sonata, the composer's last, is certainly more than a mere filler, from the opening hesitancy of the 'Allegro con brio ed appassionato' to the extended closing section of the second movement.
A decade earlier, the pianist made mono recordings of the concertos, with the same orchestra under Paul van Kempen [1893-1955]. This remastered version is still marginally my first choice for the level of communication between conductor, orchestra and soloist, and its overall impressive sound.
Kempff's inclusion of his own cadenzas may limit the attraction of his recordings for some, but they exemplify the traditional role of the soloist in such composition. Less muscular than many later cycles, that of Gilels and the State Symphony Orchestra of the USSR conducted by Kurt Masur being perhaps the most obvious, it seems to me that Kempff adds considerable emphasis through understatement. I found the first three concertos to be more refined and marginally less structured than the latter two, which removes any sense of building the cycle organically.
Not for the first time, I am impressed by Kempff's ability to create interpretations that sound as if he is exploring the music for the first time. This is an appropriate memorial to a pianist who was at the heart of DGG's postwar revival under the familiar crown of tulips trademark. Highly recommended.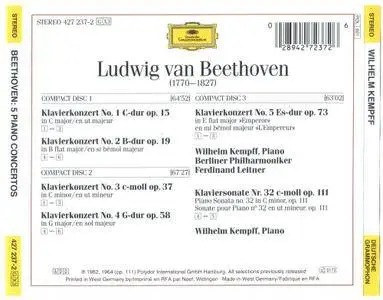 Track List:CD 1:
Piano Concerto No. 1 in C major, Op. 15
01. I. Allegro con brio
02. II. Largo
03. III. Rondo. Allegro
Piano Concerto No. 2 in B flat major, Op. 19
04. I. Allegro con brio
05. II. Adagio
06. III. Rondo. Allegro molto
Exact Audio Copy V0.99 prebeta 5 from 4. May 2009

Отчёт EAC об извлечении, выполненном 17. марта 2012, 23:25

Wilhelm Kempff, Berliner Philharmoniker, Ferdinand Leitner / Beethoven - 5 Piano Concertos - CD1

Дисковод: _NEC DVD_RW ND-3570A Adapter: 3 ID: 1

Режим чтения : Достоверность
Использование точного потока : Да
Отключение кэша аудио : Да
Использование указателей C2 : Нет

Коррекция смещения при чтении : 48
Способность читать области Lead-in и Lead-out : Нет
Заполнение пропущенных сэмплов тишиной : Да
Удаление блоков с тишиной в начале и конце : Нет
При вычислениях CRC использовались нулевые сэмплы : Да
Интерфейс : Установленный внешний ASPI-интерфейс

Выходной формат : Пользовательский кодировщик
Выбранный битрейт : 128 kBit/s
Качество : Высокий
Добавление ID3-тэга : Нет
Утилита сжатия : C:\Program Files\Exact Audio Copy\Flac\flac.exe
Дополнительные параметры : -8 -V -T "ARTIST=%a" -T "TITLE=%t" -T "ALBUM=%g" -T "DATE=%y" -T "TRACKNUMBER=%n" -T "GENRE=%m" -T "COMMENT=EAC FLAC -8" %s


TOC извлечённого CD

Трек | Старт | Длительность | Начальный сектор | Конечный сектор
––––––––––––––––––––––––––––––––––-
1 | 0:00.33 | 14:33.37 | 33 | 65544
2 | 14:33.70 | 12:07.00 | 65545 | 120069
3 | 26:40.70 | 9:35.38 | 120070 | 163232
4 | 36:16.33 | 13:14.62 | 163233 | 222844
5 | 49:31.20 | 9:02.38 | 222845 | 263532
6 | 58:33.58 | 6:18.50 | 263533 | 291932


Характеристики диапазона извлечения и сообщения об ошибках

Выбранный диапазон

Имя файла F:\Exact Audio Copy\Beethoven - 5 Piano Concertos - Kempff, Leitner\CD1\Wilhelm Kempff, Berliner Philharmoniker, Ferdinand Leitner - Beethoven - 5 Piano Concertos - CD1.wav

Пиковый уровень 92.6 %
Качество диапазона 99.9 %
CRC теста 8E67B97A
CRC копии 8E67B97A
Копирование… OK

Ошибок не произошло


AccurateRip: сводка

Трек 1 точное извлечение (доверие 2) [FA5F5C3F]
Трек 2 точное извлечение (доверие 2) [27189066]
Трек 3 точное извлечение (доверие 2) [F2868499]
Трек 4 точное извлечение (доверие 2) [77816E96]
Трек 5 точное извлечение (доверие 2) [C9F061DD]
Трек 6 точное извлечение (доверие 2) [85266D3C]

Все треки извлечены точно

Конец отчёта
[CUETools log; Date: 13.04.2018 10:52:18; Version: 2.1.5]
Pregap length 00:00:33.
[CTDB TOCID: YRnuahR8AneVQFmetBhkZ.dHoeM-] found.
Track | CTDB Status
1 | (94/95) Accurately ripped
2 | (94/95) Accurately ripped
3 | (94/95) Accurately ripped
4 | (93/95) Accurately ripped
5 | (92/95) Accurately ripped
6 | (94/95) Accurately ripped
[AccurateRip ID: 00113318-0059c553-540f3406] found.
Track [ CRC | V2 ] Status
01 [fa5f5c3f|f6a44a00] (02+11/91) Accurately ripped
02 [27189066|2a8afb30] (02+11/92) Accurately ripped
03 [f2868499|278138af] (02+11/91) Accurately ripped
04 [77816e96|9939ba17] (02+10/92) Accurately ripped
05 [c9f061dd|732c81ec] (02+10/90) Accurately ripped
06 [85266d3c|ffa69888] (02+10/92) Accurately ripped
Offsetted by 368:
01 [fb756edf] (05/91) Accurately ripped
02 [98ec7286] (06/92) Accurately ripped
03 [ea0a30e9] (06/91) Accurately ripped
04 [f87fb036] (06/92) Accurately ripped
05 [c1c9e3ce] (06/90) Accurately ripped
06 [0029381b] (06/92) Accurately ripped
Offsetted by 1288:
01 [fe2c9d6f] (20/91) Accurately ripped
02 [b57e27d6] (20/92) Accurately ripped
03 [d4d35fb1] (20/91) Accurately ripped
04 [3afb5446] (20/92) Accurately ripped
05 [231a2184] (20/90) Accurately ripped
06 [d990608d] (21/92) Accurately ripped
Offsetted by 1449:
01 [7ea64595] (06/91) Accurately ripped
02 [e74adac4] (06/92) Accurately ripped
03 [311cfb14] (06/91) Accurately ripped
04 [136a90fc] (06/92) Accurately ripped
05 [6b8a14e3] (06/90) Accurately ripped
06 [69cd6365] (06/92) Accurately ripped
Offsetted by 2116:
01 [009e4757] (09/91) Accurately ripped
02 [b59ae49e] (09/92) Accurately ripped
03 [41bba365] (09/91) Accurately ripped
04 [dd3767ee] (09/92) Accurately ripped
05 [b1fdcf04] (09/90) Accurately ripped
06 [8c0fc571] (09/92) Accurately ripped
Offsetted by 380:
01 [da1a53a7] (00/91) No match (V2 was not tested)
02 [7b3e7cae] (00/92) No match (V2 was not tested)
03 [8006230d] (00/91) No match (V2 was not tested)
04 [5b5053be] (00/92) No match (V2 was not tested)
05 [46861fa5] (00/90) No match (V2 was not tested)
06 [33bfc2d8] (00/92) No match (V2 was not tested)

Track Peak [ CRC32 ] [W/O NULL] [ LOG ]
– 92,6 [8E67B97A] [D632891C] CRC32
01 90,2 [65C147DC] [AF594AC2]
02 68,8 [D3A1EC57] [3C08BDE4]
03 89,4 [78A88641] [24E336C2]
04 92,6 [0096A8C6] [FCD1B261]
05 71,6 [61E0339D] [970340F8]
06 83,6 [3712408C] [2C873E49]
CD 2:
Piano Concerto No. 3 in C minor, Op. 37
01. I. Allegro con brio
02. II. Largo
03. III. Rondo. Allegro
Piano Concerto No. 4 in G major, Op. 58
04. I. Allegro moderato
05. II. Andante con moto
06. III. Rondo. Vivace
Exact Audio Copy V0.99 prebeta 5 from 4. May 2009

Отчёт EAC об извлечении, выполненном 18. марта 2012, 0:05

Wilhelm Kempff, Berliner Philharmoniker, Ferdinand Leitner / Beethoven - 5 Piano Concertos - CD2

Дисковод: _NEC DVD_RW ND-3570A Adapter: 3 ID: 1

Режим чтения : Достоверность
Использование точного потока : Да
Отключение кэша аудио : Да
Использование указателей C2 : Нет

Коррекция смещения при чтении : 48
Способность читать области Lead-in и Lead-out : Нет
Заполнение пропущенных сэмплов тишиной : Да
Удаление блоков с тишиной в начале и конце : Нет
При вычислениях CRC использовались нулевые сэмплы : Да
Интерфейс : Установленный внешний ASPI-интерфейс

Выходной формат : Пользовательский кодировщик
Выбранный битрейт : 128 kBit/s
Качество : Высокий
Добавление ID3-тэга : Нет
Утилита сжатия : C:\Program Files\Exact Audio Copy\Flac\flac.exe
Дополнительные параметры : -8 -V -T "ARTIST=%a" -T "TITLE=%t" -T "ALBUM=%g" -T "DATE=%y" -T "TRACKNUMBER=%n" -T "GENRE=%m" -T "COMMENT=EAC FLAC -8" %s


TOC извлечённого CD

Трек | Старт | Длительность | Начальный сектор | Конечный сектор
––––––––––––––––––––––––––––––––––-
1 | 0:00.33 | 16:13.62 | 33 | 73069
2 | 16:14.20 | 9:00.28 | 73070 | 113597
3 | 25:14.48 | 9:37.40 | 113598 | 156912
4 | 34:52.13 | 17:15.12 | 156913 | 234549
5 | 52:07.25 | 4:51.30 | 234550 | 256404
6 | 56:58.55 | 10:28.30 | 256405 | 303534


Характеристики диапазона извлечения и сообщения об ошибках

Выбранный диапазон

Имя файла F:\Exact Audio Copy\Beethoven - 5 Piano Concertos - Kempff, Leitner\CD2\Wilhelm Kempff, Berliner Philharmoniker, Ferdinand Leitner - Beethoven - 5 Piano Concertos - CD2.wav

Пиковый уровень 90.4 %
Качество диапазона 100.0 %
CRC теста 03A93FB2
CRC копии 03A93FB2
Копирование… OK

Ошибок не произошло


AccurateRip: сводка

Трек 1 точность не определена (достоверность 11) [4EEEAB7D], AccurateRip вернул [D68B2148]
Трек 2 точность не определена (достоверность 12) [7294A9E4], AccurateRip вернул [2388BA10]
Трек 3 точность не определена (достоверность 12) [F5783DCC], AccurateRip вернул [66A1DDAD]
Трек 4 точность не определена (достоверность 12) [0159B053], AccurateRip вернул [77C5EB55]
Трек 5 точность не определена (достоверность 12) [E896287A], AccurateRip вернул [6308D817]
Трек 6 точность не определена (достоверность 12) [F1C83E1C], AccurateRip вернул [68887ED7]

Ни один трек не прошёл проверки на точность
В вашей базе может быть иной вариант штамповки диска

Конец отчёта
[CUETools log; Date: 13.04.2018 10:52:42; Version: 2.1.5]
Pregap length 00:00:33.
[CTDB TOCID: ppnybDr_0krzPwaltwPxxKUS8Jo-] found.
Track | CTDB Status
1 | (85/89) Accurately ripped
2 | (88/89) Accurately ripped
3 | (88/89) Accurately ripped
4 | (87/89) Accurately ripped
5 | (88/89) Accurately ripped
6 | (85/89) Accurately ripped
[AccurateRip ID: 00115db8-005acc50-4c0fcf06] found.
Track [ CRC | V2 ] Status
01 [4eeeab7d|2bf3bbd7] (00+11/96) Accurately ripped
02 [7294a9e4|bdbace2f] (00+11/98) Accurately ripped
03 [f5783dcc|75577007] (00+10/97) Accurately ripped
04 [0159b053|4807dd28] (00+11/97) Accurately ripped
05 [e896287a|ed3da7d3] (00+11/96) Accurately ripped
06 [f1c83e1c|086ad30e] (00+10/95) Accurately ripped
Offsetted by 664:
01 [3102385f] (05/96) Accurately ripped
02 [8e65009e] (05/98) Accurately ripped
03 [e5fbd59c] (05/97) Accurately ripped
04 [8996726f] (05/97) Accurately ripped
05 [35a2986d] (05/96) Accurately ripped
06 [f591ea5d] (05/95) Accurately ripped
Offsetted by 667:
01 [dcf6c9d6] (03/96) Accurately ripped
02 [54bfa231] (03/98) Accurately ripped
03 [2488aa66] (03/97) Accurately ripped
04 [4100ad8d] (03/97) Accurately ripped
05 [a22282a7] (03/96) Accurately ripped
06 [ef57a516] (03/95) Accurately ripped
Offsetted by 676:
01 [49b7cb23] (02/96) Accurately ripped
02 [d0fc4580] (02/98) Accurately ripped
03 [e03c28a2] (02/97) Accurately ripped
04 [ad09cc82] (02/97) Accurately ripped
05 [3b06584c] (02/96) Accurately ripped
06 [d5b9d1bf] (02/95) Accurately ripped
Offsetted by 801:
01 [0cd736fd] (05/96) Accurately ripped
02 [896fb9a0] (05/98) Accurately ripped
03 [0e19bbb0] (05/97) Accurately ripped
04 [ef648f79] (05/97) Accurately ripped
05 [d97cdb46] (05/96) Accurately ripped
06 [6e764121] (05/95) Accurately ripped
Offsetted by 1334:
01 [d68b2148] (12/96) Accurately ripped
02 [2388ba10] (13/98) Accurately ripped
03 [66a1ddad] (13/97) Accurately ripped
04 [77c5eb55] (13/97) Accurately ripped
05 [6308d817] (12/96) Accurately ripped
06 [68887ed7] (13/95) Accurately ripped
Offsetted by 1381:
01 [dc37c356] (11/96) Accurately ripped
02 [3177af6c] (12/98) Accurately ripped
03 [3640a793] (12/97) Accurately ripped
04 [358e6f19] (12/97) Accurately ripped
05 [ab26d8c9] (12/96) Accurately ripped
06 [c5f2dbaa] (12/95) Accurately ripped

Track Peak [ CRC32 ] [W/O NULL] [ LOG ]
– 90,4 [03A93FB2] [7361AAF3] CRC32
01 88,9 [6E5BAF27] [60FC5471]
02 76,0 [0F9E1757] [C561A14A]
03 90,4 [958B413F] [B74566C3]
04 79,7 [75ED523B] [2EE5E2DE]
05 67,9 [1228999A] [5F6630C1]
06 87,3 [392C5BDA] [8F935F8B]
CD 3:
Piano Concerto No. 5 in E flat major, Op. 73
01. I. Allegro
02. II. Adagio un poco mosso - attacca:
03. III. Rondo. Allegro
Piano Sonata No. 32 in C minor, Op. 111
04. I. Maestoso - Allegro con brio ed appassionato
05. II. Arietta. Adagio molto semplice e cantabile
Exact Audio Copy V0.99 prebeta 5 from 4. May 2009

Отчёт EAC об извлечении, выполненном 18. марта 2012, 9:03

Wilhelm Kempff, Berliner Philharmoniker, Ferdinand Leitner / Beethoven - 5 Piano Concertos - CD3

Дисковод: _NEC DVD_RW ND-3570A Adapter: 3 ID: 1

Режим чтения : Достоверность
Использование точного потока : Да
Отключение кэша аудио : Да
Использование указателей C2 : Нет

Коррекция смещения при чтении : 48
Способность читать области Lead-in и Lead-out : Нет
Заполнение пропущенных сэмплов тишиной : Да
Удаление блоков с тишиной в начале и конце : Нет
При вычислениях CRC использовались нулевые сэмплы : Да
Интерфейс : Установленный внешний ASPI-интерфейс

Выходной формат : Пользовательский кодировщик
Выбранный битрейт : 128 kBit/s
Качество : Высокий
Добавление ID3-тэга : Нет
Утилита сжатия : C:\Program Files\Exact Audio Copy\Flac\flac.exe
Дополнительные параметры : -8 -V -T "ARTIST=%a" -T "TITLE=%t" -T "ALBUM=%g" -T "DATE=%y" -T "TRACKNUMBER=%n" -T "GENRE=%m" -T "COMMENT=EAC FLAC -8" %s


TOC извлечённого CD

Трек | Старт | Длительность | Начальный сектор | Конечный сектор
––––––––––––––––––––––––––––––––––-
1 | 0:00.33 | 20:19.00 | 33 | 91457
2 | 20:19.33 | 7:34.27 | 91458 | 125534
3 | 27:53.60 | 10:48.55 | 125535 | 174189
4 | 38:42.40 | 8:56.05 | 174190 | 214394
5 | 47:38.45 | 15:24.15 | 214395 | 283709


Характеристики диапазона извлечения и сообщения об ошибках

Выбранный диапазон

Имя файла F:\Exact Audio Copy\Beethoven - 5 Piano Concertos - Kempff, Leitner\CD3\Wilhelm Kempff, Berliner Philharmoniker, Ferdinand Leitner - Beethoven - 5 Piano Concertos - CD3.wav

Пиковый уровень 83.1 %
Качество диапазона 100.0 %
CRC теста 91046ECA
CRC копии 91046ECA
Копирование… OK

Ошибок не произошло


AccurateRip: сводка

Трек 1 точность не определена (достоверность 18) [DDEBF4BF], AccurateRip вернул [726321DF]
Трек 2 точность не определена (достоверность 18) [2678086D], AccurateRip вернул [5CB31DDE]
Трек 3 точность не определена (достоверность 17) [3DF8FE4D], AccurateRip вернул [9E047AAC]
Трек 4 точность не определена (достоверность 16) [E1AA74BF], AccurateRip вернул [B1547B70]
Трек 5 точность не определена (достоверность 15) [95EB7C5B], AccurateRip вернул [5342551F]

Ни один трек не прошёл проверки на точность
В вашей базе может быть иной вариант штамповки диска

Конец отчёта
[CUETools log; Date: 13.04.2018 10:53:07; Version: 2.1.5]
Pregap length 00:00:33.
[CTDB TOCID: W7tQ.RRpsz4UzuzC5gpzhncAP20-] found.
Track | CTDB Status
1 | (102/106) Accurately ripped
2 | (105/106) Accurately ripped
3 | (104/106) Accurately ripped
4 | (102/106) Accurately ripped
5 | (102/106) Accurately ripped
[AccurateRip ID: 000d91e9-003d8055-360ec605] found.
Track [ CRC | V2 ] Status
01 [ddebf4bf|a7caa506] (000+011/102) Accurately ripped
02 [2678086d|9dceaea2] (000+011/103) Accurately ripped
03 [3df8fe4d|fe24ee7d] (000+010/103) Accurately ripped
04 [e1aa74bf|b8a8e902] (000+010/098) Accurately ripped
05 [95eb7c5b|de7a8391] (000+010/097) Accurately ripped
Offsetted by 14:
01 [ef66d988] (005/102) Accurately ripped
02 [b3da2618] (005/103) Accurately ripped
03 [e7255a83] (005/103) Accurately ripped
04 [bce75065] (004/098) Accurately ripped
05 [d280ecb6] (005/097) Accurately ripped
Offsetted by 860:
01 [726321df] (020/102) Accurately ripped
02 [5cb31dde] (020/103) Accurately ripped
03 [9e047aac] (019/103) Accurately ripped
04 [b1547b70] (018/098) Accurately ripped
05 [5342551f] (016/097) Accurately ripped
Offsetted by 2266:
01 [d1120b6d] (016/102) Accurately ripped
02 [f91335b9] (015/103) Accurately ripped
03 [43f54729] (017/103) Accurately ripped
04 [c0820edd] (015/098) Accurately ripped
05 [bd16ee9b] (015/097) Accurately ripped
Offsetted by 26:
01 [e6fbd6c7] (000/102) No match (V2 was not tested)
02 [dace164f] (002/103) Accurately ripped
03 [e8279a91] (002/103) Accurately ripped
04 [46b38a3b] (002/098) Accurately ripped
05 [d8595604] (002/097) Accurately ripped

Track Peak [ CRC32 ] [W/O NULL] [ LOG ]
– 83,1 [91046ECA] [C6FFDF3A] CRC32
01 83,1 [B3F4BE3E] [7C083CC4]
02 48,5 [7E660C78] [51799881]
03 76,2 [2A599D9F] [23349F0A]
04 64,5 [861B02D1] [4B231D15]
05 37,6 [4C9678AE] [BA0B9300]
Performers:
Wilhelm Kempff, piano
Berliner Philharmoniker
Ferdinand Leitner, conductor
Thanks to the Original ripper (unknown)!

Download: