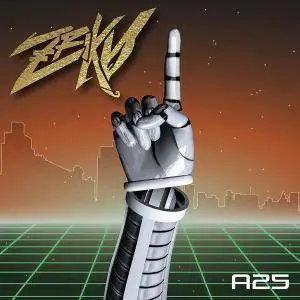 Zriku - A25 (2018)
WEB FLAC (tracks) - 234 MB | Digital booklet
Genre: Progressive Rock | RAR 3% Rec. | Label: Self-released
Zriku is a Rock band from NYC. The trio pulls inspiration from diverse musical influences, as well as society at large. Haunting, minimalist tunes like Ghost paint a picture of lost connections, while the title track Artificial 25 presents artificial intelligence 25 generations in the future, longing to feel what it was like to be human.
Tracklist:
01. You & I
02. Ghost
03. Heart To Heart
04. Technocracy
05. Had It All
06. Loss Generate
07. Artificial 25
Total time:
37:36

PERFORMER: auCDtect Task Manager, ver. 1.6.0 RC1 build 1.6.0.1
Copyright © 2008-2010 y-soft. All rights reserved

ANALYZER: auCDtect: CD records authenticity detector, version 0.8.2
Copyright © 2004 Oleg Berngardt. All rights reserved.
Copyright © 2004 Alexander Djourik. All rights reserved.


FILE: ZRIKU - A25 - 07 Artificial 25.flac
Size: 60350177 Hash: F017D88081C1283042C3580B4377F9E9 Accuracy: -m0
Conclusion: CDDA 100%
Signature: FB1C02CE77A976774A392C8DC958347D9AF7ED6C
FILE: ZRIKU - A25 - 06 Loss Generate.flac
Size: 8739996 Hash: 8AC2525EAD7E96697367DE05829856B6 Accuracy: -m0
Conclusion: CDDA 100%
Signature: 6192BB038F870CABD8DAC52846201B00E4E03DEA
FILE: ZRIKU - A25 - 05 Had It All.flac
Size: 22461620 Hash: 90808A207A060394F2CD450A7439787C Accuracy: -m0
Conclusion: CDDA 100%
Signature: B74243FE071C081CC4CA08A29895F01E77593DBA
FILE: ZRIKU - A25 - 04 Technocracy.flac
Size: 36644451 Hash: 5BCE0C5C1310808D4E7C145C72264D92 Accuracy: -m0
Conclusion: CDDA 100%
Signature: 2F66C465BD716508FB714F98AC851EF0BD6DB80C
FILE: ZRIKU - A25 - 03 Heart To Heart.flac
Size: 29634389 Hash: DA3EEE48AEA7FFECD1BF8149D88DFC11 Accuracy: -m0
Conclusion: CDDA 100%
Signature: 4AB0A627CAA3AC058925B4EE54C4FFBB0A7948E5
FILE: ZRIKU - A25 - 02 Ghost.flac
Size: 37201622 Hash: A6A790D38E61F18CFD37871DBAF1E46E Accuracy: -m0
Conclusion: CDDA 99%
Signature: 4A033EE2CF48D5AA24056C9F7743FF51C6695960
FILE: ZRIKU - A25 - 01 You & I.flac
Size: 39522252 Hash: 821E448EAD154809B0524ED35F32DE8B Accuracy: -m0
Conclusion: CDDA 100%
Signature: E1EEFFAD04A7CA8CC63516FA2C8C34236CB9FF77