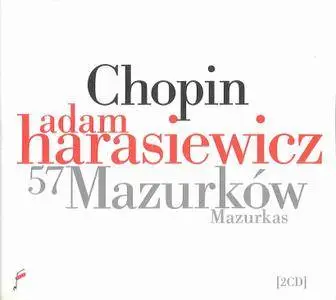 Adam Harasiewicz - Chopin: 57 Mazurkow / Mazurkas (2CD) (2010)
XLD Rip | FLAC (tracks+.cue, log) ~ 198.31 Mb + 191.85 Mb | 67.57 + 64.36 | Scans included
Classical | Label: Narodowy Instytut Fryderyka Chopina - NIFCCD 208-209
Adam Harasiewicz is the winner of the first prize at the International Fryderyk Chopin Piano Competition in 1955. He has been the juror in many international piano competitions in Poland [The International Fryderyk Chopin Piano Competition - 1995, 2000, 2005, 2010]. The set "57 Mazurkas" is the fruit of Adam Harasiewicz's long-term cooperation with the Polish Radio and the Fryderyk Chopin Institute. The presented inspiring album was shaped during the seventeen years of concept forming of each of the mazurkas' final interpretation. Spontaneity, full concentration and capturing the nature of the whole recording in one moment were of the utter importance for the pianist.
Adam Harasiewicz, piano Steinway
Track List CD1:
Mazurki Op.6 (1830-1831)
01. nr 1 fis-moll
02. nr 2 cis-moll
03. nr 3 E-dur
04. nr 4 es-moll
Mazurki Op.7 (przed 1832)
05. nr 1 B-dur
06. nr 2 a-moll
07. nr 3 f-moll
08. nr 4 As-dur
09. nr 5 C-dur (1830-1831)
Mazurki Op.17 (1830-1849)
10. nr 1 B-dur
11. nr 2 e-moll
12. nr 3 As-dur
13. nr 4 a-moll
Mazurki Op.24 (1833-1836)
14. nr 1 g-moll
15. nr 2 C-dur
16. nr 3 As-dur
17. nr 4 b-moll
Mazurki Op.30 (1835-1837)
18. nr 1 c-moll
19. nr 2 h-moll
20. nr 3 Des-dur
21. nr 4 cis-moll
Mazurki Op.33 (1836-1838)
22. nr 1 gis-moll
23. nr 2 D-dur
24. nr 3 C-dur
25. nr 4 h-moll
Mazurki Op.41 (1838-1839)
26. nr 1 cis-moll
27. nr 2 e-moll
28. nr 3 H-dur
29. nr 4 As-dur
Total Running Time CD 1 - 68 minutes
Track List CD2:
Mazurki Op.50 (1841-1842)
01. nr 1 G-dur
02. nr 2 As-dur
03. nr 3 cis-moll
Mazurki Op.56 (1843)
04. nr 1 H-dur
05. nr 2 C-dur
06. nr 3 c-moll
Mazurki Op.59 (1845)
07. nr 1 a-moll
08. nr 2 As-dur
09. nr 3 fis-moll
Mazurki Op.63 (1846)
10. nr 1 H-dur
11. nr 2 f-moll
12. nr 3 cis-moll
13. Mazurek a-moll Dbop. 42 A (1839-1840)
14. Mazurek a-moll Notre temps, Dbop. 42 B (1839-1841)
Mazurki Op.67
15. nr 1 G-dur
16. nr 2 g-moll
17. nr 3 C-dur
18. nr 4 a-moll
Mazurki Op.68
19. nr 1 C-dur
20. nr 2 a-moll
21. nr3 F-dur
22. nr4 f-moll
23. Mazurek B-dur nr52
24. Mazurek G-dur nr52
25. Mazurek D-dur nr54
26. Mazurek B-dur nr56
27. Mazurek C-dur nr57
28. Mazurek As-dur nr58
Total Running Time CD 2 -64 minutes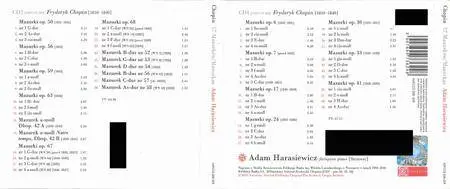 X Lossless Decoder version 20170729 (150.3)

XLD extraction logfile from 2018-01-28 01:08:17 +1300

Adam Harasiewicz / Chopin: 57 Mazurkas

Used drive : Apple SuperDrive (revision 2.03)
Media type : Pressed CD

Ripper mode : XLD Secure Ripper
Disable audio cache : OK for the drive with a cache less than 1375KiB
Make use of C2 pointers : NO
Read offset correction : 102
Max retry count : 20
Gap status : Analyzed, Appended

TOC of the extracted CD
Track | Start | Length | Start sector | End sector
––––––––––––––––––––––––––––-
1 | 00:00:00 | 02:50:67 | 0 | 12816
2 | 02:50:67 | 02:16:64 | 12817 | 23080
3 | 05:07:56 | 01:47:31 | 23081 | 31136
4 | 06:55:12 | 00:42:09 | 31137 | 34295
5 | 07:37:21 | 02:10:64 | 34296 | 44109
6 | 09:48:10 | 03:09:44 | 44110 | 58328
7 | 12:57:54 | 02:26:01 | 58329 | 69279
8 | 15:23:55 | 01:05:03 | 69280 | 74157
9 | 16:28:58 | 00:36:39 | 74158 | 76896
10 | 17:05:22 | 02:05:53 | 76897 | 86324
11 | 19:11:00 | 01:59:55 | 86325 | 95304
12 | 21:10:55 | 04:32:16 | 95305 | 115720
13 | 25:42:71 | 03:57:17 | 115721 | 133512
14 | 29:40:13 | 02:38:34 | 133513 | 145396
15 | 32:18:47 | 02:04:73 | 145397 | 154769
16 | 34:23:45 | 01:50:42 | 154770 | 163061
17 | 36:14:12 | 04:14:30 | 163062 | 182141
18 | 40:28:42 | 01:32:03 | 182142 | 189044
19 | 42:00:45 | 01:17:65 | 189045 | 194884
20 | 43:18:35 | 02:23:29 | 194885 | 205638
21 | 45:41:64 | 03:32:54 | 205639 | 221592
22 | 49:14:43 | 01:34:35 | 221593 | 228677
23 | 50:49:03 | 02:18:21 | 228678 | 239048
24 | 53:07:24 | 01:28:45 | 239049 | 245693
25 | 54:35:69 | 04:54:41 | 245694 | 267784
26 | 59:30:35 | 03:07:32 | 267785 | 281841
27 | 62:37:67 | 02:11:25 | 281842 | 291691
28 | 64:49:17 | 01:09:55 | 291692 | 296921
29 | 65:58:72 | 01:56:67 | 296922 | 305688

All Tracks
Statistics
Read error : 0
Jitter error (maybe fixed) : 0
Retry sector count : 0
Damaged sector count : 0

Track 01
Filename : /Volumes/Music/Split Temp/Chopin Mazurkas - Adam Harasiewicz/CD1/01-01 - Frédéric Chopin - Mazurka In F Sharp Minor Op. 6 No. 1.flac
Pre-gap length : 00:02:00

CRC32 hash : EF7DFAA0
CRC32 hash (skip zero) : A44A0837
Statistics
Read error : 0
Jitter error (maybe fixed) : 0
Retry sector count : 0
Damaged sector count : 0

Track 02
Filename : /Volumes/Music/Split Temp/Chopin Mazurkas - Adam Harasiewicz/CD1/01-02 - Frédéric Chopin - Mazurka In C Sharp Minor Op. 6 No. 2.flac
Pre-gap length : 00:01:17

CRC32 hash : 54FB1E11
CRC32 hash (skip zero) : 5315CC69
Statistics
Read error : 0
Jitter error (maybe fixed) : 0
Retry sector count : 0
Damaged sector count : 0

Track 03
Filename : /Volumes/Music/Split Temp/Chopin Mazurkas - Adam Harasiewicz/CD1/01-03 - Frédéric Chopin - Mazurka In E Major Op. 6 No. 3.flac

CRC32 hash : 4C9D5C62
CRC32 hash (skip zero) : D9693ADE
Statistics
Read error : 0
Jitter error (maybe fixed) : 0
Retry sector count : 0
Damaged sector count : 0

Track 04
Filename : /Volumes/Music/Split Temp/Chopin Mazurkas - Adam Harasiewicz/CD1/01-04 - Frédéric Chopin - Mazurka In E Flat Minor Op. 6 No. 4.flac
Pre-gap length : 00:01:05

CRC32 hash : 343DCC7A
CRC32 hash (skip zero) : 9FB4DB76
Statistics
Read error : 0
Jitter error (maybe fixed) : 0
Retry sector count : 0
Damaged sector count : 0

Track 05
Filename : /Volumes/Music/Split Temp/Chopin Mazurkas - Adam Harasiewicz/CD1/01-05 - Frédéric Chopin - Mazurka In B Flat Major Op. 7 No. 1.flac
Pre-gap length : 00:02:47

CRC32 hash : 085C35C2
CRC32 hash (skip zero) : C83C8817
Statistics
Read error : 0
Jitter error (maybe fixed) : 0
Retry sector count : 0
Damaged sector count : 0

Track 06
Filename : /Volumes/Music/Split Temp/Chopin Mazurkas - Adam Harasiewicz/CD1/01-06 - Frédéric Chopin - Mazurka In A Minor Op. 7 No. 2.flac

CRC32 hash : 3643D371
CRC32 hash (skip zero) : F946F24B
Statistics
Read error : 0
Jitter error (maybe fixed) : 0
Retry sector count : 0
Damaged sector count : 0

Track 07
Filename : /Volumes/Music/Split Temp/Chopin Mazurkas - Adam Harasiewicz/CD1/01-07 - Frédéric Chopin - Mazurka In F Minor Op. 7 No. 3.flac
Pre-gap length : 00:01:05

CRC32 hash : 2C64036D
CRC32 hash (skip zero) : 75E98CB7
Statistics
Read error : 0
Jitter error (maybe fixed) : 0
Retry sector count : 0
Damaged sector count : 0

Track 08
Filename : /Volumes/Music/Split Temp/Chopin Mazurkas - Adam Harasiewicz/CD1/01-08 - Frédéric Chopin - Mazurka In A Flat Major Op. 7 No. 4.flac

CRC32 hash : 883FA063
CRC32 hash (skip zero) : F82E3F3D
Statistics
Read error : 0
Jitter error (maybe fixed) : 0
Retry sector count : 0
Damaged sector count : 0

Track 09
Filename : /Volumes/Music/Split Temp/Chopin Mazurkas - Adam Harasiewicz/CD1/01-09 - Frédéric Chopin - Mazurka In C Major Op. 7 No. 5.flac
Pre-gap length : 00:01:04

CRC32 hash : 26FA1C49
CRC32 hash (skip zero) : E480E0F5
Statistics
Read error : 0
Jitter error (maybe fixed) : 0
Retry sector count : 0
Damaged sector count : 0

Track 10
Filename : /Volumes/Music/Split Temp/Chopin Mazurkas - Adam Harasiewicz/CD1/01-10 - Frédéric Chopin - Mazurka In B Flat Major Op. 17 No. 1.flac
Pre-gap length : 00:01:13

CRC32 hash : 557511F7
CRC32 hash (skip zero) : FE6C858A
Statistics
Read error : 0
Jitter error (maybe fixed) : 0
Retry sector count : 0
Damaged sector count : 0

Track 11
Filename : /Volumes/Music/Split Temp/Chopin Mazurkas - Adam Harasiewicz/CD1/01-11 - Frédéric Chopin - Mazurka In E Minor Op. 17 No. 2.flac

CRC32 hash : 702E32AA
CRC32 hash (skip zero) : B6361EC4
Statistics
Read error : 0
Jitter error (maybe fixed) : 0
Retry sector count : 0
Damaged sector count : 0

Track 12
Filename : /Volumes/Music/Split Temp/Chopin Mazurkas - Adam Harasiewicz/CD1/01-12 - Frédéric Chopin - Mazurka In A Flat Major Op. 17 No. 3.flac
Pre-gap length : 00:01:12

CRC32 hash : ACD5E80D
CRC32 hash (skip zero) : 37D0A76A
Statistics
Read error : 0
Jitter error (maybe fixed) : 0
Retry sector count : 0
Damaged sector count : 0

Track 13
Filename : /Volumes/Music/Split Temp/Chopin Mazurkas - Adam Harasiewicz/CD1/01-13 - Frédéric Chopin - Mazurka In A Minor Op. 17 No. 4.flac
Pre-gap length : 00:01:08

CRC32 hash : 1D53021F
CRC32 hash (skip zero) : 3235D44C
Statistics
Read error : 0
Jitter error (maybe fixed) : 0
Retry sector count : 0
Damaged sector count : 0

Track 14
Filename : /Volumes/Music/Split Temp/Chopin Mazurkas - Adam Harasiewicz/CD1/01-14 - Frédéric Chopin - Mazurka In G Minor Op. 24 No. 1.flac
Pre-gap length : 00:01:21

CRC32 hash : 3182E655
CRC32 hash (skip zero) : FFEFA18D
Statistics
Read error : 0
Jitter error (maybe fixed) : 0
Retry sector count : 0
Damaged sector count : 0

Track 15
Filename : /Volumes/Music/Split Temp/Chopin Mazurkas - Adam Harasiewicz/CD1/01-15 - Frédéric Chopin - Mazurka In C Major Op. 24 No. 2.flac

CRC32 hash : C7152222
CRC32 hash (skip zero) : F9153C45
Statistics
Read error : 0
Jitter error (maybe fixed) : 0
Retry sector count : 0
Damaged sector count : 0

Track 16
Filename : /Volumes/Music/Split Temp/Chopin Mazurkas - Adam Harasiewicz/CD1/01-16 - Frédéric Chopin - Mazurka In A Flat Major Op. 24 No. 3.flac

CRC32 hash : 51889669
CRC32 hash (skip zero) : F5E381F2
Statistics
Read error : 0
Jitter error (maybe fixed) : 0
Retry sector count : 0
Damaged sector count : 0

Track 17
Filename : /Volumes/Music/Split Temp/Chopin Mazurkas - Adam Harasiewicz/CD1/01-17 - Frédéric Chopin - Mazurka In B Flat Minor Op. 24 No. 4.flac
Pre-gap length : 00:01:03

CRC32 hash : 80530EB5
CRC32 hash (skip zero) : 0CAAD0F7
Statistics
Read error : 0
Jitter error (maybe fixed) : 0
Retry sector count : 0
Damaged sector count : 0

Track 18
Filename : /Volumes/Music/Split Temp/Chopin Mazurkas - Adam Harasiewicz/CD1/01-18 - Frédéric Chopin - Mazurka In C Minor Op. 30 No. 1.flac

CRC32 hash : 550EDF52
CRC32 hash (skip zero) : 5328B1FA
Statistics
Read error : 0
Jitter error (maybe fixed) : 0
Retry sector count : 0
Damaged sector count : 0

Track 19
Filename : /Volumes/Music/Split Temp/Chopin Mazurkas - Adam Harasiewicz/CD1/01-19 - Frédéric Chopin - Mazurka In B Minor Op. 30 No. 2.flac
Pre-gap length : 00:01:11

CRC32 hash : C5644195
CRC32 hash (skip zero) : 39CA25A8
Statistics
Read error : 0
Jitter error (maybe fixed) : 0
Retry sector count : 0
Damaged sector count : 0

Track 20
Filename : /Volumes/Music/Split Temp/Chopin Mazurkas - Adam Harasiewicz/CD1/01-20 - Frédéric Chopin - Mazurka In D Flat Major Op. 30 No. 3.flac
Pre-gap length : 00:00:68

CRC32 hash : E6FCD77B
CRC32 hash (skip zero) : F94ACD01
Statistics
Read error : 0
Jitter error (maybe fixed) : 0
Retry sector count : 0
Damaged sector count : 0

Track 21
Filename : /Volumes/Music/Split Temp/Chopin Mazurkas - Adam Harasiewicz/CD1/01-21 - Frédéric Chopin - Mazurka In C Sharp Minor Op. 30 No. 4.flac

CRC32 hash : 478E370F
CRC32 hash (skip zero) : 3C55410F
Statistics
Read error : 0
Jitter error (maybe fixed) : 0
Retry sector count : 0
Damaged sector count : 0

Track 22
Filename : /Volumes/Music/Split Temp/Chopin Mazurkas - Adam Harasiewicz/CD1/01-22 - Frédéric Chopin - Mazurka In G Sharp Minor Op. 33 No. 1.flac
Pre-gap length : 00:01:23

CRC32 hash : 716DD9F7
CRC32 hash (skip zero) : A2B6445D
Statistics
Read error : 0
Jitter error (maybe fixed) : 0
Retry sector count : 0
Damaged sector count : 0

Track 23
Filename : /Volumes/Music/Split Temp/Chopin Mazurkas - Adam Harasiewicz/CD1/01-23 - Frédéric Chopin - Mazurka In D Major Op. 33 No. 2.flac
Pre-gap length : 00:01:07

CRC32 hash : D6DE0C05
CRC32 hash (skip zero) : 598C8475
Statistics
Read error : 0
Jitter error (maybe fixed) : 0
Retry sector count : 0
Damaged sector count : 0

Track 24
Filename : /Volumes/Music/Split Temp/Chopin Mazurkas - Adam Harasiewicz/CD1/01-24 - Frédéric Chopin - Mazurka In C Major Op. 33 No. 3.flac

CRC32 hash : 6910DA77
CRC32 hash (skip zero) : 9E850727
Statistics
Read error : 0
Jitter error (maybe fixed) : 0
Retry sector count : 0
Damaged sector count : 0

Track 25
Filename : /Volumes/Music/Split Temp/Chopin Mazurkas - Adam Harasiewicz/CD1/01-25 - Frédéric Chopin - Mazurka In B Minor Op. 33 No. 4.flac

CRC32 hash : 2AA304C9
CRC32 hash (skip zero) : 2DCA6923
Statistics
Read error : 0
Jitter error (maybe fixed) : 0
Retry sector count : 0
Damaged sector count : 0

Track 26
Filename : /Volumes/Music/Split Temp/Chopin Mazurkas - Adam Harasiewicz/CD1/01-26 - Frédéric Chopin - Mazurka In C Sharp Minor Op. 41 No. 1.flac

CRC32 hash : A0C085D7
CRC32 hash (skip zero) : 262B3DA3
Statistics
Read error : 0
Jitter error (maybe fixed) : 0
Retry sector count : 0
Damaged sector count : 0

Track 27
Filename : /Volumes/Music/Split Temp/Chopin Mazurkas - Adam Harasiewicz/CD1/01-27 - Frédéric Chopin - Mazurka In E Minor Op. 41 No. 2.flac

CRC32 hash : C14BC199
CRC32 hash (skip zero) : 5BCA6169
Statistics
Read error : 0
Jitter error (maybe fixed) : 0
Retry sector count : 0
Damaged sector count : 0

Track 28
Filename : /Volumes/Music/Split Temp/Chopin Mazurkas - Adam Harasiewicz/CD1/01-28 - Frédéric Chopin - Mazurka In B Major Op. 41 No. 3.flac

CRC32 hash : 1E2DEC89
CRC32 hash (skip zero) : 2080CB3C
Statistics
Read error : 0
Jitter error (maybe fixed) : 0
Retry sector count : 0
Damaged sector count : 0

Track 29
Filename : /Volumes/Music/Split Temp/Chopin Mazurkas - Adam Harasiewicz/CD1/01-29 - Frédéric Chopin - Mazurka In A Flat Major Op. 41 No. 4.flac

CRC32 hash : BED51A9E
CRC32 hash (skip zero) : 57C7F63A
Statistics
Read error : 0
Jitter error (maybe fixed) : 0
Retry sector count : 0
Damaged sector count : 0

No errors occurred

End of status report
X Lossless Decoder version 20170729 (150.3)

XLD extraction logfile from 2018-01-28 02:00:09 +1300

Adam Harasiewicz / Chopin: 57 Mazurkas

Used drive : Apple SuperDrive (revision 2.03)
Media type : Pressed CD

Ripper mode : XLD Secure Ripper
Disable audio cache : OK for the drive with a cache less than 1375KiB
Make use of C2 pointers : NO
Read offset correction : 102
Max retry count : 20
Gap status : Analyzed, Appended

TOC of the extracted CD
Track | Start | Length | Start sector | End sector
––––––––––––––––––––––––––––-
1 | 00:00:00 | 02:11:07 | 0 | 9831
2 | 02:11:07 | 02:42:25 | 9832 | 22006
3 | 04:53:32 | 04:31:56 | 22007 | 42387
4 | 09:25:13 | 03:36:27 | 42388 | 58614
5 | 13:01:40 | 01:31:14 | 58615 | 65453
6 | 14:32:54 | 05:04:04 | 65454 | 88257
7 | 19:36:58 | 03:20:05 | 88258 | 103262
8 | 22:56:63 | 02:17:28 | 103263 | 113565
9 | 25:14:16 | 03:04:46 | 113566 | 127411
10 | 28:18:62 | 02:07:49 | 127412 | 136985
11 | 30:26:36 | 01:36:39 | 136986 | 144224
12 | 32:03:00 | 02:11:34 | 144225 | 154083
13 | 34:14:34 | 02:25:45 | 154084 | 165003
14 | 36:40:04 | 03:09:06 | 165004 | 179184
15 | 39:49:10 | 01:08:72 | 179185 | 184356
16 | 40:58:07 | 01:33:72 | 184357 | 191403
17 | 42:32:04 | 01:35:24 | 191404 | 198552
18 | 44:07:28 | 02:35:25 | 198553 | 210202
19 | 46:42:53 | 01:42:60 | 210203 | 217912
20 | 48:25:38 | 02:47:19 | 217913 | 230456
21 | 51:12:57 | 01:31:25 | 230457 | 237306
22 | 52:44:07 | 01:58:38 | 237307 | 246194
23 | 54:42:45 | 01:28:09 | 246195 | 252803
24 | 56:10:54 | 01:28:47 | 252804 | 259450
25 | 57:39:26 | 01:33:14 | 259451 | 266439
26 | 59:12:40 | 01:15:17 | 266440 | 272081
27 | 60:27:57 | 02:42:17 | 272082 | 284248
28 | 63:09:74 | 01:24:72 | 284249 | 290620

All Tracks
Statistics
Read error : 0
Jitter error (maybe fixed) : 0
Retry sector count : 263
Damaged sector count : 7

Track 01
Filename : /Volumes/Music/Split Temp/Chopin Mazurkas - Adam Harasiewicz/CD2/02-01 - Frédéric Chopin - Mazurek G-dur, op. 50 nr 1.flac
Pre-gap length : 00:02:00

CRC32 hash : 71C1BE2C
CRC32 hash (skip zero) : 31084E70
Statistics
Read error : 0
Jitter error (maybe fixed) : 0
Retry sector count : 137
Damaged sector count : 6
List of damaged sector positions :
(1) 00:41:57
(2) 00:42:18
(3) 00:42:27
(4) 00:42:28
(5) 00:56:06
(6) 01:57:66

Track 02
Filename : /Volumes/Music/Split Temp/Chopin Mazurkas - Adam Harasiewicz/CD2/02-02 - Frédéric Chopin - Mazurek As-dur, op. 50 nr 2.flac

CRC32 hash : 7AF69FDA
CRC32 hash (skip zero) : 9A09F72F
Statistics
Read error : 0
Jitter error (maybe fixed) : 0
Retry sector count : 100
Damaged sector count : 1
List of damaged sector positions :
(1) 00:00:70

Track 03
Filename : /Volumes/Music/Split Temp/Chopin Mazurkas - Adam Harasiewicz/CD2/02-03 - Frédéric Chopin - Mazurek cis-moll, op. 50 nr 3.flac

CRC32 hash : C949E401
CRC32 hash (skip zero) : 300F6FE6
Statistics
Read error : 0
Jitter error (maybe fixed) : 0
Retry sector count : 15
Damaged sector count : 0

Track 04
Filename : /Volumes/Music/Split Temp/Chopin Mazurkas - Adam Harasiewicz/CD2/02-04 - Frédéric Chopin - Mazurek H-dur, op. 56 nr 1.flac
Pre-gap length : 00:02:24

CRC32 hash : 44C4C3C7
CRC32 hash (skip zero) : CE36A79D
Statistics
Read error : 0
Jitter error (maybe fixed) : 0
Retry sector count : 6
Damaged sector count : 0

Track 05
Filename : /Volumes/Music/Split Temp/Chopin Mazurkas - Adam Harasiewicz/CD2/02-05 - Frédéric Chopin - Mazurek C-dur, op. 56 nr 2.flac

CRC32 hash : 5A0A596B
CRC32 hash (skip zero) : 81E72F68
Statistics
Read error : 0
Jitter error (maybe fixed) : 0
Retry sector count : 2
Damaged sector count : 0

Track 06
Filename : /Volumes/Music/Split Temp/Chopin Mazurkas - Adam Harasiewicz/CD2/02-06 - Frédéric Chopin - Mazurek c-moll, op. 56 nr 3.flac
Pre-gap length : 00:01:54

CRC32 hash : 8AA1EAE7
CRC32 hash (skip zero) : 6580D320
Statistics
Read error : 0
Jitter error (maybe fixed) : 0
Retry sector count : 0
Damaged sector count : 0

Track 07
Filename : /Volumes/Music/Split Temp/Chopin Mazurkas - Adam Harasiewicz/CD2/02-07 - Frédéric Chopin - Mazurek a-moll, op. 59 nr 1.flac
Pre-gap length : 00:01:04

CRC32 hash : 81BB8DA4
CRC32 hash (skip zero) : 8F66775D
Statistics
Read error : 0
Jitter error (maybe fixed) : 0
Retry sector count : 0
Damaged sector count : 0

Track 08
Filename : /Volumes/Music/Split Temp/Chopin Mazurkas - Adam Harasiewicz/CD2/02-08 - Frédéric Chopin - Mazurek As-dur, op. 59 nr 2.flac
Pre-gap length : 00:01:22

CRC32 hash : 66FC89AA
CRC32 hash (skip zero) : CE40D92C
Statistics
Read error : 0
Jitter error (maybe fixed) : 0
Retry sector count : 0
Damaged sector count : 0

Track 09
Filename : /Volumes/Music/Split Temp/Chopin Mazurkas - Adam Harasiewicz/CD2/02-09 - Frédéric Chopin - Mazurek fis-moll, op. 59 nr 3.flac
Pre-gap length : 00:01:04

CRC32 hash : 387CF4FA
CRC32 hash (skip zero) : 17439E53
Statistics
Read error : 0
Jitter error (maybe fixed) : 0
Retry sector count : 0
Damaged sector count : 0

Track 10
Filename : /Volumes/Music/Split Temp/Chopin Mazurkas - Adam Harasiewicz/CD2/02-10 - Frédéric Chopin - Mazurek H-dur, op. 63 nr 1.flac
Pre-gap length : 00:01:42

CRC32 hash : B3B125CE
CRC32 hash (skip zero) : 43262181
Statistics
Read error : 0
Jitter error (maybe fixed) : 0
Retry sector count : 0
Damaged sector count : 0

Track 11
Filename : /Volumes/Music/Split Temp/Chopin Mazurkas - Adam Harasiewicz/CD2/02-11 - Frédéric Chopin - Mazurek f-moll, op. 63 nr 2.flac

CRC32 hash : D9E1040B
CRC32 hash (skip zero) : 774620F9
Statistics
Read error : 0
Jitter error (maybe fixed) : 0
Retry sector count : 0
Damaged sector count : 0

Track 12
Filename : /Volumes/Music/Split Temp/Chopin Mazurkas - Adam Harasiewicz/CD2/02-12 - Frédéric Chopin - Mazurek cis-moll, op. 63 nr 3.flac

CRC32 hash : BEE76871
CRC32 hash (skip zero) : 4F8CD481
Statistics
Read error : 0
Jitter error (maybe fixed) : 0
Retry sector count : 0
Damaged sector count : 0

Track 13
Filename : /Volumes/Music/Split Temp/Chopin Mazurkas - Adam Harasiewicz/CD2/02-13 - Frédéric Chopin - Mazurek a-moll Dbop. 42 A.flac

CRC32 hash : 789E13A8
CRC32 hash (skip zero) : 69D9C780
Statistics
Read error : 0
Jitter error (maybe fixed) : 0
Retry sector count : 0
Damaged sector count : 0

Track 14
Filename : /Volumes/Music/Split Temp/Chopin Mazurkas - Adam Harasiewicz/CD2/02-14 - Frédéric Chopin - Mazurek a-moll Notre Temps, Dbop. 42 B.flac
Pre-gap length : 00:01:26

CRC32 hash : 3EB29325
CRC32 hash (skip zero) : 749B5F0E
Statistics
Read error : 0
Jitter error (maybe fixed) : 0
Retry sector count : 1
Damaged sector count : 0

Track 15
Filename : /Volumes/Music/Split Temp/Chopin Mazurkas - Adam Harasiewicz/CD2/02-15 - Frédéric Chopin - Mazurek G-dur, op. 67 nr 1.flac
Pre-gap length : 00:01:19

CRC32 hash : 1057D399
CRC32 hash (skip zero) : A99386A5
Statistics
Read error : 0
Jitter error (maybe fixed) : 0
Retry sector count : 2
Damaged sector count : 0

Track 16
Filename : /Volumes/Music/Split Temp/Chopin Mazurkas - Adam Harasiewicz/CD2/02-16 - Frédéric Chopin - Mazurek g-moll, op. 67 nr 2.flac
Pre-gap length : 00:01:62

CRC32 hash : 35D54372
CRC32 hash (skip zero) : 270BDB41
Statistics
Read error : 0
Jitter error (maybe fixed) : 0
Retry sector count : 0
Damaged sector count : 0

Track 17
Filename : /Volumes/Music/Split Temp/Chopin Mazurkas - Adam Harasiewicz/CD2/02-17 - Frédéric Chopin - Mazurek C-dur, op. 67 nr 3.flac
Pre-gap length : 00:01:62

CRC32 hash : 02C6D9B2
CRC32 hash (skip zero) : 10752B2C
Statistics
Read error : 0
Jitter error (maybe fixed) : 0
Retry sector count : 0
Damaged sector count : 0

Track 18
Filename : /Volumes/Music/Split Temp/Chopin Mazurkas - Adam Harasiewicz/CD2/02-18 - Frédéric Chopin - Mazurek a-moll, op. 67 nr 4.flac

CRC32 hash : 78DF99CC
CRC32 hash (skip zero) : F88F0DCC
Statistics
Read error : 0
Jitter error (maybe fixed) : 0
Retry sector count : 0
Damaged sector count : 0

Track 19
Filename : /Volumes/Music/Split Temp/Chopin Mazurkas - Adam Harasiewicz/CD2/02-19 - Frédéric Chopin - Mazurek C-dur, op. 68 nr 1.flac
Pre-gap length : 00:01:64

CRC32 hash : 4B2371A8
CRC32 hash (skip zero) : 99E84A09
Statistics
Read error : 0
Jitter error (maybe fixed) : 0
Retry sector count : 0
Damaged sector count : 0

Track 20
Filename : /Volumes/Music/Split Temp/Chopin Mazurkas - Adam Harasiewicz/CD2/02-20 - Frédéric Chopin - Mazurek a-moll, op. 68 nr 2.flac
Pre-gap length : 00:01:21

CRC32 hash : 741652B3
CRC32 hash (skip zero) : B9FB81CC
Statistics
Read error : 0
Jitter error (maybe fixed) : 0
Retry sector count : 0
Damaged sector count : 0

Track 21
Filename : /Volumes/Music/Split Temp/Chopin Mazurkas - Adam Harasiewicz/CD2/02-21 - Frédéric Chopin - Mazurek F-dur, op. 68 nr 3.flac
Pre-gap length : 00:01:07

CRC32 hash : C186E598
CRC32 hash (skip zero) : 76EC212A
Statistics
Read error : 0
Jitter error (maybe fixed) : 0
Retry sector count : 0
Damaged sector count : 0

Track 22
Filename : /Volumes/Music/Split Temp/Chopin Mazurkas - Adam Harasiewicz/CD2/02-22 - Frédéric Chopin - Mazurek f-moll, op. 68 nr 4.flac

CRC32 hash : 3659F3BE
CRC32 hash (skip zero) : C5FC5CDA
Statistics
Read error : 0
Jitter error (maybe fixed) : 0
Retry sector count : 0
Damaged sector count : 0

Track 23
Filename : /Volumes/Music/Split Temp/Chopin Mazurkas - Adam Harasiewicz/CD2/02-23 - Frédéric Chopin - Mazurek B-dur nr 52.flac
Pre-gap length : 00:01:03

CRC32 hash : D54ACAE0
CRC32 hash (skip zero) : 4839B730
Statistics
Read error : 0
Jitter error (maybe fixed) : 0
Retry sector count : 0
Damaged sector count : 0

Track 24
Filename : /Volumes/Music/Split Temp/Chopin Mazurkas - Adam Harasiewicz/CD2/02-24 - Frédéric Chopin - Mazurek G-dur nr 53.flac

CRC32 hash : 84035064
CRC32 hash (skip zero) : 48406E24
Statistics
Read error : 0
Jitter error (maybe fixed) : 0
Retry sector count : 0
Damaged sector count : 0

Track 25
Filename : /Volumes/Music/Split Temp/Chopin Mazurkas - Adam Harasiewicz/CD2/02-25 - Frédéric Chopin - Mazurek D-dur nr 54.flac

CRC32 hash : B8C1B2F7
CRC32 hash (skip zero) : 7CD94F84
Statistics
Read error : 0
Jitter error (maybe fixed) : 0
Retry sector count : 0
Damaged sector count : 0

Track 26
Filename : /Volumes/Music/Split Temp/Chopin Mazurkas - Adam Harasiewicz/CD2/02-26 - Frédéric Chopin - Mazurek B-dur nr 56.flac

CRC32 hash : 807BE22C
CRC32 hash (skip zero) : 5267D048
Statistics
Read error : 0
Jitter error (maybe fixed) : 0
Retry sector count : 0
Damaged sector count : 0

Track 27
Filename : /Volumes/Music/Split Temp/Chopin Mazurkas - Adam Harasiewicz/CD2/02-27 - Frédéric Chopin - Mazurek C-dur nr 57.flac
Pre-gap length : 00:01:49

CRC32 hash : 577A95BC
CRC32 hash (skip zero) : 62A69FAD
Statistics
Read error : 0
Jitter error (maybe fixed) : 0
Retry sector count : 0
Damaged sector count : 0

Track 28
Filename : /Volumes/Music/Split Temp/Chopin Mazurkas - Adam Harasiewicz/CD2/02-28 - Frédéric Chopin - Mazurek As-dur nr 58.flac
Pre-gap length : 00:01:08

CRC32 hash : 37290438
CRC32 hash (skip zero) : FAAFC9FE
Statistics
Read error : 0
Jitter error (maybe fixed) : 0
Retry sector count : 0
Damaged sector count : 0

Some inconsistencies found

End of status report
All thanks go to the kaimai