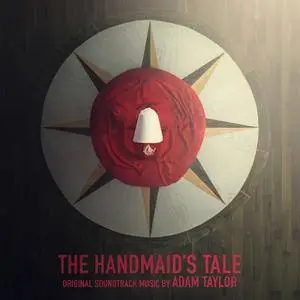 Adam Taylor - The Handmaid's Tale (Original Soundtrack) (2017)
WEB FLAC (tracks) ~ 143.33 Mb | 37:23 | Cover
Score | Label: Lakeshore Records
Like the material it was written to complement, Adam Taylor's soundtrack for Hulu's adaptation of the dystopian classic The Handmaid's Tale feels at once familiar and futuristic, hushed but deeply haunted. Sometimes, Taylor's warping synthesizers and steadily mounting sense of dread capture the feel of an '80s slasher movie ("Chased"). At other times ("Ofglen and Offred"), it sounds like the lost hymn of an 18th-century period piece—a powerful (and at times powerfully unsettling) blend.
Track List:
01. Adam Taylor & Elisabeth Moss - Escapes Within (1:14)
02. Adam Taylor - Chased (3:35)
03. Adam Taylor - River Walk (1:51)
04. Adam Taylor - Ofglen and Offred (1:31)
05. Adam Taylor - He Wants to See You (2:59)
06. Adam Taylor & Elisabeth Moss - The Smell of Caves (1:53)
07. Adam Taylor - Descending (1:29)
08. Adam Taylor - Nick and Offred (2:06)
09. Adam Taylor - Offred Explores Her Room (3:29)
10. Adam Taylor - Moira and June Escape (1:51)
11. Adam Taylor - Their First Time (1:36)
12. Adam Taylor - Felt Like Love (3:17)
13. Adam Taylor - They Were Once Madly in Love (1:47)
14. Adam Taylor - It's Happening (1:34)
15. Adam Taylor - Promenade of Stolen Children (3:10)
16. Adam Taylor - Forbidden Love (1:38)
17. Adam Taylor - He's Alive (2:23)
AUDIOCHECKER v2.0 beta (build 457) - by Dester - opdester@freemail.hu
~~~~~~~~~~~~~~~~~~~~~~~~~~~~~~~~~~

Started at: воскресенье, 06. 08. 2017. - 8:31.43
17 files found

01 -===- D:\0TORRENTS\Adam Taylor - The Handmaid's Tale (Original Soundtrack) (2017) [WEB FLAC]\01 Escapes Within.flac
Extracted successfully
Conclusion: this track is CDDA with probability 100%
Tempfile successfully deleted.

02 -===- D:\0TORRENTS\Adam Taylor - The Handmaid's Tale (Original Soundtrack) (2017) [WEB FLAC]\02 Chased.flac
Extracted successfully
Conclusion: this track is CDDA with probability 100%
Tempfile successfully deleted.

03 -===- D:\0TORRENTS\Adam Taylor - The Handmaid's Tale (Original Soundtrack) (2017) [WEB FLAC]\03 River Walk.flac
Extracted successfully
Conclusion: this track is CDDA with probability 100%
Tempfile successfully deleted.

04 -===- D:\0TORRENTS\Adam Taylor - The Handmaid's Tale (Original Soundtrack) (2017) [WEB FLAC]\04 Ofglen and Offred.flac
Extracted successfully
Conclusion: this track is CDDA with probability 100%
Tempfile successfully deleted.

05 -===- D:\0TORRENTS\Adam Taylor - The Handmaid's Tale (Original Soundtrack) (2017) [WEB FLAC]\05 He Wants to See You.flac
Extracted successfully
Conclusion: this track is CDDA with probability 100%
Tempfile successfully deleted.

06 -===- D:\0TORRENTS\Adam Taylor - The Handmaid's Tale (Original Soundtrack) (2017) [WEB FLAC]\06 The Smell of Caves.flac
Extracted successfully
Conclusion: this track is CDDA with probability 100%
Tempfile successfully deleted.

07 -===- D:\0TORRENTS\Adam Taylor - The Handmaid's Tale (Original Soundtrack) (2017) [WEB FLAC]\07 Descending.flac
Extracted successfully
Conclusion: this track is CDDA with probability 100%
Tempfile successfully deleted.

08 -===- D:\0TORRENTS\Adam Taylor - The Handmaid's Tale (Original Soundtrack) (2017) [WEB FLAC]\08 Nick and Offred.flac
Extracted successfully
Conclusion: this track is CDDA with probability 100%
Tempfile successfully deleted.

09 -===- D:\0TORRENTS\Adam Taylor - The Handmaid's Tale (Original Soundtrack) (2017) [WEB FLAC]\09 Offred Explores Her Room.flac
Extracted successfully
Conclusion: this track is CDDA with probability 100%
Tempfile successfully deleted.

10 -===- D:\0TORRENTS\Adam Taylor - The Handmaid's Tale (Original Soundtrack) (2017) [WEB FLAC]\10 Moira and June Escape.flac
Extracted successfully
Conclusion: this track is CDDA with probability 100%
Tempfile successfully deleted.

11 -===- D:\0TORRENTS\Adam Taylor - The Handmaid's Tale (Original Soundtrack) (2017) [WEB FLAC]\11 Their First Time.flac
Extracted successfully
Conclusion: this track is CDDA with probability 99%
Tempfile successfully deleted.

12 -===- D:\0TORRENTS\Adam Taylor - The Handmaid's Tale (Original Soundtrack) (2017) [WEB FLAC]\12 Felt Like Love.flac
Extracted successfully
Conclusion: this track is CDDA with probability 100%
Tempfile successfully deleted.

13 -===- D:\0TORRENTS\Adam Taylor - The Handmaid's Tale (Original Soundtrack) (2017) [WEB FLAC]\13 They Were Once Madly in Love.flac
Extracted successfully
Conclusion: this track is CDDA with probability 100%
Tempfile successfully deleted.

14 -===- D:\0TORRENTS\Adam Taylor - The Handmaid's Tale (Original Soundtrack) (2017) [WEB FLAC]\14 It's Happening.flac
Extracted successfully
Conclusion: this track is CDDA with probability 100%
Tempfile successfully deleted.

15 -===- D:\0TORRENTS\Adam Taylor - The Handmaid's Tale (Original Soundtrack) (2017) [WEB FLAC]\15 Promenade of Stolen Children.flac
Extracted successfully
Conclusion: this track is CDDA with probability 99%
Tempfile successfully deleted.

16 -===- D:\0TORRENTS\Adam Taylor - The Handmaid's Tale (Original Soundtrack) (2017) [WEB FLAC]\16 Forbidden Love.flac
Extracted successfully
Conclusion: this track is CDDA with probability 100%
Tempfile successfully deleted.

17 -===- D:\0TORRENTS\Adam Taylor - The Handmaid's Tale (Original Soundtrack) (2017) [WEB FLAC]\17 He's Alive.flac
Extracted successfully
Conclusion: this track is CDDA with probability 100%
Tempfile successfully deleted.

Finished at: воскресенье, 06. 08. 2017. - 8:34.43 (operation time: 0:02.59)