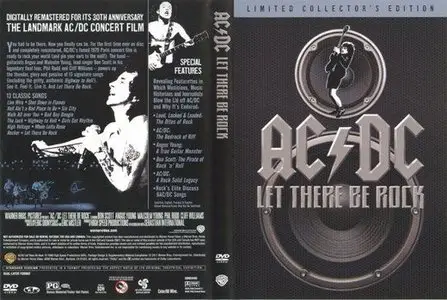 AC / DC - Let There Be Rock (Remastered Limited Collector's Edition 1980)
DVD5 | MPEG2 | 720 x 480 | 5140 Kbps | Duration: 01:37:56 | ISI | 4.3Gb
Audio ; #1 | Dolby AC3 , 6 ch | 384 Kbps | #2 English | Dolby AC3, 2 ch | 192 Kbps
Genre: Rock, Hard Rock
AC/DC – Let There Be Rock is fully remastered and available on DVDfor the first time with all 13 song performances, including classics such as "Whole Lotta Rosie", "High Voltage", "Highway To Hell", and the epic anthem "Let There Be Rock". Lead guitarist Angus Young takes center stage in his trademark school-boy uniform and captures the audience with his energetic antics and frenetic solos. The film contains interview segments and humorous backstage footage of these hard rock pioneers,especially those last interviews with Scott. This DVD release will be a great opportunityfor fans of all ages to relive one of the greatest performances by one of the most decorated rock bands in history.
Year
: 2011
Label :
Warner Bros.
Tracklist
01. Live Wire
02. Shot Down In Flames
03. Hell Ain't A Bad Place To Be
04. Sin City
05. Walk All Over You
06. Bad Boy Boogie
07. The Jack
08. Highway To Hell
09. Girls Got Rhythm
10. High Voltage
11. Whole Lotta Rosie
12. Rocker
13. Let There Be Rock
Thanks to original uploader !Download
(Filesonic, Uploadstation. Wupload | 3% restore | password
acdc
) :
List of links