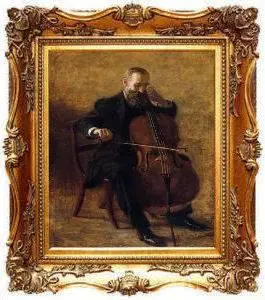 Concerto
A concerto is a multi-movement composition for one or more solo instruments and orchestra. The word "concerto" is derived from the Italian concertare, which means "to reach agreement." Concertos have been written for all the instruments on the orchestra, but the vast majority are written for violin, cello, or piano, as these three instruments all feature a wide, dynamic and expressive range.
Concertos first appeared in the 1680s. Early concertos emphasize the contrast between soloist and orchestra, tending to place the soloist and the full ensemble on roughly equal footing. Especially popular in the Baroque era was the concerto grosso, which featured several soloists. Around 1750 the concerto grosso declined in favor of the solo concerto, which tends to emphasize the soloist more than the orchestra. At this time the keyboard concerto rose in prominence, thanks to the development of the modern piano. In the nineteenth century audiences demanded extreme virtuosity from solo performers, and composers such as Beethoven, Mendelssohn, Brahms, and Tchaikovksky obliged by writing fireworks-filled concertos. Twentieth-century composers incorporated new idioms into their concertos and stretched even further the limits of the solo instruments.
What to do next
Once you have browsed and read about the recommended albums of this section at Classicalcdguide.com, you can come back here and download the albums that has cought your interest. The albums marked by a red number are the ones I have yet been unable to find anywhere so any help on that matter would be very much appreciated.
If you want more
In case you feel inspired to get more you are welcome to visit the
main page
of project Climax from where you will have access to a virtual library of quality recordings of classical music. Everything indexed into a variety of categories that should suit everyones taste.

01 - 02 - 03 - 04 - 05 - 06 - 07 - 08 - 09 - 10 - 11 - 12
Password: Sankerib - Password for doublettes: www.AvaxHome.ru
01 - Mozart; Great Piano Concertos Nos. 20, 21, 23, 24 & 25 - Ashkenazy (Decca 1997) 2 CDs
http://rapidshare.de/files/32027145/051BPPPPGKTR.part3.rar
http://rapidshare.de/files/32023111/051BPPPPGKTR.part2.rar
http://rapidshare.de/files/32020387/051BPPPPGKTR.part1.rar
http://rapidshare.de/files/32015912/051APPPPGKTR.part4.rar
http://rapidshare.de/files/32012333/051APPPPGKTR.part3.rar
http://rapidshare.de/files/32009936/051APPPPGKTR.part2.rar
http://rapidshare.de/files/32007598/051APPPPGKTR.part1.rar

02 - Bach; Brandenburg Concertos, BWV 1046-1051 - Orchestra of the AOE (Virgin 1999)
http://rapidshare.de/files/33621029/B.BC.OotAoE.1.part1.rar
http://rapidshare.de/files/33632074/B.BC.OotAoE.1.part2.rar
http://rapidshare.de/files/33632339/B.BC.OotAoE.1.part3.rar
http://rapidshare.de/files/33633413/B.BC.OotAoE.2.part1.rar
http://rapidshare.de/files/33680636/B.BC.OotAoE.2.part2.rar
http://rapidshare.de/files/33683807/B.BC.OotAoE.2.part3.rar
http://rapidshare.de/files/33612275/Cvrs.rar

03 - Rachmaninov; Piano Concerto 2 & 3 - Ashkenazy, Kondrashin, Fistoulari (Decca 1999)
http://rapidshare.de/files/34957324/121AFFGJHTDD.part4.rar
http://rapidshare.de/files/34945518/121AFFGJHTDD.part3.rar
http://rapidshare.de/files/34923284/121AFFGJHTDD.part2.rar
http://rapidshare.de/files/34918469/121AFFGJHTDD.part1.rar

04 - Dvorak; Cello Concerto - Tchaikovsky; Rococo Variations - Rostropovich, Karajan & BPO (DG 1996)
http://rapidshare.de/files/35639409/145ABBFGEDSS.part3.rar
http://rapidshare.de/files/35632874/145ABBFGEDSS.part2.rar
http://rapidshare.de/files/35608302/145ABBFGEDSS.part1.rar

05 - Brahms & Tchaikovsky; Violin concertos Op. 77 & 35 - Heifetz, Reiner & CSO (RCA 1993)
http://rapidshare.de/files/33004886/B.T.VC.H.CS.R.part1.rar
http://rapidshare.de/files/33004649/B.T.VC.H.CS.R.part2.rar
http://rapidshare.de/files/33004778/B.T.VC.H.CS.R.part3.rar
http://rapidshare.de/files/33017969/B.T.VC.H.CS.R.part4.rar
http://rapidshare.de/files/33065421/Cvrs.rar

06 - Tchaikovsky & Rachmoninov; Piano Concertos - Van Cliburn, Reiner, Kondrashin (RCA 1993)
http://rapidshare.de/files/32904028/077AGERJNWFW.part3.rar
http://rapidshare.de/files/32899351/077AGERJNWFW.part2.rar
http://rapidshare.de/files/32894133/077AGERJNWFW.part1.rar

07 - Mozart; Symphony No. 41, Clarinet Concerto K. 622 - Jack Brymer, Beecham & RPO (EMI 2001)
http://rapidshare.de/files/33899429/M.SJ.CC.BC.STB.RPO.part1.rar
http://rapidshare.de/files/33899183/M.SJ.CC.BC.STB.RPO.part2.rar
http://rapidshare.de/files/33900276/M.SJ.CC.BC.STB.RPO.part3.rar
http://rapidshare.de/files/33923094/M.SJ.CC.BC.STB.RPO.part4.rar
http://rapidshare.de/files/33918174/M.SJ.CC.BC.STB.RPO.Cvrs.rar

08 - Beethoven; Concerto for Piano & Orchestra No. 5 - Fleisher, Szell & Cleveland Orchestra (Sony 2002)
http://rapidshare.de/files/30870773/Climax018a.part4.rar
http://rapidshare.de/files/30865818/Climax018a.part3.rar
http://rapidshare.de/files/30853416/Climax018a.part2.rar
http://rapidshare.de/files/30848972/Climax018a.part1.rar

09 - Antonio Vivaldi; Le Quattro Stagioni - Tartini; Devil's Trill - Mutter & Trondheim Soloists (DG 1999)
http://rapidshare.de/files/34044942/098ASPADEFGJ.part3.rar
http://rapidshare.de/files/34040987/098ASPADEFGJ.part2.rar
http://rapidshare.de/files/34037250/098ASPADEFGJ.part1.rar

10 - Brahms, Stravinsky - Violin Concertos - Hilary Hahn, Marriner & Academy of St Martin(Sony 2001)
http://rapidshare.de/files/35564351/141ALPOPKFDD.part3.rar
http://rapidshare.de/files/35562158/141ALPOPKFDD.part2.rar
http://rapidshare.de/files/35559750/141ALPOPKFDD.part1.rar

11 - Mendelssohn, Brahms; Violin Concertos Op. 64 & 77 - Mutter, Karajan & BPO (DG 1995)
http://rapidshare.de/files/35685663/146ASWPGOJGJ.part4.rar
http://rapidshare.de/files/35662596/146ASWPGOJGJ.part3.rar
http://rapidshare.de/files/35648388/146ASWPGOJGJ.part2.rar
http://rapidshare.de/files/35643789/146ASWPGOJGJ.part1.rar

12 - Shumann; Piano Concertos Op.54, Grieg; Piano Concertos Op.16 - Perahia, Davis (Sony 2004)
http://rapidshare.de/files/35692972/147ASOKFLFLL.part3.rar
http://rapidshare.de/files/35690548/147ASOKFLFLL.part2.rar
http://rapidshare.de/files/35688171/147ASOKFLFLL.part1.rar