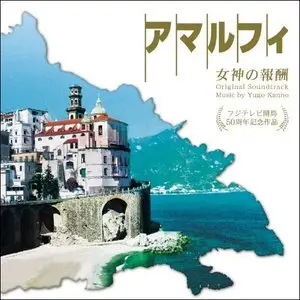 Amalfi - Rewards of the Goddess (OST)
MP3 320 Kbps | 44.100kHz | 01:12:01 | 1 CD / RAR / 158 MB
Released in 2009 | Music by Yugo Kanno
Kuroda Yuji Oda is a foreign diplomat working in the coastal town of Amalfi, Italy. He investigates the case of a young Japanese girl kidnapped off the streets of Rome at Christmas, eventually falling in love with the girl's mother (played by Yuki Amami).

"Amalfi" is a special production by Fuji TV to commemorate its 50th anniversary. The film was shot entirely on location in Italy.
Tracklist:
1 アマルフィ 女神の報酬
2 世界で最も美しい場所
3 アニュス・デイ
4 神は全ての者に扉を開く
5 誘拐事件
6 蜂のブローチ
7 監視カメラ
8 零ちる涙
9 潜入
10 フラッシュバック
11 犠牲者の中に・・・
12 愛する妖精
13 自分ひとりの力で
14 陰に隠された真実
15 ターゲット
16 連鎖テロ
17 任務
18 悲しみを背負って
19 正論が通るなら
20 あなたには死んで欲しくない
21 紺碧の海
22 タイム・トゥ・セイ・グッバイ