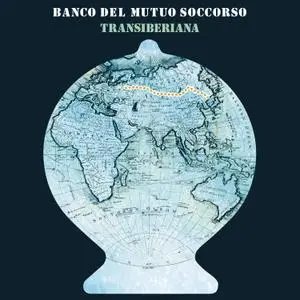 Banco del Mutuo Soccorso - Transiberiana (Bonus Tracks Version) (2019)
WEB FLAC (tracks) - 401 Mb | MP3 CBR 320 kbps - 158 Mb | 01:08:41
Progressive Rock | Label: InsideOutMusic
Banco del Mutuo Soccorso, the legendary Italian progressive rock band, is proud to announce the worldwide signing with Inside Out Music / Sony Music group. Their new record 'Transiberiana' will be the first studio album in 25 years and is scheduled to be released on May 10, 2019.

Thomas Waber of InsideOutMusic comments: "We are really honored to be working with one of the most legendary and important prog bands to have ever come out of Italy. There is a lot of history and I hope we can really help them on this new album!"

Founding member Vittorio Nocenzi states: "I'm happy after working such a long time on this new Banco del Mutuo Soccorso album for Inside Out. It fills me with joy and satisfaction as I was truly inspired from the very beginning! For too many years, the band was only dedicated to live performances, so it was about time we would go back to composing, playing and producing new stuff! By choosing the 'Transiberiana' concept for this new piece of work, there are two main issues I'd like to point out: first the new Banco line up consisting of great musicians and great people, secondly, the presence of my two sons in the project: Michelangelo co-writing the album and Mario Valerio, who took care of a marketing and communication strategy related to it. These two elements have been the best gifts I could possibly imagine to receive! And this is an extra motivation if ever needed to do my best for reaching our goals.
I can only wish fans will enjoy this incredible project and look forward to see them live when we will go out to perform the album and classic Banco-tracks around the globe with Filippo Marcheggiani (lead guitar), Nicola Di Già (rhythm guitar), Fabio Moresco (drums), Marco Capozi (bass), our singer Tony D'Alessio and myself!"

The last Banco del Mutuo Soccorso album, '13', was released back in 1994 and after all those years and the loss of two historical former members, the band is back to confirm its place in the international progressive music scene.
Tracklist:1.
Stelle sulla terra
(06:05)
2.
L'imprevisto
(03:26)
3.
La discesa dal treno
(06:15)
4.
L'assalto dei lupi
(05:34)
5.
Campi di Fragole
(03:34)
6.
Lo sciamano
(03:59)
7.
Eterna Transiberiana
(06:18)
8.
I ruderi del gulag
(06:05)
9.
Lasciando alle spalle
(01:45)
10.
Il grande bianco
(06:32)
11.
Oceano: Strade di sale
(03:38)
12.
Metamorfosi (Live at Festival Prog di Veruno 2018)
(09:43)
13.
Il ragno (Live at Festival Prog di Veruno 2018)
(05:42)
–––––––––––-

DON'T MODIFY THIS FILE

–––––––––––-

PERFORMER: auCDtect Task Manager, ver. 1.6.0 RC1 build 1.6.0.1
Copyright © 2008-2010 y-soft. All rights reserved

ANALYZER: auCDtect: CD records authenticity detector, version 0.8.2
Copyright © 2004 Oleg Berngardt. All rights reserved.
Copyright © 2004 Alexander Djourik. All rights reserved.


FILE: 4 L'assalto dei lupi.flac
Size: 37488614 Hash: 012F34326BB642568D0000E38D87428B Accuracy: -m8
Conclusion: CDDA 100%
Signature: 94417C7CE8FD4B6E0CB4F89390E3BEBC67ECF32A
FILE: 3 La discesa dal treno.flac
Size: 38081404 Hash: 7AF3F128AE99D3528DCC36CE96D55ABE Accuracy: -m8
Conclusion: CDDA 99%
Signature: D9B51FA1579777A2F11675600755F9742107BF7A
FILE: 2 L'imprevisto.flac
Size: 23318741 Hash: 7DB5441425E6994B4600FA24C121A66B Accuracy: -m8
Conclusion: CDDA 99%
Signature: CA946CFA0ABBF059AD1F2222184B633247F85C8B
FILE: 1 Stelle sulla terra.flac
Size: 33787456 Hash: 5EDC1FCBDB31D55B5B073A112DFC5F27 Accuracy: -m8
Conclusion: CDDA 100%
Signature: 8D333F37B7DE8D85C7D4F945A6B87D09B03A18E2
FILE: 13 Il ragno (Live at Festival Prog di Veruno 2018).flac
Size: 39670579 Hash: E2CED1DE209489F96FC2635F729E1A6D Accuracy: -m8
Conclusion: CDDA 100%
Signature: A1BB0D7B5D8E1A2C84402C8B777219A292C7FBD9
FILE: 12 Metamorfosi (Live at Festival Prog di Veruno 2018).flac
Size: 63880610 Hash: 5D83D7759EBC678708AF81BE131459A0 Accuracy: -m8
Conclusion: CDDA 100%
Signature: E7129EEA3B43737B096470B5A76A59397FA241C0
FILE: 11 Oceano- Strade di sale.flac
Size: 22494993 Hash: 91592BE2AFFFF9A3A896CD70467E1674 Accuracy: -m8
Conclusion: CDDA 100%
Signature: 834EABB7DE196811BA8AADD140F11160184876E3
FILE: 10 Il grande bianco.flac
Size: 39134573 Hash: E412EB267BD6715DA0568573A615BE21 Accuracy: -m8
Conclusion: CDDA 99%
Signature: CE0BC2BEFABDFA7D28A8A9BEDC7731B2FD963D0F
FILE: 9 Lasciando alle spalle.flac
Size: 7357777 Hash: 14D558BB6ABA82D1979B4AB31C180C30 Accuracy: -m8
Conclusion: CDDA 100%
Signature: 4E7F13E4A3D08122FE45C135208A6B457FB0FDDE
FILE: 8 I ruderi del gulag.flac
Size: 36104029 Hash: F9D9CE08BC8E94AB6C189274EC9F97A7 Accuracy: -m8
Conclusion: CDDA 100%
Signature: C753A7E5ADA69952E5F11EDD1B6E97D5C4EB4E48
FILE: 7 Eterna Transiberiana.flac
Size: 35465825 Hash: FD56701A919CDF4085A1E18CD466A8FE Accuracy: -m8
Conclusion: CDDA 100%
Signature: 395D7045FAA33A535B662DC668DFEB8F92F42E96
FILE: 6 Lo sciamano.flac
Size: 25267945 Hash: 8874E2ED4615DFD5AC8FFB44A46C22B0 Accuracy: -m8
Conclusion: CDDA 100%
Signature: 57EE7232415A61BC8E815E378FA2564CD0EAAA53
FILE: 5 Campi di Fragole.flac
Size: 22077548 Hash: 89C4D019969212B25BFD2FFDC1698261 Accuracy: -m8
Conclusion: CDDA 99%
Signature: 95D9AB075AAB824252202BBD7FDAE4D087BB15E1