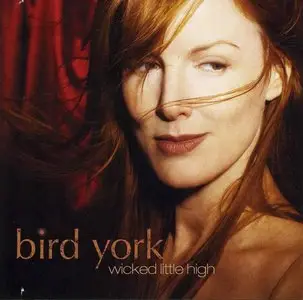 Bird York - Wicked Little High (2006)
Indie | FLAC+CUE, LOG | scans | 300 MB
Bird York (real name: Kathleen York), an actress, musician, and songwriter, is best known for her 2006 single "In the Deep," which was written for the 2004 film Crash. The single, taken from her album, "Wicked Little High", appeared in the Billboard Hot 100 in 2006, peaking at number 64. "Wicked Little High" features contributions from producer Larry Klein (Joni Mitchell, Peter Gabriel) and guitarist Steve Caton (Tori Amos).
Tracklist:
01. Had A Dream
02. Remedy
03. Wicked Little High
04. Open Wider
05. In The Deep
06. Freedom
07. Hold On, I'm Coming
08. Save Me
09. Lovely Thing
10. Come Be With Me
11. Up In Flames
12. Have No Fear
Registo da extracзгo do EAC de 16. Dezembro 2006, 19:42 para CD
Bird York / Wicked Little High

Unidade utilizada : PLEXTOR DVDR PX-750A Adapter: 2 ID: 1
Modo de Leitura : Seguro SEM C2, fluxo preciso, desligar cache
Correcзгo de offset de leitura/escrita combinada : 0
Sobrescrever no Lead-In e Lead-Out : Nгo

Formato de saнda utilizado : C:\Programas\Monkey's Audio\MAC.exe (Encoder Monkey's Audio Lossless)
Normal Lossless Compression

Outras opзхes :
Preencher offset samples em falta com silкncio : Sim
Eliminar blocos de silкncio dianteiros e finais : Nгo
Interface nativa Win32 para Win NT & 2000


Estado e erros dos limites
Limites Seleccionados
Nome de ficheiro C:CDImage.wav

Nнvel de pico 100.0 %
Qualidade dos limites 99.9 %
CRC 4F21AF63
Cуpia OK

Nгo ocorreram erros

Fim do relatуrio de estado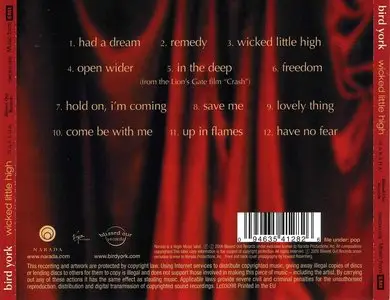 Preview songs on Amazon