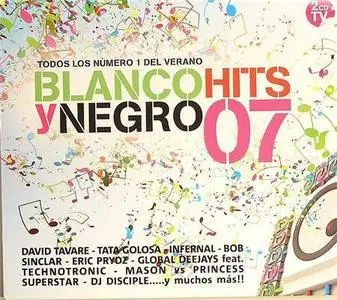 VA - Blanco Y Negro Hits 07
Gerne: House, Hits | Mp3 | VBR | Time 67:54 + 71:46 | 93,4 + 93,7 mb | Unmixed
CD1
1.David Tavare - "Hot Summer Night (Oh La La La)" (feat 2Eivissa)
2.Tata Golosa - "Micromania"
3.Infernal - "Ten Miles"
4.Mason vs Princess Superstar - "Perfect (Exceeder)"
5.Bob Sinclar - "Give A Lil' Love" (Harlem Hustlers vs Bob Sinclar Whistle remix)
6.DJ Disciple feat Dawn Tallman - "Work It Out" (Ruff & Tort meets DJ Disciple remix)
7.Victor Ark - "Coming Back" (Oscar Salguero edit)
8.Francesco Diaz - "Say A Little Prayer" (feat Karl Frierson)
9.Nacho Rosselot - "Despierta Ya!"
10.Global Deejays vs Technotronic - "Get Up"
11.Gabriel & Dresden - "Dangerous Power" (feat Jan Burton)
12.Sunflowerz - "Counting Down The Days" (feat Andrea Britton)
13.Dannii Minogue - "He's The Greatest Dancer"
14.Millennium - "You Are The One"
15.Pier Bucci - "Hay Consuelo"
16.Eric Prydz vs Floyd - "Proper Education"
17.Camille Jones - "The Creeps" (Fedde Le Grand remix)
18.Chris Lake feat Laura V - "Changes" (Dirty South remix)
19.Jesse Garcia - "Off Da Hook!"
20.Alibi vs Rockefeller - "Sexual Healing"
CD2
1.Bodyrox feat Luciana - "Yeah Yeah" (D Ramirez remix)
2.Fuzzy Hair & AM - "Mad World" (feat Joe Taff)
3.The Egg - "Walking Away" (Tocadisco remix)
4.The Mitical Boys pres Melisha - "My Name Is Melisha"
5.Frank-Ti Aya - "One Love World Love" (feat Yardi Don)
6.De Souza feat Shena - "Guilty" (Eddie Thoneick remix)
7.Erick E - "The Beat Is Rocking"
8.The Prayers - "Think"
9.Cicada - "The Things You Say" (Dirty South remix)
10.Pate No 1 - "Shining Star"
11.Set Sins - "Stop Shaking Up My Heart" (feat Zirah)
12.Edun - "Put Them Up"
13.C&G - "Bootleg In The Gun"
14.Arno Cost & Arias - "Magenta"
15.TCS vs Level 42 - "Lessons In Love 2007"
16.MAW - "Work 2007" (remix 2007)
17.Daddy's Groove - "Rendez Vous" (feat Coleman)
18.Moony - "He's All I Want"
19.Kim Sozzi - "Break Up" (Cascada remix)
20.Lesi Ostestral - "Vadoka Bayan (Vodka Fisa)"