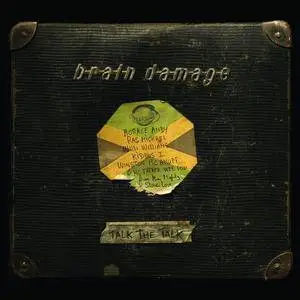 Brain Damage - Talk The Talk (2016)
Reggae, Dub | 47:11 mins | MP3, 320 kbps | 109 MB
Label: Jarring Effects
Quand Martin Nathan alias Brain Damage a l'idée d'un nouveau projet, il contacte Sam Clayton (producteur et ingénieur du son ayant travaillé entre autre avec Steel Pulse ou Toots & the Maytals). Sam convie alors le riddim maker stéphanois en Jamaïque, dans le Harry J Studio (où ont enregistré des artistes comme Bob Marley, Jimmy Cliff ou Peter Tosh) lui faisant profiter de ses nombreuses relations sur l'île pour rencontrer des légendes du reggae telles qu'Horace Andy, Winston McAnuff, Ras Michael, Kiddus I et Willi Williams. Le résultat avait donné l'album Walk the Walk, dont tout le monde se souvient, en 2015.
Un an plus tard, Brain Damage nous présente le second volet de son projet : Talk the Talk, un album composé des versions dub des 10 morceaux présents sur l'opus précédent et de trois inédits accompagné d'un DVD.
Parlons d'abord de ce documentaire dont les images ont été tournées par le réalisateur Wasaru qui faisait aussi partie du voyage en Jamaïque. Il nous transporte sur l'île caribéenne, nous fait ressentir l'ambiance du mythique Harry J Studio et nous livre de belles tranches de vies de ces grands noms du reggae. Le volet consacré à Brain Damage nous en apprend plus sur la genèse du projet, nous racontant par exemple que la mort de John Holt, survenue au moment où le projet prenait forme, a donné au producteur français l'envie de se pencher sur cette génération dorée souvent oubliée. Le chapitre se penchant sur Sam Clayton et celui sur Stephen Stewart nous plongent dans l'histoire du studio Harry J et nous livrent leur vision du travail effectué aux cotés de Brain Damage. Chacun des autres épisodes est dédié à un des artistes ayant participé à l'album, mêlant anecdotes et images de l'enregistrement à des interviews ou plutôt des discussions passionnantes entre les chanteurs et le producteur français ayant pour thèmes leurs carrières respectives ou leurs souvenirs d'enfance. En effet, Brain Damage les avait invité à se plonger dans leurs souvenirs d'enfance pour construire le fil conducteur des séances d'écriture. On notera les éclats de rire d'Horace Andy ou les explications sur le fameux titre Malcolm X de Winston McAnuff. Mais mieux vaut ne pas trop en raconter pour vous laisser découvrir ce formidable documentaire par vous même.
Venons en au CD, et commençons par ses particularités : chaque morceau est introduit, dans la plus pure tradition des sound systems jamaïcains, par la voix de Father Wee Pow (fondateur du légendaire Stone Love Sound System) et les dernières mesures sont ponctuées par des extraits d'interviews tirées du documentaire. Ceux qui avaient été séduits par Walk the Walk et qui apprécient le travail de Brain Damage depuis tant d'années apprécieront Talk the Talk qui est un album purement dub et particulièrement abouti dans lequel les versions originales déjà si belles sont remixées avec talent à grands coups d'échos, de réverbs et d'effets bien placés. Un album très musical dans lequel on entend un large éventail d'instruments avec des mélodies entraînantes et des lignes de basses folles (ce qui n'étonnera aucun amateur de Brain Damage), des paroles toujours conscientes qui raisonnent sur des instrumentales assez roots. On notera le Youts Dub particulièrement réussi auquel Horace Andy prête sa voix, l'ambiance mystique dans laquelle nous transporte le Lion Dub » de Winston McAnuff ou le rythme entêtant sur le Love Dub de Ras Michael. Le Fyah Dub se fait remarquer par son style beaucoup plus pêchu et steppa sur lequel les paroles de Willi Williams se collent à merveille. Les trois inédits sont tout aussi agréables à l'écoute, le premier se termine par des extraits de l'interview de Stephen Stewart, le second par celle de Sam Clayton et le dernier, Garden of Dub, un morceau bien roots sublimé par de superbes accords de trombone, conclut parfaitement l'album.
Tracks:
01. Brain Damage - Youts Dub (Featuring Horace Andy) (3:22)
02. Brain Damage - Mama Dub (Featuring Horace Andy) (4:00)
03. Brain Damage - Fyah Dub (Featuring Willi Williams) (3:44)
04. Brain Damage - Pray Dub (Featuring Willi Williams) (4:06)
05. Brain Damage - Lion Dub (Featuring Winston McAnuff) (3:07)
06. Brain Damage - Birthday Dub (Featuring Winston McAnuff) (3:45)
07. Brain Damage - Vamp Dub (Featuring Kiddus I) (4:02)
08. Brain Damage - Grandma Dub (Featuring Kiddus I) (4:24)
09. Brain Damage - Walk The Dub (Featuring Ras Michael) (3:38)
10. Brain Damage - Love Dub (Featuring Ras Michael) (3:37)
11. Brain Damage - Music First Dub (2:44)
12. Brain Damage - Humpty Dumpty Dub (2:33)
13. Brain Damage - Garden Of Dub (4:09)