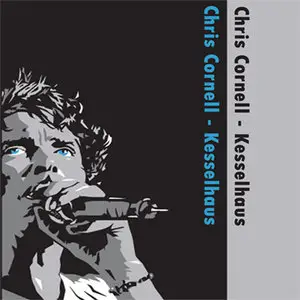 Chris Cornell - Kesselhaus (2007-05-20) (FM) (2CD)
2007 | FLAC | HQ Artwork | 777 MB
MD5 [X] FFP [] CUE [] LOG [] INFO TEXT [X] ARTWORK [X]
CD sourced, but no LOG and no CUE
Original Info File:
CHRIS CORNELL
Kesselhaus Berlin
20. May 2007

This is a FM broadcast taken from the Radio1 Summernights concert series.
An excellent sounding recording of an exceptional show.

Disc 1:

01. Spoonman (Soundgarden)
02. Outshined (Soundgarden)
03. Show Me How To Live (Audioslave)
04. You Know My Name
05. Arms Around Your Love
06. Hunger Strike (Temple Of The Dog)
07. What You Are (Audioslave)
08. Rusty Cage (Soundgarden)
09. Be Yourself (Audioslave)
10. Seasons (Soundgarden)

Disc 2:

01. I Am The Highway (Audioslave)
02. Scar On The Sky
03. Can't Change Me
04. Wide Awake (Audioslave)
05. Doesn't Remind Me (Audioslave)
06. Billie Jean (Michael Jackson)
07. Zero Chance (Soundgarden)
08. My Wave (Soundgarden)
09. Jesus Christ Pose (Soundgarden)
10. Black Hole Sun (Soundgarden)
11. Say Hello To Heaven (Temple Of The Dog)

Radio1 broadcast (airbourne) >Denon tuner >TASCAM RW700 MasterCD >EAC >CDwave >flac (level6, verified, with align on sector boundaries) >tracker


Radio1 website text for the show:
Als einstiger Frontmann von Soundgarden gehört er zu einem
der Begründer des Grunge: Chris Cornell. Seit seinem Ausstieg
bei der Supergroup Audioslave im Februar dieses Jahres
konzentriert sich der 42-jährige wieder ganz auf sich und sein
eigenes Songwriting. Nach seiner ersten Solopatte "Euphoria
Morning" von 1999 erschien mit "Carry On" nun kürzlich sein
zweites Werk im Alleingang: Am 20. Mai war Chris Cornell mit
4-köpfiger Band im Kesselhaus der Kulturbrauerei zu Gast.
Neben der Präsentation seiner neuen Stücke war der Abend
vor allem eine liebevolle Retrospektive, bei welcher der
Rockveteran aus seinem fast 20-jährigen musikalischen Fundus
schöpfte und sogar ein paar alte Songs von Temple Of The Dog
spielte – dem gemeinsamen Projekt von Chris Cornell und Eddie
Vedder aus dem Jahre 1990. Vor allem aber die vielen
Soundgarden-Fans im Publikum kamen bei dem über zweistündigen
Konzert im Kesselhaus voll auf ihre Kosten…
Band Info:
Chris Cornell (born Christopher John Boyle on July 20, 1964) is an American rock musician best known as the lead singer and songwriter for rock bands Soundgarden (1984–1997) and Audioslave (2001–2007), and for his numerous solo works and soundtrack contributions (1998-2009). He is known for his wide 4 octave vocal range and powerful vocal belting technique. He was the founder and frontman for Temple of the Dog, the one-off tribute band dedicated to his former roommate, Andrew Wood. He has released three solo studio albums, Euphoria Morning (1999), Carry On (2007), and Scream (2009).
Format:
Flac (Compression Level 8)
Links:
[rapidshare.com/200 MB Splits]
via secured.in
http://secured.in/download-315439-aa87384a.html
via stealth.to
incl. .dlc, .ccf, .rsdf
http://stealth.to/?id=h3fy0x87u5aq5memvthkccva6m6d0ksaex
Password:
ceart-bootlegs
Visit my Blog:
not allowed on avax
MIRRORS ARE WELCOME BUT NOT ON RAPIDSHARE! Thanks.

I added a new encrypter for those who cannot handle secured.in. If you have still problems after using the second one, it is the below described java problem

IF YOU HAVE PROBLEMS GETTING THE LINKS FROM SECURED.IN - CHECK IF A POP-UP IS BLOCKED!!!
Also you have to enable javascript - check if you have the "no-script" add-on for firefox enabled!If you have still problems AFTER disabling Java-Script contact me via PM. I´ll try to help as good as i can.

BUT there will be no MIRRORS and i will not leave secured.in. All comments with these matters are useless. Sorry.––> I SUGGEST TO ALL WHO HAVE PROBLEMS USING SECURED.IN or want to download automated with the rsdf (AND ALL OTHERS TOO…) <––
––> TO USE THE FREE DOWNLOAD MANAGER "JDOWNLOADER" <––
––> (DOWNLOAD HERE: http://jdownloader.org/news?lng=en) <––
––> THIS ONE CAN ALSO HANDLE THE RSDF FILE AND DECRYPTS LINK ENCRYPTER PAGES AUTOMATICALLY! <––
––> BELIEVE IN ME, IT WILL MAKE RAPIDSHARE MUCH EASIER! <––