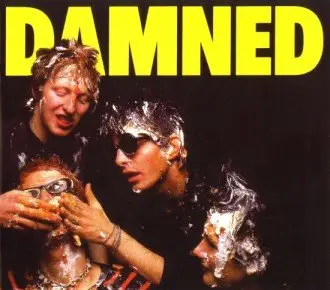 Damned - Damned Damned Damned [3 CD, 30th. Anniversary Edt., Remastered]
Year & Label: 1977/2007 Stiff Records/Santuary Records Group/Universal
CD1#: 00602517556416 | CD2#: 00602517556423 | CD3#: 006025117556430
FLAC-5 (images) | Mp3 VBR-0 (images & tracks) | Artwork (JPG, 400 dpi) | File-hosts: HF, FF & RS
Punk-Rock | FLAC: 929 MB | Mp3, tracks or images: 287 MB | Artwork: 44 MB | 5% WinRAR Recovery

EAC Secure-rip with LOG+CUE+COVERS | Source: My CD-collection

"Damned, Damned, Damned" still thrills. Its freshness, energy and capacity to musically assault have never dimmed. As British Punk's first album it remains timeless. Originally released in February 1977 and reaching number 36 in the U.K. chart, the album explodes with an energy, power and cutting edge that none of its rivals came remotely close to matching. As such, it is considered by many fans to be their greatest release in their extensive catalogue. Along with the original album, this Deluxe Expanded Edition captures everything else that the band recorded under professional circumstances during Punk's year zero. Early demos, all the B-sides, both John Peel Sessions, their scorching BBC In Concert and the rare 'Stretcher Case Baby' / 'Sick Of Being Sick' 7' single recording. And if that isn't enough, this release also features a previously unreleased bootleg of the band's very first gig recorded from the 100 Club on July 6th 1976. This is the year one of The Damned and is evidence that this was one of the most extraordinary 12 months for any band, of any era.


***

Merry "Damned" X-mas!
February 2007 marked the 30th anniversary of the legendary first album released from the 1977 British punk rock revolution.
In celebration Castle has now expanded the album to a 3 disc deluxe packaged set:
Disc 1: The original classic album
Disc 2: 26 various demos, singles, John Peel radio sessions, and a May 77 live set
Disc 3: Previously unreleased live set, recorded at the 100 Club on July 4, 1976.
This new expanded edition is packaged in a plush digi-pack.
A must have for all fans and collectors of punk rock.
If you like punk rock at all, you pretty much have to have a soft spot for the Damned's epochal 1976 debut album Damned Damned Damned, one of the masterstroke releases of the first wave of British punk which still sounds fresh, exciting and brilliantly snotty three decades after it was released. But if you love Damned Damned Damned, well, this remastered and lavishly expanded edition will bring a broken-toothed grin to your face in no time flat. This three-disc set (yes, three discs!) opens with the original album, which seems to have hardly dated a bit. For all the group's manic energy, the playing is sharp and muscular, Dave Vanian's vocals are powerful enough to make his histrionics work, Rat Scabies' drumming holds the band tight, Captain Sensible's bass provides a solid foundation for the melodies and Brian James' guitar wails with primitive force. The songs still communicate, and the band's lack of an upfront political or social agenda means these songs aren't chained to their era the way the early Clash, Sex Pistols or Stiff Little Fingers discs are, great as they may be. Disc two serves up 26 demos, B-sides, non-LP single tracks and radio recordings, which equals nearly everything the band recorded during their first year of operations. The two John Peel sessions and a ten-song BBC live concert will delight anyone with a fondness for the band's first era, and you may want to give "Singalong Scabies" ("Stab Yor Back" minus its vocal track) a spin at your next karaoke party. And Disc three features a lo-fi recording of one of the Damned's first public gigs, a set recorded in London during the 100 Club's first Punk Rock Festival in the summer of 1977. The recording quality is only fair, and the audience doesn't seem to be too enthusiastic, but the Damned give their all, and the show is both exciting and historically priceless. The set comes with a 16-page booklet packed with photos and featuring an excellent historical essay from Kieron Tyler.

The 30th Anniversary Expanded Edition of Damned Damned Damned not only adds plenty of fine music and historical perspective to one of the great album of the British punk scene, it actually improves on the fine box set Play It at Your Sister, which covers most of the same territory before sinking into the disappointment of the group's misbegotten second album, Music for Pleasure; this is simply essential stuff, and rock & roll fun at its most dangerous.


Background on the album

After the success of "New Rose" and a tour with the Sex Pistols, the Heartbreakers, and the Clash, the band went into Pathway Studio to record the album Damned Damned Damned with producer Nick Lowe who recorded "New Rose" with them. Following ten days of recording, the mix was completed on 15 January 1977, the day the master tapes were compiled.

Damned Damned Damned was issued by Stiff Records on 18 February 1977 which was also member Brian James' birthday.


Album cover

The album cover features the four members of the band who have been hit by pies. Brian James recalls "that was organised by this photographer called Peter, Stiff had assigned him to do the thing. They thought it was a jolly wheeze to surprise us with a few cream cakes, little knowing that we would relish it, get into to it and enjoy the whole experience". After the photo session, Damned member Captain Sensible noted "…I had more pie on my face than any of the other buggers and on the back of the sleeve I had my back to the picture, so I went down a photo booth and got some pictures, cut one out and said 'put that on there.' So I would have something to show my relatives, because I didn't think we'd be invited to make another album."

Stiff records deliberately printed a limited number of initial copies of the LP with a photo of Eddie and the Hot Rods on the back of the album cover, rather than The Damned playing at The Roxy Club. An 'erratum' sticker was also put on the back cover, and on the front of the LP - on top of the original shrinkwrap - was a red 'food-fight' sticker that says 'Damned Damned', thus completing the LP title when read underneath the band's name. This was part of Stiff Records' unusual promotional activity for which they became renowned. As of 2009, a copy of this rare print which still has both stickers and the shrinkwrap intact (slit-open or sealed) fetches between £200.00 - £500.00, depending on condition.

The design of the LP is credited as Big Jobs Inc, which was a pseudonym of Barney Bubbles.


Reception

The British press has had mostly positive notes for the album. In 2002, Q included Damned Damned Damned in its "100 Best Punk Albums" list, declaring it "…One of the nastiest, most ragged and downright funniest record of the era…" while in 2003, the album ranked #3 in Mojo's "Top 50 Punk Albums" citing the album as "…Fast and furious, a fabulous snapshot of punk's earliest, subterranean days…".

The American press has also looked upon the album kindly, Ned Raggett at Allmusic gave the album their highest rating of five stars, declaring "Damned Damned Damned is and remains rock at its messy, wonderful best." The website Pitchfork Media also positively noted the album in a negative review of The Damned's 2001 album Grave Disorder stating "I won't lie to you: the Damned's new album isn't very good. In fact, the Damned have only ever recorded a few albums that were– for instance, their debut or 1979's Machine Gun Etiquette"…."


Damned official homepage
Damned at Wikipedia
Damned at MySpace




Great Great Great!!!

In the hierarchy of UK punk rock debuts, Damned Damned Damned ranks behind only Never Mind the Bollocks Here's the Sex Pistols and The Clash in terms of its impact on the music world. The trio of bands behind those albums ushered in the first generation of punk, like motley pied pipers attracting misfit followers everywhere they played. Those not fortunate enough to catch these groups live must have been astonished when, in 1977, all these great new records began popping up in the bins. Sure, the Pistols started the whole thing, and the Clash were the Clash. The first albums from those two groups were great, and everybody knows it. Amazingly, the Damned's debut has hovered just below the radar for these last three decades. While it couldn't exactly be called obscure, Damned Damned Damned deserves to be regarded as a true classic, must-have record alongside the others.

Castle's three-CD 30th Anniversary Expanded Edition of the album should help this cause considerably. This is a beautiful package, full of pictures, essays, interviews and detailed track information. The arrangement of the material is smart, too. Disc one contains the original album, and nothing more. All of the bonus material comes on the bonus discs. I always prefer this method, keeping the primary album intact and pure. The second CD is loaded with all kinds of goodies, beginning with a trio of demos recorded in June 1976. Although the sound isn't great, it's fun to hear the Damned at this very early stage. More powerful are nine Peel session performances from November '76 and May '77. Also from that May, we are treated to a ten-song concert recorded for the BBC. They've also tossed in a couple of b-sides (including the band's, um, streamlined take on the Beatles' "Help") and the Damned's between-albums 45, "Stretcher Case Baby" backed with "Sick of Being Sick". After the orgiastic smorgasbord of disc two, the third CD is another unadulterated sonic experience. Mostly notable for historical purposes, and probably worth listening to only once, the 12 cuts comprise the Damned's first ever concert, recorded July 6, 1976 at the 100 Club in London (where the Pistols frequently played, as well). The quality of the recording is pretty poor, but it's quite the important audio document. It also conveys the atmosphere for punk bands in that embryonic period. The Damned rip through their set pretty convincingly, especially for their first outing on stage, but the near-silence between songs is more profound—the three or four bodies cheering were probably all members of other punk bands.

By April 16, 1977, when Stiff Records first released Damned Damned Damned, the audience for punk music had built considerably, thanks to the vast amount of press given to the movement, be it raves, pans, or utter befuddlement. As a live phenomenon, punk had caught on. Still, precious few recordings had been issued by this time. The Pistols had unleashed two singles, and Buzzcocks had birthed their Spiral Scratch EP in January, while the Clash issued their first LP the same month as the Damned's. 30 years later, it's hard to imagine the world of music before punk. That raw energy has been with us for so long now. But, at the time, Damned Damned Damned must have been mind-blowing. Even today, it remains powerful and fun.

The album kicks off with "Neat Neat Neat", the band's second single and one of punk's classic tracks. The three-word song title whizzes by like the Roadrunner's "meep-meep!" as it zips away from the Coyote. Blink, and the prize is gone. Fortunately, with a CD, you can just play the song again. It's just as good the second time, or the 1,000th. The album also features the even more addictive, tom-tom-driven "New Rose". Released in November 1976, it is said to be UK punk's first single. What a way for the genre to begin! While both of those tracks are high-speed poppy punk, the Damned were branching out even on their debut. "Fan Club" is mid-tempo and driven by surf motifs. The slow, dark, and druggy "Feel the Pain" presages the group's later excursions into art-pop, new wave, and goth. The album's final track, the bluesy garage-rockin' "I Feel Alright", is a cover of the Stooge's song, acknowledging the genre's forefathers. Mostly, though, Damned Damned Damned is full-throttle punk rock, with three tracks clocking in under two minutes. Even the 60-second "Stab Your Back" is more than a throwaway, though. It's exciting, threatening, and, in a really dumb way, pretty catchy. Another of the short cuts, "Fish", actually features a guitar solo, one of the elements of arena rock bloatedness that punk rock sought to undermine. Right away, the Damned were clearly mavericks, unwilling to play by even the rules of a scene that supposedly had no rules. The band's weird personality shines through on this album, helping to elevate Damned Damned Damned from very goodness to total excellence.

The Sex Pistols were outrageous, sang about anarchy, and truly did kick-start the UK punk movement. For those reasons, Never Mind the Bullocks will always remain at the top of the totem poll. The Clash successfully built on their eponymous opening entry, later creating one of the best albums of all-time in London Calling. These legacies are impossible to compete with, especially considering the short run of greatness the Damned enjoyed. They produced one more excellent album with 1979's Machine Gun Etiquette and then went downhill in the '80s. Nonetheless, if you can ignore all the hindsight and history and hoopla in order to isolate the music, Damned Damned Damned is the equal of its 1977 rivals. While it may seem overly lofty to term a blistering punk record a "near masterpiece," that is most assuredly the case here. Castle's new Expanded Edition gives us that much more to love about the album, the band, and this exciting era of music. [Michael Keefe, Popmatters. 9/10 stars.]



The Damned

Dave Vanian – vocals
Brian James – guitar, vocals
Captain Sensible – bass, vocals
Rat Scabies – drums, vocals

Technical staff

Nick Lowe – producer
Bazza – engineer


Track List:

Disc 1 - Original album

01. Neat Neat Neat
02. Fan Club
03. I Fall
04. Born To Kill
05. Stab Yor Back
06. Feel The Pain
07. New Rose
08. Fish
09. See Her Tonite
10. 1 Of The 2
11. So Messed Up
12. I Feel Alright



Exact Audio Copy V0.99 prebeta 5 from 4. May 2009

EAC extraction logfile from 19. December 2009, 21:18

Damned / Damned Damned Damned [3 CD, 30th. Anniversary Edt.] (Disc 1)

Used drive : PLEXTOR DVDR PX-880U Adapter: 0 ID: 3

Read mode : Secure
Utilize accurate stream : Yes
Defeat audio cache : No
Make use of C2 pointers : Yes

Read offset correction : 6
Overread into Lead-In and Lead-Out : No
Fill up missing offset samples with silence : Yes
Delete leading and trailing silent blocks : No
Null samples used in CRC calculations : Yes
Used interface : Native Win32 interface for Win NT & 2000

Used output format : User Defined Encoder
Selected bitrate : 768 kBit/s
Quality : High
Add ID3 tag : No
Command line compressor : C:\Exact Audio Copy\FLAC\FLAC.EXE
Additional command line options : -V -5 -T "artist=%a" -T "title=%t" -T "album=%g" -T "date=%y" -T "tracknumber=%n" -T "genre=%m" %s


TOC of the extracted CD

Track | Start | Length | Start sector | End sector
––––––––––––––––––––––––––––-
1 | 0:00.00 | 2:43.26 | 0 | 12250
2 | 2:43.26 | 2:57.12 | 12251 | 25537
3 | 5:40.38 | 2:06.29 | 25538 | 35016
4 | 7:46.67 | 2:37.09 | 35017 | 46800
5 | 10:24.01 | 1:00.09 | 46801 | 51309
6 | 11:24.10 | 3:36.65 | 51310 | 67574
7 | 15:01.00 | 2:44.01 | 67575 | 79875
8 | 17:45.01 | 1:38.71 | 79876 | 87296
9 | 19:23.72 | 2:29.62 | 87297 | 98533
10 | 21:53.59 | 3:08.39 | 98534 | 112672
11 | 25:02.23 | 1:51.65 | 112673 | 121062
12 | 26:54.13 | 4:27.15 | 121063 | 141102


Range status and errors

Selected range

Filename E:\Damned - Damned Damned Damned [3 CD, 30th. Anniversary Edt.] (Disc 1).wav

Peak level 99.6 %
Range quality 100.0 %
Test CRC 252D307D
Copy CRC 252D307D
Copy OK

No errors occurred


AccurateRip summary

Track 1 cannot be verified as accurate (confidence 5) [F91C9B26], AccurateRip returned [B0A6DF8F]
Track 2 cannot be verified as accurate (confidence 5) [8C2A04CF], AccurateRip returned [6377DA30]
Track 3 cannot be verified as accurate (confidence 5) [C277FC21], AccurateRip returned [FCF732AD]
Track 4 cannot be verified as accurate (confidence 5) [76A04051], AccurateRip returned [4E99E51E]
Track 5 cannot be verified as accurate (confidence 5) [154E4C86], AccurateRip returned [432C7467]
Track 6 cannot be verified as accurate (confidence 5) [04A0DBE5], AccurateRip returned [29FC0A04]
Track 7 cannot be verified as accurate (confidence 5) [883BD7A2], AccurateRip returned [1DAB3C0B]
Track 8 cannot be verified as accurate (confidence 5) [94059D9B], AccurateRip returned [460ACF14]
Track 9 cannot be verified as accurate (confidence 5) [7EE86261], AccurateRip returned [068DBD1E]
Track 10 cannot be verified as accurate (confidence 5) [E9855C5F], AccurateRip returned [2F1D1553]
Track 11 cannot be verified as accurate (confidence 5) [48918617], AccurateRip returned [B756D58A]
Track 12 cannot be verified as accurate (confidence 5) [5F82291F], AccurateRip returned [A2347310]

No tracks could be verified as accurate
You may have a different pressing from the one(s) in the database

End of status report



Disc 2 - Demos, B-sides & BBC Sessions

01. I Fall [Demo, June 1976]
02. See Her Tonite [Demo, June 1976]
03. Feel The Pain [Demo, June 1976]
04. Help [Stiff b-side, October 1976]
05. Stab Yor Back [Peel Session, 1976-11-30]
06. Neat Neat Neat [Peel Session, 1976-11-30]
07. New Rose [Peel Session, 1976-11-30]
08. So Messed Up [Peel Session, 1976-11-30]
09. I Fall [Peel Session, 1976-11-30]
10. Singalongscabies [Stiff b-side, February 1977]
11. Fan Club [Peel Session, 1977-05-05]
12. Feel The Pain [Peel Session, 1977-05-05]
13. Stretcher Case Baby [Peel Session, 1977-05-05]
14. Sick Of Being Sick [Peel Session, 1977-05-05]
15. I Feel Alright [In Concert, 1977-05-19]
16. Born To Kill [In Concert, 1977-05-19]
17. Sick Of Being Sick [In Concert, 1977-05-19]
18. Neat Neat Neat [In Concert, 1977-05-19]
19. Fan Club [In Concert, 1977-05-19]
20. Stretcher Case Baby [In Concert, 1977-05-19]
21. Help [In Concert, 1977-05-19]
22. Stab Yor Back [In Concert, 1977-05-19]
23. So Messed Up [In Concert, 1977-05-19]
24. New Rose [In Concert, 1977-05-19]
25. Stretcher Case Baby [Stiff single, July 1977]
26. Sick Of Being Sick [Stiff single, July 1977]



Exact Audio Copy V0.99 prebeta 5 from 4. May 2009

EAC extraction logfile from 19. December 2009, 21:36

Damned / Damned Damned Damned [3 CD, 30th. Anniversary Edt.] (Disc 2)

Used drive : PLEXTOR DVDR PX-880U Adapter: 0 ID: 3

Read mode : Secure
Utilize accurate stream : Yes
Defeat audio cache : No
Make use of C2 pointers : Yes

Read offset correction : 6
Overread into Lead-In and Lead-Out : No
Fill up missing offset samples with silence : Yes
Delete leading and trailing silent blocks : No
Null samples used in CRC calculations : Yes
Used interface : Native Win32 interface for Win NT & 2000

Used output format : User Defined Encoder
Selected bitrate : 768 kBit/s
Quality : High
Add ID3 tag : No
Command line compressor : C:\Exact Audio Copy\FLAC\FLAC.EXE
Additional command line options : -V -5 -T "artist=%a" -T "title=%t" -T "album=%g" -T "date=%y" -T "tracknumber=%n" -T "genre=%m" %s


TOC of the extracted CD

Track | Start | Length | Start sector | End sector
––––––––––––––––––––––––––––-
1 | 0:00.00 | 2:56.61 | 0 | 13260
2 | 2:56.61 | 2:40.59 | 13261 | 25319
3 | 5:37.45 | 5:11.52 | 25320 | 48696
4 | 10:49.22 | 1:43.06 | 48697 | 56427
5 | 12:32.28 | 0:59.46 | 56428 | 60898
6 | 13:31.74 | 2:39.55 | 60899 | 72878
7 | 16:11.54 | 2:40.69 | 72879 | 84947
8 | 18:52.48 | 2:28.11 | 84948 | 96058
9 | 21:20.59 | 2:10.73 | 96059 | 105881
10 | 23:31.57 | 1:00.54 | 105882 | 110435
11 | 24:32.36 | 3:03.67 | 110436 | 124227
12 | 27:36.28 | 3:33.62 | 124228 | 140264
13 | 31:10.15 | 1:48.33 | 140265 | 148397
14 | 32:58.48 | 2:29.30 | 148398 | 159602
15 | 35:28.03 | 4:49.13 | 159603 | 181290
16 | 40:17.16 | 3:01.14 | 181291 | 194879
17 | 43:18.30 | 2:50.34 | 194880 | 207663
18 | 46:08.64 | 2:56.74 | 207664 | 220937
19 | 49:05.63 | 2:55.49 | 220938 | 234111
20 | 52:01.37 | 2:26.47 | 234112 | 245108
21 | 54:28.09 | 1:32.40 | 245109 | 252048
22 | 56:00.49 | 1:02.19 | 252049 | 256717
23 | 57:02.68 | 2:35.28 | 256718 | 268370
24 | 59:38.21 | 3:26.01 | 268371 | 283821
25 | 63:04.22 | 2:14.26 | 283822 | 293897
26 | 65:18.48 | 1:59.51 | 293898 | 302873


Range status and errors

Selected range

Filename E:\Damned - Damned Damned Damned [3 CD, 30th. Anniversary Edt.] (Disc 2).wav

Peak level 99.7 %
Range quality 99.9 %
Test CRC C7CFFEFA
Copy CRC C7CFFEFA
Copy OK

No errors occurred


AccurateRip summary

Track 1 cannot be verified as accurate (confidence 5) [DB22DC6C], AccurateRip returned [8A2A3F5E]
Track 2 cannot be verified as accurate (confidence 5) [8A5E781B], AccurateRip returned [BB6E625A]
Track 3 cannot be verified as accurate (confidence 5) [8F4F2DB5], AccurateRip returned [253B192B]
Track 4 cannot be verified as accurate (confidence 6) [786C0A14], AccurateRip returned [CFB64187]
Track 5 cannot be verified as accurate (confidence 6) [D7D3F7F6], AccurateRip returned [C7158B83]
Track 6 cannot be verified as accurate (confidence 6) [73531D60], AccurateRip returned [0C6325DC]
Track 7 cannot be verified as accurate (confidence 6) [3FDF8823], AccurateRip returned [C091557F]
Track 8 cannot be verified as accurate (confidence 6) [8C7F3EE8], AccurateRip returned [65E61D9F]
Track 9 cannot be verified as accurate (confidence 6) [448B53DD], AccurateRip returned [7493EA04]
Track 10 cannot be verified as accurate (confidence 5) [68A7EA4F], AccurateRip returned [1CC3E270]
Track 11 cannot be verified as accurate (confidence 6) [C2DF3B7D], AccurateRip returned [BD181749]
Track 12 cannot be verified as accurate (confidence 6) [F7634FD4], AccurateRip returned [00FEBDE7]
Track 13 cannot be verified as accurate (confidence 6) [9774F20B], AccurateRip returned [AB740D97]
Track 14 cannot be verified as accurate (confidence 6) [DA606624], AccurateRip returned [3EEDCC69]
Track 15 cannot be verified as accurate (confidence 6) [EFBFC6BB], AccurateRip returned [3BB679D0]
Track 16 cannot be verified as accurate (confidence 6) [25BDCBEE], AccurateRip returned [6CE9D12D]
Track 17 cannot be verified as accurate (confidence 6) [950EEB29], AccurateRip returned [9181D60A]
Track 18 cannot be verified as accurate (confidence 6) [28C29F8B], AccurateRip returned [DB535521]
Track 19 cannot be verified as accurate (confidence 6) [BA74C52C], AccurateRip returned [BC4D1ADF]
Track 20 cannot be verified as accurate (confidence 6) [0C2E2B8B], AccurateRip returned [1F6DF3CF]
Track 21 cannot be verified as accurate (confidence 6) [2878367E], AccurateRip returned [EFDF21B1]
Track 22 cannot be verified as accurate (confidence 6) [7DA7D5DD], AccurateRip returned [B776B94C]
Track 23 cannot be verified as accurate (confidence 6) [6872679F], AccurateRip returned [44DF4CE7]
Track 24 cannot be verified as accurate (confidence 6) [9AE9D99E], AccurateRip returned [DB42F635]
Track 25 cannot be verified as accurate (confidence 5) [08CE55D3], AccurateRip returned [5013E232]
Track 26 cannot be verified as accurate (confidence 5) [B2C23204], AccurateRip returned [79503E4E]

No tracks could be verified as accurate
You may have a different pressing from the one(s) in the database

End of status report



Disc 3 - Live at the 100 Club, 06.07.1976

01. 1 Of The 2
02. New Rose
03. Alone
04. Help
05. Fan Club
06. I Feel Alright
07. Feel The Pain
08. Fish
09. Circles
10. See Her Tonite
11. I Fall
12. So Messed Up



Exact Audio Copy V0.99 prebeta 5 from 4. May 2009

EAC extraction logfile from 19. December 2009, 23:22

Damned / Damned Damned Damned [3 CD, 30th. Anniversary Edt.] (Disc 3)

Used drive : PLEXTOR DVDR PX-880U Adapter: 0 ID: 3

Read mode : Secure
Utilize accurate stream : Yes
Defeat audio cache : No
Make use of C2 pointers : Yes

Read offset correction : 6
Overread into Lead-In and Lead-Out : No
Fill up missing offset samples with silence : Yes
Delete leading and trailing silent blocks : No
Null samples used in CRC calculations : Yes
Used interface : Native Win32 interface for Win NT & 2000

Used output format : User Defined Encoder
Selected bitrate : 768 kBit/s
Quality : High
Add ID3 tag : No
Command line compressor : C:\Exact Audio Copy\FLAC\FLAC.EXE
Additional command line options : -V -5 -T "artist=%a" -T "title=%t" -T "album=%g" -T "date=%y" -T "tracknumber=%n" -T "genre=%m" %s


TOC of the extracted CD

Track | Start | Length | Start sector | End sector
––––––––––––––––––––––––––––-
1 | 0:00.00 | 3:41.74 | 0 | 16648
2 | 3:41.74 | 2:57.59 | 16649 | 29982
3 | 6:39.58 | 3:50.53 | 29983 | 47285
4 | 10:30.36 | 1:47.28 | 47286 | 55338
5 | 12:17.64 | 3:01.02 | 55339 | 68915
6 | 15:18.66 | 4:20.19 | 68916 | 88434
7 | 19:39.10 | 4:46.34 | 88435 | 109918
8 | 24:25.44 | 1:50.49 | 109919 | 118217
9 | 26:16.18 | 4:42.20 | 118218 | 139387
10 | 30:58.38 | 2:51.34 | 139388 | 152246
11 | 33:49.72 | 3:08.25 | 152247 | 166371
12 | 36:58.22 | 2:38.23 | 166372 | 178244


Range status and errors

Selected range

Filename E:\Damned - Damned Damned Damned [3 CD, 30th. Anniversary Edt.] (Disc 3).wav

Peak level 99.9 %
Range quality 100.0 %
Test CRC 95C95AD4
Copy CRC 95C95AD4
Copy OK

No errors occurred


AccurateRip summary

Track 1 cannot be verified as accurate (confidence 8) [0E2000B8], AccurateRip returned [E714C264]
Track 2 cannot be verified as accurate (confidence 8) [61136156], AccurateRip returned [DB54C533]
Track 3 cannot be verified as accurate (confidence 8) [1C602606], AccurateRip returned [2A993CC1]
Track 4 cannot be verified as accurate (confidence 8) [5DAA900C], AccurateRip returned [19528491]
Track 5 cannot be verified as accurate (confidence 8) [222F4052], AccurateRip returned [83BA9A11]
Track 6 cannot be verified as accurate (confidence 8) [8B9D351E], AccurateRip returned [80C99A3F]
Track 7 cannot be verified as accurate (confidence 8) [2230183D], AccurateRip returned [ECD895D1]
Track 8 cannot be verified as accurate (confidence 8) [3B9E8D76], AccurateRip returned [D885DEC0]
Track 9 cannot be verified as accurate (confidence 8) [BC33212F], AccurateRip returned [A3914253]
Track 10 cannot be verified as accurate (confidence 8) [989C72C0], AccurateRip returned [FD3EDEC7]
Track 11 cannot be verified as accurate (confidence 8) [D9A18B39], AccurateRip returned [E9C43C54]
Track 12 cannot be verified as accurate (confidence 8) [26821890], AccurateRip returned [3E17F649]

No tracks could be verified as accurate
You may have a different pressing from the one(s) in the database

End of status report






HotFile Linx

Complete artwork, JPG's in 400 dpi

http://hotfile.com/dl/21354986/ce91f17/DMND.DDD.art.rar.html

DISC 1

FLAC-5, image

http://hotfile.com/dl/21354969/3330141/DMND.DDD.1.part1.rar.htmlhttp://hotfile.com/dl/21354970/248cfc4/DMND.DDD.1.part2.rar.htmlhttp://hotfile.com/dl/21354971/92dd56c/DMND.DDD.1.part3.rar.html

Mp3 VBR-0, image

http://hotfile.com/dl/21354967/212f202/DMND.DDD.1.m.i.rar.html

Mp3 VBR-0, tracks

http://hotfile.com/dl/21354968/7be9518/DMND.DDD.1.m.t.rar.html

DISC 2

FLAC-5, image

http://hotfile.com/dl/21354976/b5f0c18/DMND.DDD.2.part1.rar.htmlhttp://hotfile.com/dl/21354977/a1b0352/DMND.DDD.2.part2.rar.htmlhttp://hotfile.com/dl/21354978/97a92ec/DMND.DDD.2.part3.rar.htmlhttp://hotfile.com/dl/21354979/9635d9a/DMND.DDD.2.part4.rar.htmlhttp://hotfile.com/dl/21354980/ca02108/DMND.DDD.2.part5.rar.html

Mp3 VBR-0, image

http://hotfile.com/dl/21354972/d6aebe3/DMND.DDD.2.m.i.part1.rar.htmlhttp://hotfile.com/dl/21354973/2aa4eaf/DMND.DDD.2.m.i.part2.rar.html

Mp3 VBR-0, tracks

http://hotfile.com/dl/21354974/a3c53f6/DMND.DDD.2.m.t.part1.rar.htmlhttp://hotfile.com/dl/21354975/00f76e2/DMND.DDD.2.m.t.part2.rar.html

DISC 3

FLAC-5, image

http://hotfile.com/dl/21354983/4c17519/DMND.DDD.3.part1.rar.htmlhttp://hotfile.com/dl/21354984/8d6b178/DMND.DDD.3.part2.rar.htmlhttp://hotfile.com/dl/21354985/ed494f1/DMND.DDD.3.part3.rar.html

Mp3 VBR-0, image

http://hotfile.com/dl/21354981/5bc35f1/DMND.DDD.3.m.i.rar.html

Mp3 VBR-0, tracks

http://hotfile.com/dl/21354982/b316a52/DMND.DDD.3.m.t.rar.htmlFileFactory Mirror Linx

Complete artwork, JPG's in 400 dpi

http://www.filefactory.com/file/a13af94/n/DMND.DDD.art.rar.html

DISC 1

FLAC-5, image

http://www.filefactory.com/file/a13aga0/n/DMND.DDD.1.part1.rar.htmlhttp://www.filefactory.com/file/a13af91/n/DMND.DDD.1.part2.rar.htmlhttp://www.filefactory.com/file/a13af9e/n/DMND.DDD.1.part3.rar.html

Mp3 VBR-0, image

http://www.filefactory.com/file/a13af77/n/DMND.DDD.1.m.i.rar.html

Mp3 VBR-0, tracks

http://www.filefactory.com/file/a13af80/n/DMND.DDD.1.m.t.rar.html

DISC 2

FLAC-5, image

http://www.filefactory.com/file/a13af9c/n/DMND.DDD.2.part1.rar.htmlhttp://www.filefactory.com/file/a17f4cd/n/DMND.DDD.2.part2.rar.htmlhttp://www.filefactory.com/file/a13af85/n/DMND.DDD.2.part3.rar.htmlhttp://www.filefactory.com/file/a13af84/n/DMND.DDD.2.part4.rar.htmlhttp://www.filefactory.com/file/a13af9b/n/DMND.DDD.2.part5.rar.html

Mp3 VBR-0, image

http://www.filefactory.com/file/a2a3e19/n/DMND.DDD.2.m.i.part1.rar.htmlhttp://www.filefactory.com/file/a13aga1/n/DMND.DDD.2.m.i.part2.rar.html

Mp3 VBR-0, tracks

http://www.filefactory.com/file/a13agab/n/DMND.DDD.2.m.t.part1.rar.htmlhttp://www.filefactory.com/file/a13af8e/n/DMND.DDD.2.m.t.part2.rar.html

DISC 3

FLAC-5, image

http://www.filefactory.com/file/a13af9a/n/DMND.DDD.3.part1.rar.htmlhttp://www.filefactory.com/file/a13af9d/n/DMND.DDD.3.part2.rar.htmlhttp://www.filefactory.com/file/a13af81/n/DMND.DDD.3.part3.rar.html

Mp3 VBR-0, image

http://www.filefactory.com/file/a13aga4/n/DMND.DDD.3.m.i.rar.html

Mp3 VBR-0, tracks

http://www.filefactory.com/file/a13agdb/n/DMND.DDD.3.m.t.rar.htmlRapidShare Mirror Linx

Complete artwork, JPG's in 400 dpi

http://rapidshare.com/files/323789790/DMND.DDD.art.rar

DISC 1

FLAC-5, image

http://rapidshare.com/files/323661359/DMND.DDD.1.part1.rarhttp://rapidshare.com/files/323672574/DMND.DDD.1.part2.rarhttp://rapidshare.com/files/323682487/DMND.DDD.1.part3.rar

Mp3 VBR-0, image

http://rapidshare.com/files/323645351/DMND.DDD.1.m.i.rar

Mp3 VBR-0, tracks

http://rapidshare.com/files/323653309/DMND.DDD.1.m.t.rar

DISC 2

FLAC-5, image

http://rapidshare.com/files/323710076/DMND.DDD.2.part1.rarhttp://rapidshare.com/files/323720124/DMND.DDD.2.part2.rarhttp://rapidshare.com/files/323729677/DMND.DDD.2.part3.rarhttp://rapidshare.com/files/323739194/DMND.DDD.2.part4.rarhttp://rapidshare.com/files/323748115/DMND.DDD.2.part5.rar

Mp3 VBR-0, image

http://rapidshare.com/files/323686568/DMND.DDD.2.m.i.part1.rarhttp://rapidshare.com/files/323695703/DMND.DDD.2.m.i.part2.rar

Mp3 VBR-0, tracks

http://rapidshare.com/files/323698968/DMND.DDD.2.m.t.part1.rarhttp://rapidshare.com/files/323707055/DMND.DDD.2.m.t.part2.rar

DISC 3

FLAC-5, image

http://rapidshare.com/files/323769072/DMND.DDD.3.part1.rarhttp://rapidshare.com/files/323778165/DMND.DDD.3.part2.rarhttp://rapidshare.com/files/323787869/DMND.DDD.3.part3.rar

Mp3 VBR-0, image

http://rapidshare.com/files/323754701/DMND.DDD.3.m.i.rar

Mp3 VBR-0, tracks

http://rapidshare.com/files/323761523/DMND.DDD.3.m.t.rar

All linx are interchangeable.

5% WinRar Recovery Record for all files.

Password…use my nick - but replace the 'o' with a zero.

Enjoy the tunes ;-)No other mirror linx.Try before you might buy. Support the artists you like and buy their stuff whenever you can afford it.

***