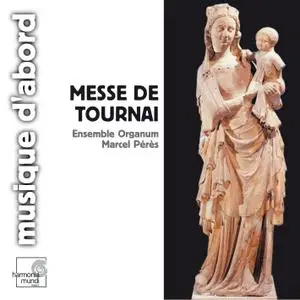 Anonymous - Messe de Tournai, XIVe siècle - Ensemble Organum, Marcel Pérès (1990) {Harmonia Mundi HMA 1951353 rel 2006}
XLD rip (secure mode) | FLAC (tracks)+CUE+LOG -> 229 Mb | MP3 @320 -> 127 Mb
Full Artwork @ 600 dpi (jpg) -> 56 Mb | 5% repair rar
© 1990, 2006 Harmonia Mundi | HMA 1951353
Classical / Medieval / Early Music / Polyphony / Sacred
This is an all-male vocal recording, including chant (Propers) and polyphony (Ordinary). The Mass of Tournai is early 14th century, a decade or so before that of Machaut. Some have argued that it does not show a unified design, and so Machaut's setting is the first unified mass cycle. The respective unities are not clear - at most it is a matter of degree - although it is not known whether this mass was composed by one composer or many. At any rate, it is the first mass cycle declared as such. The concluding Ite missa est leads into a true motet, with different texts in the two upper voices.
The Flemish Messe de Tournai is the earliest complete polyphonic mass setting in existence. It is set for three voices and is found in a manuscript in the archives of the Cathedral of Notre Dame in the Belgian city of Tournai; its shelfmark is B-Tc Bibliotheque Capitulaire 476. The Messe de Tournai was composed, or rather, compiled in 1325 at the earliest, when the choir in Tournai Cathedral was completed, and at the latest 1330. That makes it a little earlier than other extended fourteenth century mass settings that exist in Toulouse, Barcelona, and Sorbonne; it consists of a Kyrie, Gloria, Credo, Sanctus, Agnus Dei, and an added motet, "Ite missa est." Of these, the Kyrie, Sanctus, and Agnus Dei are given in the same handwriting and are known in no other source. These sections are largely set in so-called "conductus style," a fauxbourdon-esque note-against-note holdover from the Ars Antiqua that is limited in range and in its approach to rhythm. The Gloria, Credo, and motet "Ite missa est" are in a different hand, and the Credo is found in manuscripts in Spain and the south of France, suggesting that the composition may have originated there. "Ite missa est" contains a triplum set to a secular text in a local dialect, suggesting that this piece, and perhaps the whole work, may have had some relation to a pageant on the Annunciation given in Tournai from about 1231. "Ite missa est" is the most well traveled of any movement from the Messe de Tournai, turning up in a manuscript fragment in Breslau (now Wroclaw, Poland).
Modern people imagine that spiritual seekers, usually adult, have always turned away from the world to seek individual realization/redemption in the monastic life, in solitude and silence and self-discipline. This may be the case now, and it may have been so since the late Renaissance. In the heyday of monasticism in Europe, however – in the 12th-14th Centuries when the great monasteries were the capitals of European science, agriculture, technology, and finance as well as learning – the monastic life was not about individual salvation. Built sometimes in "waste" lands, the great monasteries were never as isolated from society as we may imagine. They depended fully on their surrounding societies for donations of support in land and money, for recruitment of personnel via oblation, for markets for their products, for protection from violence, and for legal and ecclesiastical services. In turn, the societies around were dependent on the monasteries for services, and not just rites and burials; the singing monks had the specific role in society of seeking God's grace for everyone, of interceding with God on behalf of those who specialized in other tasks. Above all, the monks were communitarian; they ate together, slept in close proximity, did their little routines together, and above all SANG together, for hours of every living day. Fully tonsured monks sang the entire book of psalms, with seasonally specific plainchants, at the liturgical Hours; they all sang, and they mostly sang in unison from memory. Thus it seems almost inevitable that their greatest cultural invention was polyphonic music, and it was a unique invention. No other society in the world, even including secular Medieval society, has ever independently invented polyphony. Lots of cultures have heterophonic music, but polyphony is something special, when two or more voices sing/play melodic material at the same time though different, and when those voices mesh together in mathematically proportionate harmonies and rhythms. By the 15th Century, Europe was 1000 years ahead of any other society in musical sophistication; one element of that sophistication was precise mensural notation, which developed in tandem with polyphony, as a necessary support.

It takes enormous self-abnegation, enormous inter-communion, to sing polyphony. It's the least individual act conceivable.

The Messe de Tournai is considered the oldest surviving complete polyphonic mass. It was re-discovered in a well-worn chant book in Tournai Cathedral in 1862, and has been dated by scholars to the second quarter of the 14th C. The parchment on which it was written shows the kind of wear that came from actual use for liturgical occasions. The chant material in the manuscript is chiefly Marian, so the mass was most likely performed in a side chapel of the cathedral devoted to the Cult of the Virgin. It's unlikely that the mass was composed by a single person; rather it consists of stratifications of overlay, tropes (extensions) of pre-existing musical material, and standard-practice harmonizations based on habits of improvization. The separate movement of the mass per se are very different in structure and style, with the Kyrie seeming the most archaic and the Ita Missa Est (which later generations omitted from polyphonic settings) seeming the most modern. This mass stands at the very base of all European and American music for the rest of the millennium. It's curious to think that it will sound remarkably "foreign" to most modern first-time listeners.

More than half of the music on this CD is not the fixed elements of the mass at all, but rather introits, graduels, offertoire, communion, etc. - the appropriate chants of the liturgical calendar. Thus the mass is embedded in and highlighted by plainchant, solo and unison singing. The communion chant performed here includes singing by the choir against long drone-like notes sung by other members of the choir; such singing over a "tenor" has to be understood as the very first step toward real polyphony. There are, of course, no instruments.

Ensemble Organum is whomever Marcel Peres chooses to hire for a given performance. For this disk, Peres chose some extremely beautiful voices. The plainchant recorded here is among the finest I've ever heard, with perfect unity of expression and tuning. Peres has been accused of "orientalizing" the chant for exotic effect, but the accusation doesn't apply this time. I know this manuscript in facsimile very well, and I'd vouch for Peres's musical decisions being as "authentic" as any that could be made. The polyphonic singing is bold and exhuberant. All male voices, obviously: mixed choruses never sang Medieval liturgy. I imagine that improvised polyphony first sprang from human exhuberance and the "sinful" pride of the better singers in the monastery. Theologians might justify such exhuberance as serving God's secret purposes, but in fact at the beginning of the 14th C, Pope John XXII tried to suppress such innovations and extravagances. Luckily he failed.
Performers

Ensemble Organum
Tenor:
Josep Benet, Patrick Aubailly, Frédéric Richard
Baritone:
Josep Cabré, Marcel Pérès
Bass: Malcolm Bothwell, Antoine Sicot
dir.
Marcel Pérès
Recorded September 1990, Saintes, Abbaye-aux-DamesWorks on This Recording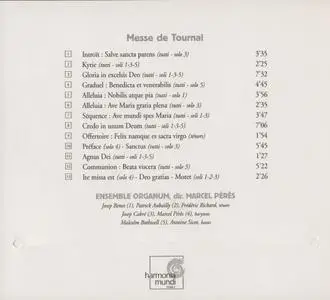 X Lossless Decoder version 20141129 (148.1)

XLD extraction logfile from 2015-01-27 20:13:17 +0100

Ensemble Organum/Marcel Pérès / Messe de Tournai - Ensemble Organum • Marcel Pérès [Harmonia Mundi]

Used drive : TSSTcorp CDDVDW SE-S084D (revision TS01)
Media type : Pressed CD

Ripper mode : XLD Secure Ripper
Disable audio cache : OK for the drive with a cache less than 1375KiB
Make use of C2 pointers : NO
Read offset correction : 6
Max retry count : 100
Gap status : Analyzed, Appended (except HTOA)

TOC of the extracted CD
Track | Start | Length | Start sector | End sector
––––––––––––––––––––––––––––-
1 | 00:00:37 | 03:35:38 | 37 | 16199
2 | 03:36:00 | 02:25:65 | 16200 | 27139
3 | 06:01:65 | 07:35:30 | 27140 | 61294
4 | 13:37:20 | 04:46:65 | 61295 | 82809
5 | 18:24:10 | 03:58:65 | 82810 | 100724
6 | 22:23:00 | 02:36:55 | 100725 | 112479
7 | 24:59:55 | 03:52:47 | 112480 | 129926
8 | 28:52:27 | 07:11:23 | 129927 | 162274
9 | 36:03:50 | 01:58:50 | 162275 | 171174
10 | 38:02:25 | 05:51:25 | 171175 | 197524
11 | 43:53:50 | 01:31:57 | 197525 | 204406
12 | 45:25:32 | 05:22:73 | 204407 | 228629
13 | 50:48:30 | 02:27:22 | 228630 | 239676

AccurateRip Summary (DiscID: 001a769f-01086e65-9e0c7b0d)
Track 01 : OK (v2, confidence 3/3)
Track 02 : OK (v2, confidence 3/3)
Track 03 : OK (v2, confidence 3/3)
Track 04 : OK (v2, confidence 3/3)
Track 05 : OK (v2, confidence 3/3)
Track 06 : OK (v2, confidence 3/3)
Track 07 : OK (v2, confidence 3/3)
Track 08 : OK (v2, confidence 3/3)
Track 09 : OK (v2, confidence 3/3)
Track 10 : OK (v2, confidence 3/3)
Track 11 : OK (v2, confidence 3/3)
Track 12 : OK (v2, confidence 3/3)
Track 13 : OK (v2, confidence 3/3)
->All tracks accurately ripped.

All Tracks
Album gain : 1.59 dB
Peak : 0.880371
Statistics
Read error : 0
Jitter error (maybe fixed) : 0
Retry sector count : 0
Damaged sector count : 0

Track 01
Filename : /Volumes/4TB 2/Messe de Tournai - Ensemble Organum • Marcel Pérès [Harmonia Mundi]/01 Messe de Tournai: Introït: Salve sancta parens.flac
Pre-gap length : 00:02:37

Track gain : 5.52 dB
Peak : 0.307861
CRC32 hash (test run) : EE65D955
CRC32 hash : EE65D955
CRC32 hash (skip zero) : FC6410A6
AccurateRip v1 signature : 18D5746D
AccurateRip v2 signature : B82E62CB
->Accurately ripped (v2, confidence 3/3)
Statistics
Read error : 0
Jitter error (maybe fixed) : 0
Retry sector count : 0
Damaged sector count : 0

Track 02
Filename : /Volumes/4TB 2/Messe de Tournai - Ensemble Organum • Marcel Pérès [Harmonia Mundi]/02 Messe de Tournai: Kyrie.flac

Track gain : 1.31 dB
Peak : 0.479034
CRC32 hash (test run) : FF63970E
CRC32 hash : FF63970E
CRC32 hash (skip zero) : 56E96B71
AccurateRip v1 signature : CCB511F0
AccurateRip v2 signature : 0CACA947
->Accurately ripped (v2, confidence 3/3)
Statistics
Read error : 0
Jitter error (maybe fixed) : 0
Retry sector count : 0
Damaged sector count : 0

Track 03
Filename : /Volumes/4TB 2/Messe de Tournai - Ensemble Organum • Marcel Pérès [Harmonia Mundi]/03 Messe de Tournai: Gloria in excelsis Deo.flac

Track gain : 0.22 dB
Peak : 0.708740
CRC32 hash (test run) : 2589B9E8
CRC32 hash : 2589B9E8
CRC32 hash (skip zero) : 286052FF
AccurateRip v1 signature : D62AB1B4
AccurateRip v2 signature : E6D66348
->Accurately ripped (v2, confidence 3/3)
Statistics
Read error : 0
Jitter error (maybe fixed) : 0
Retry sector count : 0
Damaged sector count : 0

Track 04
Filename : /Volumes/4TB 2/Messe de Tournai - Ensemble Organum • Marcel Pérès [Harmonia Mundi]/04 Messe de Tournai: Graduel: Benedicta et venerabilis.flac
Pre-gap length : 00:03:53

Track gain : 4.31 dB
Peak : 0.362854
CRC32 hash (test run) : 8D421F58
CRC32 hash : 8D421F58
CRC32 hash (skip zero) : D5EDF09E
AccurateRip v1 signature : 8C77DDCE
AccurateRip v2 signature : C2D2DA8D
->Accurately ripped (v2, confidence 3/3)
Statistics
Read error : 0
Jitter error (maybe fixed) : 0
Retry sector count : 0
Damaged sector count : 0

Track 05
Filename : /Volumes/4TB 2/Messe de Tournai - Ensemble Organum • Marcel Pérès [Harmonia Mundi]/05 Messe de Tournai: Alleluia: Nobilis atque pia.flac

Track gain : 2.18 dB
Peak : 0.529297
CRC32 hash (test run) : EC93BA2D
CRC32 hash : EC93BA2D
CRC32 hash (skip zero) : 8FB7BCDD
AccurateRip v1 signature : 8C752E35
AccurateRip v2 signature : 438CEA5F
->Accurately ripped (v2, confidence 3/3)
Statistics
Read error : 0
Jitter error (maybe fixed) : 0
Retry sector count : 0
Damaged sector count : 0

Track 06
Filename : /Volumes/4TB 2/Messe de Tournai - Ensemble Organum • Marcel Pérès [Harmonia Mundi]/06 Messe de Tournai: Alleluia: Ave Maria gratia plena.flac
Pre-gap length : 00:00:13

Track gain : 1.86 dB
Peak : 0.535828
CRC32 hash (test run) : AD25A175
CRC32 hash : AD25A175
CRC32 hash (skip zero) : 1CEFD4FC
AccurateRip v1 signature : 4EB932DA
AccurateRip v2 signature : 7099740A
->Accurately ripped (v2, confidence 3/3)
Statistics
Read error : 0
Jitter error (maybe fixed) : 0
Retry sector count : 0
Damaged sector count : 0

Track 07
Filename : /Volumes/4TB 2/Messe de Tournai - Ensemble Organum • Marcel Pérès [Harmonia Mundi]/07 Messe de Tournai: Séquence: Ave mundi spes Maria.flac
Pre-gap length : 00:00:68

Track gain : 5.43 dB
Peak : 0.575104
CRC32 hash (test run) : 3C53B185
CRC32 hash : 3C53B185
CRC32 hash (skip zero) : C35440E2
AccurateRip v1 signature : E234B56F
AccurateRip v2 signature : C898FB43
->Accurately ripped (v2, confidence 3/3)
Statistics
Read error : 0
Jitter error (maybe fixed) : 0
Retry sector count : 0
Damaged sector count : 0

Track 08
Filename : /Volumes/4TB 2/Messe de Tournai - Ensemble Organum • Marcel Pérès [Harmonia Mundi]/08 Messe de Tournai: Credo in unum Deum.flac
Pre-gap length : 00:04:50

Track gain : -0.49 dB
Peak : 0.880371
CRC32 hash (test run) : E4068CFD
CRC32 hash : E4068CFD
CRC32 hash (skip zero) : F406E780
AccurateRip v1 signature : 84977097
AccurateRip v2 signature : 68F9376A
->Accurately ripped (v2, confidence 3/3)
Statistics
Read error : 0
Jitter error (maybe fixed) : 0
Retry sector count : 0
Damaged sector count : 0

Track 09
Filename : /Volumes/4TB 2/Messe de Tournai - Ensemble Organum • Marcel Pérès [Harmonia Mundi]/09 Messe de Tournai: Offertoire: Felix namque es sacra virgo.flac
Pre-gap length : 00:03:03

Track gain : 7.49 dB
Peak : 0.306641
CRC32 hash (test run) : A646205E
CRC32 hash : A646205E
CRC32 hash (skip zero) : 7B8C1780
AccurateRip v1 signature : 0BB869FC
AccurateRip v2 signature : 0A9A6579
->Accurately ripped (v2, confidence 3/3)
Statistics
Read error : 0
Jitter error (maybe fixed) : 0
Retry sector count : 0
Damaged sector count : 0

Track 10
Filename : /Volumes/4TB 2/Messe de Tournai - Ensemble Organum • Marcel Pérès [Harmonia Mundi]/10 Messe de Tournai: Préface - Sanctus.flac
Pre-gap length : 00:03:68

Track gain : 0.16 dB
Peak : 0.794250
CRC32 hash (test run) : 7DFFC923
CRC32 hash : 7DFFC923
CRC32 hash (skip zero) : 9A6D958A
AccurateRip v1 signature : C5F7382C
AccurateRip v2 signature : 4201F410
->Accurately ripped (v2, confidence 3/3)
Statistics
Read error : 0
Jitter error (maybe fixed) : 0
Retry sector count : 0
Damaged sector count : 0

Track 11
Filename : /Volumes/4TB 2/Messe de Tournai - Ensemble Organum • Marcel Pérès [Harmonia Mundi]/11 Messe de Tournai: Agnus Dei.flac
Pre-gap length : 00:03:65

Track gain : 3.77 dB
Peak : 0.367035
CRC32 hash (test run) : 9576E013
CRC32 hash : 9576E013
CRC32 hash (skip zero) : 0A0A54E0
AccurateRip v1 signature : 97D0117A
AccurateRip v2 signature : 31CA3B39
->Accurately ripped (v2, confidence 3/3)
Statistics
Read error : 0
Jitter error (maybe fixed) : 0
Retry sector count : 0
Damaged sector count : 0

Track 12
Filename : /Volumes/4TB 2/Messe de Tournai - Ensemble Organum • Marcel Pérès [Harmonia Mundi]/12 Messe de Tournai: Communion: Beata viscera.flac
Pre-gap length : 00:03:12

Track gain : 5.54 dB
Peak : 0.396118
CRC32 hash (test run) : 9DB8DFA9
CRC32 hash : 9DB8DFA9
CRC32 hash (skip zero) : 5826C942
AccurateRip v1 signature : FF4D5134
AccurateRip v2 signature : 1A8F784B
->Accurately ripped (v2, confidence 3/3)
Statistics
Read error : 0
Jitter error (maybe fixed) : 0
Retry sector count : 0
Damaged sector count : 0

Track 13
Filename : /Volumes/4TB 2/Messe de Tournai - Ensemble Organum • Marcel Pérès [Harmonia Mundi]/13 Messe de Tournai: Ite missa est - Deo gratias - Motet.flac

Track gain : 4.28 dB
Peak : 0.385040
CRC32 hash (test run) : E2EBED6E
CRC32 hash : E2EBED6E
CRC32 hash (skip zero) : 216E622D
AccurateRip v1 signature : 20DF7DF2
AccurateRip v2 signature : 11643320
->Accurately ripped (v2, confidence 3/3)
Statistics
Read error : 0
Jitter error (maybe fixed) : 0
Retry sector count : 0
Damaged sector count : 0

No errors occurred

End of status report

––-BEGIN XLD SIGNATURE––-
dl4GyYtt_rITCb3vRNji8mpL_w.h92lmzEIFKUye5hb7SoWMtnoeUDZ4RXBi2kqefG6aC3a4CvJUkyckjLGjKQImzgamGBt8vYdiGI4
––-END XLD SIGNATURE––-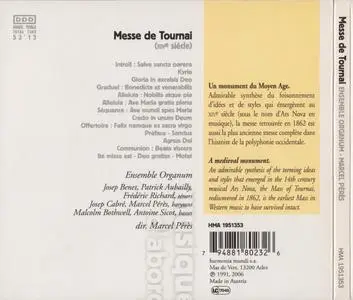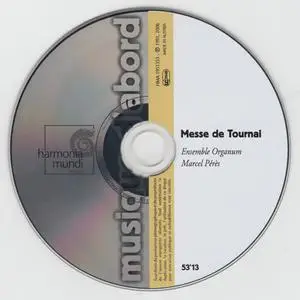 ===