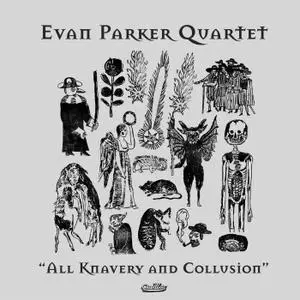 Evan Parker Quartet - All Knavery and Collusion (2021)
WEB FLAC (tracks) - 237 Mb | MP3 CBR 320 kbps - 118 Mb | 00:51:34
Free Jazz, Avant-Garde Jazz | Label: Cadillac Records
For many years Evan Parker, one of the greatest post-Coltrane saxophonists, has played a monthly gig at the London club The Vortex. These gigs in part illustrate Evan's close ties with the fragile ecosystem of clubs that support the jazz world; the small venues that allow an intimate and powerful connection between the artist and audience that is at the heart of jazz creativity. Evan called these events his 'jazz' gigs, the knowing hyphenation an indication of the problematic use of the J word, an acceptance of the Vortex as a 'jazz' club, and a nod to his origins in jazz history. I took a friend there one time and it seemed to me that the trio's performance (Evan, John Edwards and the great and sadly departed Tony Marsh) came close to seeing Coltrane or Ayler playing at the 5 Spot or one of the other legendary New York venues. When we asked Evan if he would record an album for Cadillac, it was this aspect of his multifaceted talents that we had in mind. The quartet you hear on this album (with Paul Lytton, John Edwards and Alexander Hawkins) came together for a gig at the Vortex in Evan's regular slot on June 20th 2019, and what a fine gig it was! Then the next day we relocated to the beautiful barn-like studio of Rimshot, deep in the Kent countryside to record the album. The location, close to Evan's home, had other resonances which Chris Searle has described in his sleevenote. The subsequent (and over long) process of mastering and producing the album coincided with the first Covid lockdown and the coincidence of Evan and I both reading Defoe's "Journal of the Plague Year", which provided context and some track titles. This put me in mind of Stephen Fowler's brilliant rubber stamp artwork, and he has created a visual representation that expresses many of the themes of the album.
Tracklist:
1.
All Knavery and Collusion
(07:50)
2.
The Alchemy of John Edwards
(05:16)
3.
A Well Staring at the Sky
(02:28)
4.
The Influence of the Dog Star
(04:43)
5.
A Blazing Star or Comet Appeared
(03:48)
6.
The Weather Set in Hot
(24:17)
7.
Art Is a Science…
(03:10)
–––––––––––-

DON'T MODIFY THIS FILE

–––––––––––-

PERFORMER: auCDtect Task Manager, ver. 1.6.0 RC1 build 1.6.0.1
Copyright © 2008-2010 y-soft. All rights reserved

ANALYZER: auCDtect: CD records authenticity detector, version 0.8.2
Copyright © 2004 Oleg Berngardt. All rights reserved.
Copyright © 2004 Alexander Djourik. All rights reserved.


FILE: 07 Art Is a Science.flac
Size: 12891393 Hash: 6820FC004770239A14BB74DCFF2617BC Accuracy: -m8
Conclusion: CDDA 100%
Signature: B23C3C4920BBBC1D73C30CAC776177DB734522DF
FILE: 06 The Weather Set in Hot.flac
Size: 126229750 Hash: 40CB6E6020B409C1A978286112B686E9 Accuracy: -m8
Conclusion: CDDA 100%
Signature: 12EA2DB7A7E51E05287332238CC41231AAB45E34
FILE: 05 A Blazing Star or Comet Appeared.flac
Size: 14719455 Hash: 35A58569A3885E2DB96BE6B66D22AD07 Accuracy: -m8
Conclusion: CDDA 100%
Signature: 08A758451793BE77777E407F4D8E12626885AF40
FILE: 04 The Influence of the Dog Star.flac
Size: 14535698 Hash: DBD46070C584F3EE9994C7CC44848774 Accuracy: -m8
Conclusion: CDDA 99%
Signature: D88D9C99D164BBF48AD23C6EF3AD06F6718224E3
FILE: 03 A Well Staring at the Sky.flac
Size: 9985859 Hash: BA602DB01015B42AF92F16CA0CC42FC8 Accuracy: -m8
Conclusion: CDDA 100%
Signature: C4368D73FE101EEF4E436B78360F1E05A462FB0E
FILE: 02 The Alchemy of John Edwards.flac
Size: 21360095 Hash: 68A38D2CCEA2BEC1464D432056884EA8 Accuracy: -m8
Conclusion: CDDA 100%
Signature: 27D6F32D0C41D921A6E683E79855FC61ABBD94EB
FILE: 01 All Knavery and Collusion.flac
Size: 48661323 Hash: D708AA3F72D9E60E7F2D688FC2C459C8 Accuracy: -m8
Conclusion: CDDA 99%
Signature: 27BB2DFF039D06F56D2621158FF9AFE1B81744BB