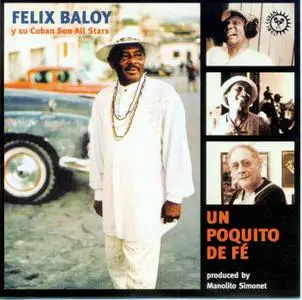 Felix Baloy y su Cuban Son All Stars - Un Poquito De Fé
Cuba | MP3 | 320 Kbps | 142 MB
TUMI 2004
Felix Baloy (b. 1943 Havana, Cuba) is a Cuban singer, sonero, and percussionist. He has a Havana urban accent. He has been a vocalist with many groups, including Chappotin Y Sus Estrellas, Revé, and Adalberto Alvarez y su Son, and most recently, the Afro-Cuban All Stars. He was one of the original members of the Afro-Cuban All Stars.
01. Ayudame Yemayá
02. Lo Otro Lo Pongo Yo
03. Ten un Poquito de Fé
04. El Zorro
05. Hay Madresita
06. Yo Soy el Son
07. Acheremy
08. Diez Segundos
09. Y No Espera Más
10. Son Para un Amigo
11. De Donde es el Son
12. Mi Guajirita