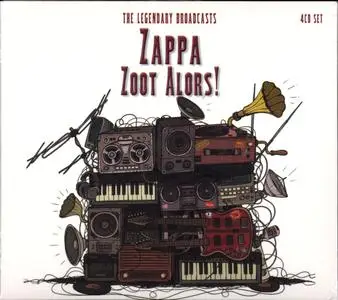 Frank Zappa - Zoot Alors! (2017) {4CD Set Coda Publishing CPLCD248 rec 1975-1981}
XLD rip (secure mode) | FLAC (tracks)+CUE+LOG -> 1.76 Gb | MP3 @320 -> 668 Mb
Full Artwork @ 300 dpi (jpg) -> 19 Mb | 5% repair rar
© 1975-81, 2017 Coda Publishing / Stormbird | CPLCD248
Rock / Experimental Rock / Avant-Garde / Art Rock / Jazz Rock
This powerful four disc anthology is a wonderful illustration of the genius that was the late, great Frank Zappa in performance and broadcasting live to air.

Zappa always defies categorisation. He blended humor, satire, virtuoso guitar, challenging lyrics, bawdy tales, brilliant compositions, and inspired improvisation and somehow managed to make those diverse elements work together in a unique, musical form which defies categorisation, and is known to posterity by the term "Zappa".

Included here over the four discs are an amazing array of ideas.

Disc 1 features the highlights from his 1981 live broadcast from the Ritz in New York.

Disc 2 showcases his challenging musical experiments with Captain Beefhart with a 1975 performance in Rhode Island.

Disc 3 features a 'Chunga's Revenge' era performance broadcast live from Rotterdam in 1980.

Disc 4 is a collection of the highlights of a concert broadcast by cable from on stage in Passaic in 1978, along with a selection of live to air US TV performances.

Track Listing

Disc 1 - Live At The Ritz NYC 17th November 1981
1. Treacherous Cretins
2. Easy Meat
3. Drowning Witch
4. Sinister Footwear
5. Stevie's Spanking
6. Cocaine Decisions
7. Goblin Girl
8. Tryin' To Grow A Chin
9. Strictly Genteel
10. Ride Like The Wind
11. Zoot Allures
12. Whipping Post
13. Watermelon In Easter Hay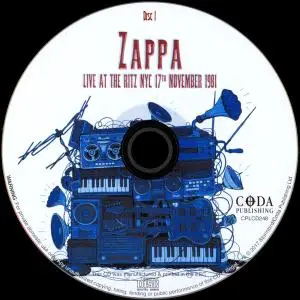 Disc 2 - Providence College, Rhode Island 26th April 1975 - with Captain Beefheart
1. Camarillo Brillo
2. Muffin Man
3. Stinkfoot
4. I'm Not Satisfied
5. Velvet Sunrise
6. A Pound For A Brown
7. The Torture Never Stops
8. Montana
9. Penguin In Bondage
10. Willie The Pimp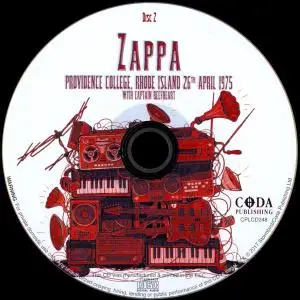 Disc 3 - Ahoy, Rotterdam 24th May 1980
1. Chunga's Revenge
2. Keep It Greasy
3. Outside Now
4.. Bamboozled By Love
5. Pick Me I'm Clean
6. Society Pages
7. I'm A Beautiful Guy
8. Beauty Knows No Pain
9. Charlie's Enormous Mouth
10. Cosmik Debris
11. You Didn't Try To Call Me
12. I Ain't Got No Heart
13. Love Of My Life
14. You Are What You Is
15. Bobby Brown
16. Ms Pinky
17. I Don't Wanna Get Drafted
18. The Illinois Enema Bandit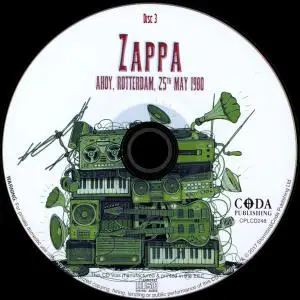 Disc 4 - TV Rarities
Capitol Theatre, Passaic, NJ 13th October 1978
1. Dancin Fool
2. Easy Meat
3. Sy Borg
4. Suicide Chump
5. Little House I Used To Live In
6. Magic Fingers
Saturday Night Live 1976 & 1978
7. Peaches En Regalia
8. Purple Lagoon
9. I'm The Slime
10. Dancing Fool
11. The Meek Shall Inherit Nothing
12. St Alphonzo's Pancake Breakfast/Rollo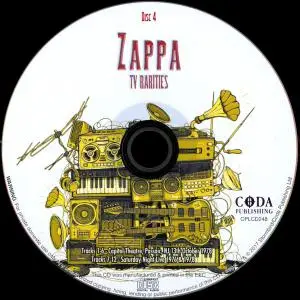 X Lossless Decoder version 20181019 (151.1)

XLD extraction logfile from 2018-11-27 20:49:32 -0500

Frank Zappa / The Ritz, N.Y.C. 11/17/81

Used drive : HL-DT-ST DVDRW GS41N (revision UA04)
Media type : Pressed CD

Ripper mode : XLD Secure Ripper
Disable audio cache : OK for the drive with a cache less than 1375KiB
Make use of C2 pointers : NO
Read offset correction : 6
Max retry count : 100
Gap status : Analyzed, Appended (except HTOA)

TOC of the extracted CD
Track | Start | Length | Start sector | End sector
––––––––––––––––––––––––––––-
1 | 00:00:00 | 01:18:46 | 0 | 5895
2 | 01:18:46 | 08:55:74 | 5896 | 46094
3 | 10:14:45 | 10:20:53 | 46095 | 92647
4 | 20:35:23 | 09:58:21 | 92648 | 137518
5 | 30:33:44 | 06:25:69 | 137519 | 166462
6 | 36:59:38 | 03:37:69 | 166463 | 182806
7 | 40:37:32 | 02:24:69 | 182807 | 193675
8 | 43:02:26 | 02:21:21 | 193676 | 204271
9 | 45:23:47 | 06:08:71 | 204272 | 231942
10 | 51:32:43 | 05:46:26 | 231943 | 257918
11 | 57:18:69 | 12:36:45 | 257919 | 314663
12 | 69:55:39 | 03:57:57 | 314664 | 332495
13 | 73:53:21 | 05:31:57 | 332496 | 357377

AccurateRip Summary (DiscID: 00268280-017f7efb-b1129d0d)
Track 01 : OK (v2, confidence 2/2)
Track 02 : OK (v2, confidence 2/2)
Track 03 : OK (v2, confidence 2/2)
Track 04 : OK (v2, confidence 2/2)
Track 05 : OK (v2, confidence 2/2)
Track 06 : OK (v2, confidence 2/2)
Track 07 : OK (v2, confidence 2/2)
Track 08 : OK (v2, confidence 2/2)
Track 09 : OK (v2, confidence 2/2)
Track 10 : OK (v2, confidence 2/2)
Track 11 : OK (v2, confidence 2/2)
Track 12 : OK (v2, confidence 2/2)
Track 13 : OK (v2, confidence 1/2)
->All tracks accurately ripped.

All Tracks
Album gain : -10.28 dB
Peak : 0.988739
Statistics
Read error : 0
Jitter error (maybe fixed) : 0
Retry sector count : 0
Damaged sector count : 0

Track 01
Filename : /Users/Shared/XLD_rips/Frank Zappa - The Ritz, N.Y.C. 11-17-81 (2017) [FLAC]/01 Trecherous Cretins.flac
Pre-gap length : 00:02:00

Track gain : -9.41 dB
Peak : 0.988617
CRC32 hash (test run) : 9AE8E40B
CRC32 hash : 9AE8E40B
CRC32 hash (skip zero) : 139703CA
AccurateRip v1 signature : 53304AC0
AccurateRip v2 signature : EF9D1369
->Accurately ripped (v2, confidence 2/2)
Statistics
Read error : 0
Jitter error (maybe fixed) : 0
Retry sector count : 0
Damaged sector count : 0

Track 02
Filename : /Users/Shared/XLD_rips/Frank Zappa - The Ritz, N.Y.C. 11-17-81 (2017) [FLAC]/02 Easy Meat.flac

Track gain : -10.08 dB
Peak : 0.988708
CRC32 hash (test run) : 043AED8B
CRC32 hash : 043AED8B
CRC32 hash (skip zero) : CC419322
AccurateRip v1 signature : 506AAC6F
AccurateRip v2 signature : 0D873F1C
->Accurately ripped (v2, confidence 2/2)
Statistics
Read error : 0
Jitter error (maybe fixed) : 0
Retry sector count : 0
Damaged sector count : 0

Track 03
Filename : /Users/Shared/XLD_rips/Frank Zappa - The Ritz, N.Y.C. 11-17-81 (2017) [FLAC]/03 Drowning Witch.flac

Track gain : -10.05 dB
Peak : 0.988739
CRC32 hash (test run) : AB2D006F
CRC32 hash : AB2D006F
CRC32 hash (skip zero) : 35912A62
AccurateRip v1 signature : 2F0B5C61
AccurateRip v2 signature : B5A24FB7
->Accurately ripped (v2, confidence 2/2)
Statistics
Read error : 0
Jitter error (maybe fixed) : 0
Retry sector count : 0
Damaged sector count : 0

Track 04
Filename : /Users/Shared/XLD_rips/Frank Zappa - The Ritz, N.Y.C. 11-17-81 (2017) [FLAC]/04 Sinister Footwear.flac

Track gain : -10.78 dB
Peak : 0.988708
CRC32 hash (test run) : EB17DDE4
CRC32 hash : EB17DDE4
CRC32 hash (skip zero) : F21396BD
AccurateRip v1 signature : 54859F6C
AccurateRip v2 signature : D1C5D14E
->Accurately ripped (v2, confidence 2/2)
Statistics
Read error : 0
Jitter error (maybe fixed) : 0
Retry sector count : 0
Damaged sector count : 0

Track 05
Filename : /Users/Shared/XLD_rips/Frank Zappa - The Ritz, N.Y.C. 11-17-81 (2017) [FLAC]/05 Stevie's Spanking.flac

Track gain : -10.93 dB
Peak : 0.988678
CRC32 hash (test run) : D6FC3559
CRC32 hash : D6FC3559
CRC32 hash (skip zero) : 43F743DA
AccurateRip v1 signature : 8C81CA05
AccurateRip v2 signature : B139D88E
->Accurately ripped (v2, confidence 2/2)
Statistics
Read error : 0
Jitter error (maybe fixed) : 0
Retry sector count : 0
Damaged sector count : 0

Track 06
Filename : /Users/Shared/XLD_rips/Frank Zappa - The Ritz, N.Y.C. 11-17-81 (2017) [FLAC]/06 Cocaine Decisions.flac

Track gain : -9.96 dB
Peak : 0.988678
CRC32 hash (test run) : 996F466C
CRC32 hash : 996F466C
CRC32 hash (skip zero) : DBF749F1
AccurateRip v1 signature : 435B9384
AccurateRip v2 signature : 66400A03
->Accurately ripped (v2, confidence 2/2)
Statistics
Read error : 0
Jitter error (maybe fixed) : 0
Retry sector count : 0
Damaged sector count : 0

Track 07
Filename : /Users/Shared/XLD_rips/Frank Zappa - The Ritz, N.Y.C. 11-17-81 (2017) [FLAC]/07 Goblin Girl.flac

Track gain : -9.52 dB
Peak : 0.988647
CRC32 hash (test run) : 42AC7CBB
CRC32 hash : 42AC7CBB
CRC32 hash (skip zero) : 06F12C05
AccurateRip v1 signature : 5BF92E2A
AccurateRip v2 signature : 540FA894
->Accurately ripped (v2, confidence 2/2)
Statistics
Read error : 0
Jitter error (maybe fixed) : 0
Retry sector count : 0
Damaged sector count : 0

Track 08
Filename : /Users/Shared/XLD_rips/Frank Zappa - The Ritz, N.Y.C. 11-17-81 (2017) [FLAC]/08 Tryin' To Grow A Chin.flac

Track gain : -10.28 dB
Peak : 0.988678
CRC32 hash (test run) : 2F5BD263
CRC32 hash : 2F5BD263
CRC32 hash (skip zero) : B82543AA
AccurateRip v1 signature : CD625EB2
AccurateRip v2 signature : 35C97E58
->Accurately ripped (v2, confidence 2/2)
Statistics
Read error : 0
Jitter error (maybe fixed) : 0
Retry sector count : 0
Damaged sector count : 0

Track 09
Filename : /Users/Shared/XLD_rips/Frank Zappa - The Ritz, N.Y.C. 11-17-81 (2017) [FLAC]/09 Strictly Genteel.flac

Track gain : -10.14 dB
Peak : 0.988678
CRC32 hash (test run) : 0E8D6A25
CRC32 hash : 0E8D6A25
CRC32 hash (skip zero) : A0AC89A2
AccurateRip v1 signature : 3AF0184C
AccurateRip v2 signature : 3C841337
->Accurately ripped (v2, confidence 2/2)
Statistics
Read error : 0
Jitter error (maybe fixed) : 0
Retry sector count : 0
Damaged sector count : 0

Track 10
Filename : /Users/Shared/XLD_rips/Frank Zappa - The Ritz, N.Y.C. 11-17-81 (2017) [FLAC]/10 Ride Like The Wind.flac

Track gain : -9.78 dB
Peak : 0.988678
CRC32 hash (test run) : C8D1D000
CRC32 hash : C8D1D000
CRC32 hash (skip zero) : CFC421A6
AccurateRip v1 signature : E3095F9A
AccurateRip v2 signature : 52107FE0
->Accurately ripped (v2, confidence 2/2)
Statistics
Read error : 0
Jitter error (maybe fixed) : 0
Retry sector count : 0
Damaged sector count : 0

Track 11
Filename : /Users/Shared/XLD_rips/Frank Zappa - The Ritz, N.Y.C. 11-17-81 (2017) [FLAC]/11 Zoot Allures.flac

Track gain : -10.34 dB
Peak : 0.988678
CRC32 hash (test run) : 1A99CEEE
CRC32 hash : 1A99CEEE
CRC32 hash (skip zero) : F16DFE74
AccurateRip v1 signature : 32872511
AccurateRip v2 signature : 2CB893E2
->Accurately ripped (v2, confidence 2/2)
Statistics
Read error : 0
Jitter error (maybe fixed) : 0
Retry sector count : 0
Damaged sector count : 0

Track 12
Filename : /Users/Shared/XLD_rips/Frank Zappa - The Ritz, N.Y.C. 11-17-81 (2017) [FLAC]/12 Whipping Post.flac

Track gain : -10.45 dB
Peak : 0.988678
CRC32 hash (test run) : 9C8608DD
CRC32 hash : 9C8608DD
CRC32 hash (skip zero) : B5D2377C
AccurateRip v1 signature : 923D51FF
AccurateRip v2 signature : 9267A3B7
->Accurately ripped (v2, confidence 2/2)
Statistics
Read error : 0
Jitter error (maybe fixed) : 0
Retry sector count : 0
Damaged sector count : 0

Track 13
Filename : /Users/Shared/XLD_rips/Frank Zappa - The Ritz, N.Y.C. 11-17-81 (2017) [FLAC]/13 Watermelon In Easter Hay.flac

Track gain : -10.37 dB
Peak : 0.988678
CRC32 hash (test run) : D7715A9F
CRC32 hash : D7715A9F
CRC32 hash (skip zero) : B77B746D
AccurateRip v1 signature : 18862520
AccurateRip v2 signature : F228FFD5
->Accurately ripped (v2, confidence 1/2)
Statistics
Read error : 0
Jitter error (maybe fixed) : 0
Retry sector count : 0
Damaged sector count : 0

No errors occurred

End of status report

––-BEGIN XLD SIGNATURE––-
U4jgQKKetbKsPYYLayLUmLwTm1.RPjqcJAi5WmqWci1UCgYWK1CXjOJwKVQj0bhtcS3BZ.C5TDmEhKS8SFED6SXXMAaZkb8cVyS9aEy
––-END XLD SIGNATURE––-
X Lossless Decoder version 20181019 (151.1)

XLD extraction logfile from 2018-11-27 21:41:22 -0500

Frank Zappa / Providence, R.I. 4/26/75

Used drive : HL-DT-ST DVDRW GS41N (revision UA04)
Media type : Pressed CD

Ripper mode : XLD Secure Ripper
Disable audio cache : OK for the drive with a cache less than 1375KiB
Make use of C2 pointers : NO
Read offset correction : 6
Max retry count : 100
Gap status : Analyzed, Appended (except HTOA)

TOC of the extracted CD
Track | Start | Length | Start sector | End sector
––––––––––––––––––––––––––––-
1 | 00:00:00 | 04:29:42 | 0 | 20216
2 | 04:29:42 | 01:45:27 | 20217 | 28118
3 | 06:14:69 | 04:51:66 | 28119 | 50009
4 | 11:06:60 | 02:06:34 | 50010 | 59493
5 | 13:13:19 | 07:36:03 | 59494 | 93696
6 | 20:49:22 | 09:59:21 | 93697 | 138642
7 | 30:48:43 | 08:07:19 | 138643 | 175186
8 | 38:55:62 | 12:09:39 | 175187 | 229900
9 | 51:05:26 | 11:52:67 | 229901 | 283367
10 | 62:58:18 | 08:40:64 | 283368 | 322431

AccurateRip Summary (DiscID: 001560ec-00b73286-8d10cb0a)
Track 01 : OK (v2, confidence 2/2)
Track 02 : OK (v2, confidence 2/2)
Track 03 : OK (v2, confidence 2/2)
Track 04 : OK (v2, confidence 2/2)
Track 05 : OK (v2, confidence 2/2)
Track 06 : OK (v2, confidence 2/2)
Track 07 : OK (v2, confidence 2/2)
Track 08 : OK (v2, confidence 2/2)
Track 09 : OK (v2, confidence 2/2)
Track 10 : OK (v2, confidence 1/2)
->All tracks accurately ripped.

All Tracks
Album gain : -7.19 dB
Peak : 0.988708
Statistics
Read error : 0
Jitter error (maybe fixed) : 0
Retry sector count : 0
Damaged sector count : 0

Track 01
Filename : /Users/Shared/XLD_rips/Frank Zappa - Providence, R.I. 4-26-75 (2017) [FLAC]/01 Camarillo Brillo.flac
Pre-gap length : 00:02:00

Track gain : -8.27 dB
Peak : 0.988647
CRC32 hash (test run) : 1BDEF653
CRC32 hash : 1BDEF653
CRC32 hash (skip zero) : 17685117
AccurateRip v1 signature : 9F232093
AccurateRip v2 signature : 76D3E27C
->Accurately ripped (v2, confidence 2/2)
Statistics
Read error : 0
Jitter error (maybe fixed) : 0
Retry sector count : 0
Damaged sector count : 0

Track 02
Filename : /Users/Shared/XLD_rips/Frank Zappa - Providence, R.I. 4-26-75 (2017) [FLAC]/02 Muffin Man.flac

Track gain : -7.59 dB
Peak : 0.988647
CRC32 hash (test run) : 3DA52CA4
CRC32 hash : 3DA52CA4
CRC32 hash (skip zero) : 8BF7D34D
AccurateRip v1 signature : AA5B1DC6
AccurateRip v2 signature : 322D2FCC
->Accurately ripped (v2, confidence 2/2)
Statistics
Read error : 0
Jitter error (maybe fixed) : 0
Retry sector count : 0
Damaged sector count : 0

Track 03
Filename : /Users/Shared/XLD_rips/Frank Zappa - Providence, R.I. 4-26-75 (2017) [FLAC]/03 Stinkfoot.flac

Track gain : -7.70 dB
Peak : 0.988708
CRC32 hash (test run) : FB3DEA4D
CRC32 hash : FB3DEA4D
CRC32 hash (skip zero) : 4327F6B3
AccurateRip v1 signature : F8605CDA
AccurateRip v2 signature : 8DF38B85
->Accurately ripped (v2, confidence 2/2)
Statistics
Read error : 0
Jitter error (maybe fixed) : 0
Retry sector count : 0
Damaged sector count : 0

Track 04
Filename : /Users/Shared/XLD_rips/Frank Zappa - Providence, R.I. 4-26-75 (2017) [FLAC]/04 I'm Not Satisfied.flac

Track gain : -8.97 dB
Peak : 0.988708
CRC32 hash (test run) : E534408A
CRC32 hash : E534408A
CRC32 hash (skip zero) : F1AD650B
AccurateRip v1 signature : DC01F5E7
AccurateRip v2 signature : E5BD101F
->Accurately ripped (v2, confidence 2/2)
Statistics
Read error : 0
Jitter error (maybe fixed) : 0
Retry sector count : 0
Damaged sector count : 0

Track 05
Filename : /Users/Shared/XLD_rips/Frank Zappa - Providence, R.I. 4-26-75 (2017) [FLAC]/05 Velvet Sunrise.flac

Track gain : -2.85 dB
Peak : 0.988586
CRC32 hash (test run) : BB27C4A1
CRC32 hash : BB27C4A1
CRC32 hash (skip zero) : 2B87716F
AccurateRip v1 signature : DFC8E0F6
AccurateRip v2 signature : A872C912
->Accurately ripped (v2, confidence 2/2)
Statistics
Read error : 0
Jitter error (maybe fixed) : 0
Retry sector count : 0
Damaged sector count : 0

Track 06
Filename : /Users/Shared/XLD_rips/Frank Zappa - Providence, R.I. 4-26-75 (2017) [FLAC]/06 A Pound For A Brown.flac

Track gain : -7.61 dB
Peak : 0.988678
CRC32 hash (test run) : 52FCE9A1
CRC32 hash : 52FCE9A1
CRC32 hash (skip zero) : 9CCDFA74
AccurateRip v1 signature : B617E925
AccurateRip v2 signature : 7DC5A3F2
->Accurately ripped (v2, confidence 2/2)
Statistics
Read error : 0
Jitter error (maybe fixed) : 0
Retry sector count : 0
Damaged sector count : 0

Track 07
Filename : /Users/Shared/XLD_rips/Frank Zappa - Providence, R.I. 4-26-75 (2017) [FLAC]/07 The Torture Never Stops.flac

Track gain : -7.30 dB
Peak : 0.988647
CRC32 hash (test run) : BABCC775
CRC32 hash : BABCC775
CRC32 hash (skip zero) : 6E0C5E65
AccurateRip v1 signature : 686675DF
AccurateRip v2 signature : B2D1D2C4
->Accurately ripped (v2, confidence 2/2)
Statistics
Read error : 0
Jitter error (maybe fixed) : 0
Retry sector count : 0
Damaged sector count : 0

Track 08
Filename : /Users/Shared/XLD_rips/Frank Zappa - Providence, R.I. 4-26-75 (2017) [FLAC]/08 Montana.flac

Track gain : -6.73 dB
Peak : 0.988678
CRC32 hash (test run) : 001AE8D5
CRC32 hash : 001AE8D5
CRC32 hash (skip zero) : 86B2511F
AccurateRip v1 signature : EFF21AB7
AccurateRip v2 signature : F468D0CD
->Accurately ripped (v2, confidence 2/2)
Statistics
Read error : 0
Jitter error (maybe fixed) : 0
Retry sector count : 0
Damaged sector count : 0

Track 09
Filename : /Users/Shared/XLD_rips/Frank Zappa - Providence, R.I. 4-26-75 (2017) [FLAC]/09 Penguin In Bondage.flac

Track gain : -6.91 dB
Peak : 0.988678
CRC32 hash (test run) : EFEFFCE5
CRC32 hash : EFEFFCE5
CRC32 hash (skip zero) : 44E32E47
AccurateRip v1 signature : CD3F8123
AccurateRip v2 signature : 1B4DADCB
->Accurately ripped (v2, confidence 2/2)
Statistics
Read error : 0
Jitter error (maybe fixed) : 0
Retry sector count : 0
Damaged sector count : 0

Track 10
Filename : /Users/Shared/XLD_rips/Frank Zappa - Providence, R.I. 4-26-75 (2017) [FLAC]/10 Willie The Pimp.flac

Track gain : -7.99 dB
Peak : 0.988678
CRC32 hash (test run) : 6A91934F
CRC32 hash : 6A91934F
CRC32 hash (skip zero) : 546C3624
AccurateRip v1 signature : C52BCB95
AccurateRip v2 signature : BC4BCEA8
->Accurately ripped (v2, confidence 1/2)
Statistics
Read error : 0
Jitter error (maybe fixed) : 0
Retry sector count : 0
Damaged sector count : 0

No errors occurred

End of status report

––-BEGIN XLD SIGNATURE––-
GdLQCpDRGTHnL9fO.Asd3M60T_V.wC8bIWxgDNxx1_babop2RcwrRZcnIT8Zzhi.UlTNhJ2V9MMPIu9m7F9yOLD21Jin7jSXe65Iqwa
––-END XLD SIGNATURE––-
X Lossless Decoder version 20181019 (151.1)

XLD extraction logfile from 2018-11-27 22:31:31 -0500

Frank Zappa / Rotterdam, Netherlands, 5-25-80

Used drive : HL-DT-ST DVDRW GS41N (revision UA04)
Media type : Pressed CD

Ripper mode : XLD Secure Ripper
Disable audio cache : OK for the drive with a cache less than 1375KiB
Make use of C2 pointers : NO
Read offset correction : 6
Max retry count : 100
Gap status : Analyzed, Appended (except HTOA)

TOC of the extracted CD
Track | Start | Length | Start sector | End sector
––––––––––––––––––––––––––––-
1 | 00:02:02 | 04:22:03 | 152 | 19804
2 | 04:24:05 | 03:06:50 | 19805 | 33804
3 | 07:30:55 | 06:53:18 | 33805 | 64797
4 | 14:23:73 | 05:42:37 | 64798 | 90484
5 | 20:06:35 | 06:23:23 | 90485 | 119232
6 | 26:29:58 | 02:22:71 | 119233 | 129953
7 | 28:52:54 | 01:56:32 | 129954 | 138685
8 | 30:49:11 | 03:14:24 | 138686 | 153259
9 | 34:03:35 | 03:49:74 | 153260 | 170508
10 | 37:53:34 | 04:19:33 | 170509 | 189966
11 | 42:12:67 | 03:43:44 | 189967 | 206735
12 | 45:56:36 | 02:05:57 | 206736 | 216167
13 | 48:02:18 | 02:02:50 | 216168 | 225367
14 | 50:04:68 | 03:27:25 | 225368 | 240917
15 | 53:32:18 | 02:41:60 | 240918 | 253052
16 | 56:14:03 | 04:35:43 | 253053 | 273720
17 | 60:49:46 | 02:40:37 | 273721 | 285757
18 | 63:30:08 | 08:35:28 | 285758 | 324410

AccurateRip Summary (DiscID: 002fdd13-026f07c9-0210e312)
Track 01 : OK (v2, confidence 2/2)
Track 02 : OK (v2, confidence 2/2)
Track 03 : OK (v2, confidence 2/2)
Track 04 : OK (v2, confidence 2/2)
Track 05 : OK (v2, confidence 2/2)
Track 06 : OK (v2, confidence 2/2)
Track 07 : OK (v2, confidence 2/2)
Track 08 : OK (v2, confidence 2/2)
Track 09 : OK (v2, confidence 2/2)
Track 10 : OK (v2, confidence 2/2)
Track 11 : OK (v2, confidence 2/2)
Track 12 : OK (v2, confidence 2/2)
Track 13 : OK (v2, confidence 2/2)
Track 14 : OK (v2, confidence 2/2)
Track 15 : OK (v2, confidence 2/2)
Track 16 : OK (v2, confidence 2/2)
Track 17 : OK (v2, confidence 2/2)
Track 18 : OK (v2, confidence 2/2)
->All tracks accurately ripped.

All Tracks
Album gain : -8.28 dB
Peak : 0.988770
Statistics
Read error : 0
Jitter error (maybe fixed) : 0
Retry sector count : 0
Damaged sector count : 0

Track 01
Filename : /Users/Shared/XLD_rips/Frank Zappa - Rotterdam, Netherlands, 5-25-80 (2017) [FLAC]/01 Chunga's Revenge.flac
Pre-gap length : 00:04:02

Track gain : -8.16 dB
Peak : 0.988678
CRC32 hash (test run) : 6E13DA03
CRC32 hash : 6E13DA03
CRC32 hash (skip zero) : E46B6F25
AccurateRip v1 signature : 2503132F
AccurateRip v2 signature : D965D6B5
->Accurately ripped (v2, confidence 2/2)
Statistics
Read error : 0
Jitter error (maybe fixed) : 0
Retry sector count : 0
Damaged sector count : 0

Track 02
Filename : /Users/Shared/XLD_rips/Frank Zappa - Rotterdam, Netherlands, 5-25-80 (2017) [FLAC]/02 Keep It Greasy.flac

Track gain : -6.49 dB
Peak : 0.988678
CRC32 hash (test run) : 6B9CB90E
CRC32 hash : 6B9CB90E
CRC32 hash (skip zero) : 85E3DE4F
AccurateRip v1 signature : 71B60434
AccurateRip v2 signature : 0EC284BD
->Accurately ripped (v2, confidence 2/2)
Statistics
Read error : 0
Jitter error (maybe fixed) : 0
Retry sector count : 0
Damaged sector count : 0

Track 03
Filename : /Users/Shared/XLD_rips/Frank Zappa - Rotterdam, Netherlands, 5-25-80 (2017) [FLAC]/03 Outside Now.flac

Track gain : -9.02 dB
Peak : 0.988708
CRC32 hash (test run) : A20D11D8
CRC32 hash : A20D11D8
CRC32 hash (skip zero) : 59DA40DA
AccurateRip v1 signature : DC48F22A
AccurateRip v2 signature : 35FE734C
->Accurately ripped (v2, confidence 2/2)
Statistics
Read error : 0
Jitter error (maybe fixed) : 0
Retry sector count : 0
Damaged sector count : 0

Track 04
Filename : /Users/Shared/XLD_rips/Frank Zappa - Rotterdam, Netherlands, 5-25-80 (2017) [FLAC]/04 Bamboozled By Love.flac

Track gain : -8.25 dB
Peak : 0.988708
CRC32 hash (test run) : 5693CCA2
CRC32 hash : 5693CCA2
CRC32 hash (skip zero) : 95060CA4
AccurateRip v1 signature : 2A301A72
AccurateRip v2 signature : FF75E20E
->Accurately ripped (v2, confidence 2/2)
Statistics
Read error : 0
Jitter error (maybe fixed) : 0
Retry sector count : 0
Damaged sector count : 0

Track 05
Filename : /Users/Shared/XLD_rips/Frank Zappa - Rotterdam, Netherlands, 5-25-80 (2017) [FLAC]/05 Pick Me I'm Clean.flac

Track gain : -7.70 dB
Peak : 0.988678
CRC32 hash (test run) : A313D22C
CRC32 hash : A313D22C
CRC32 hash (skip zero) : 1B8529E1
AccurateRip v1 signature : 2B06C6CB
AccurateRip v2 signature : 930DA7F2
->Accurately ripped (v2, confidence 2/2)
Statistics
Read error : 0
Jitter error (maybe fixed) : 0
Retry sector count : 0
Damaged sector count : 0

Track 06
Filename : /Users/Shared/XLD_rips/Frank Zappa - Rotterdam, Netherlands, 5-25-80 (2017) [FLAC]/06 Society Pages.flac

Track gain : -7.95 dB
Peak : 0.988739
CRC32 hash (test run) : 4AE517D0
CRC32 hash : 4AE517D0
CRC32 hash (skip zero) : 5509CF12
AccurateRip v1 signature : F5EA541C
AccurateRip v2 signature : 75F02963
->Accurately ripped (v2, confidence 2/2)
Statistics
Read error : 0
Jitter error (maybe fixed) : 0
Retry sector count : 0
Damaged sector count : 0

Track 07
Filename : /Users/Shared/XLD_rips/Frank Zappa - Rotterdam, Netherlands, 5-25-80 (2017) [FLAC]/07 I'm A Beautiful Guy.flac

Track gain : -7.30 dB
Peak : 0.988770
CRC32 hash (test run) : 99DA03C0
CRC32 hash : 99DA03C0
CRC32 hash (skip zero) : 8110EF55
AccurateRip v1 signature : 0224F38B
AccurateRip v2 signature : D7CD5C35
->Accurately ripped (v2, confidence 2/2)
Statistics
Read error : 0
Jitter error (maybe fixed) : 0
Retry sector count : 0
Damaged sector count : 0

Track 08
Filename : /Users/Shared/XLD_rips/Frank Zappa - Rotterdam, Netherlands, 5-25-80 (2017) [FLAC]/08 Beauty Knows No Pain.flac

Track gain : -6.87 dB
Peak : 0.988708
CRC32 hash (test run) : 7E21CAE7
CRC32 hash : 7E21CAE7
CRC32 hash (skip zero) : 09B789BD
AccurateRip v1 signature : 758F22AC
AccurateRip v2 signature : 54C2917B
->Accurately ripped (v2, confidence 2/2)
Statistics
Read error : 0
Jitter error (maybe fixed) : 0
Retry sector count : 0
Damaged sector count : 0

Track 09
Filename : /Users/Shared/XLD_rips/Frank Zappa - Rotterdam, Netherlands, 5-25-80 (2017) [FLAC]/09 Charlies Enormous Mouth.flac

Track gain : -6.63 dB
Peak : 0.988708
CRC32 hash (test run) : 1E16EFD4
CRC32 hash : 1E16EFD4
CRC32 hash (skip zero) : 12231A95
AccurateRip v1 signature : 2CA1F7E0
AccurateRip v2 signature : 2186E467
->Accurately ripped (v2, confidence 2/2)
Statistics
Read error : 0
Jitter error (maybe fixed) : 0
Retry sector count : 0
Damaged sector count : 0

Track 10
Filename : /Users/Shared/XLD_rips/Frank Zappa - Rotterdam, Netherlands, 5-25-80 (2017) [FLAC]/10 Cosmik Debris.flac

Track gain : -8.90 dB
Peak : 0.988739
CRC32 hash (test run) : 0C4B2BC1
CRC32 hash : 0C4B2BC1
CRC32 hash (skip zero) : F997F7BD
AccurateRip v1 signature : C8417841
AccurateRip v2 signature : 910D1142
->Accurately ripped (v2, confidence 2/2)
Statistics
Read error : 0
Jitter error (maybe fixed) : 0
Retry sector count : 0
Damaged sector count : 0

Track 11
Filename : /Users/Shared/XLD_rips/Frank Zappa - Rotterdam, Netherlands, 5-25-80 (2017) [FLAC]/11 You Didn't Try To Call Me.flac

Track gain : -7.24 dB
Peak : 0.988739
CRC32 hash (test run) : 067651FA
CRC32 hash : 067651FA
CRC32 hash (skip zero) : BAB40FA5
AccurateRip v1 signature : 1B20E773
AccurateRip v2 signature : 89A4FDE3
->Accurately ripped (v2, confidence 2/2)
Statistics
Read error : 0
Jitter error (maybe fixed) : 0
Retry sector count : 0
Damaged sector count : 0

Track 12
Filename : /Users/Shared/XLD_rips/Frank Zappa - Rotterdam, Netherlands, 5-25-80 (2017) [FLAC]/12 I Ain't Got No Heart.flac

Track gain : -9.39 dB
Peak : 0.988770
CRC32 hash (test run) : BCEA2F24
CRC32 hash : BCEA2F24
CRC32 hash (skip zero) : 14A725DE
AccurateRip v1 signature : 142B5183
AccurateRip v2 signature : CD9C85F5
->Accurately ripped (v2, confidence 2/2)
Statistics
Read error : 0
Jitter error (maybe fixed) : 0
Retry sector count : 0
Damaged sector count : 0

Track 13
Filename : /Users/Shared/XLD_rips/Frank Zappa - Rotterdam, Netherlands, 5-25-80 (2017) [FLAC]/13 Love Of My Life.flac

Track gain : -8.28 dB
Peak : 0.988678
CRC32 hash (test run) : B2FCE74E
CRC32 hash : B2FCE74E
CRC32 hash (skip zero) : 639C97F2
AccurateRip v1 signature : 344E1526
AccurateRip v2 signature : C3629073
->Accurately ripped (v2, confidence 2/2)
Statistics
Read error : 0
Jitter error (maybe fixed) : 0
Retry sector count : 0
Damaged sector count : 0

Track 14
Filename : /Users/Shared/XLD_rips/Frank Zappa - Rotterdam, Netherlands, 5-25-80 (2017) [FLAC]/14 You Are What You Is.flac

Track gain : -8.75 dB
Peak : 0.988739
CRC32 hash (test run) : 5CF72516
CRC32 hash : 5CF72516
CRC32 hash (skip zero) : 561D4E69
AccurateRip v1 signature : 74832F94
AccurateRip v2 signature : 32446F6B
->Accurately ripped (v2, confidence 2/2)
Statistics
Read error : 0
Jitter error (maybe fixed) : 0
Retry sector count : 0
Damaged sector count : 0

Track 15
Filename : /Users/Shared/XLD_rips/Frank Zappa - Rotterdam, Netherlands, 5-25-80 (2017) [FLAC]/15 Bobby Brown.flac

Track gain : -8.27 dB
Peak : 0.988678
CRC32 hash (test run) : 74F2523E
CRC32 hash : 74F2523E
CRC32 hash (skip zero) : 75CE99E3
AccurateRip v1 signature : 96695E0E
AccurateRip v2 signature : 622B2731
->Accurately ripped (v2, confidence 2/2)
Statistics
Read error : 0
Jitter error (maybe fixed) : 0
Retry sector count : 0
Damaged sector count : 0

Track 16
Filename : /Users/Shared/XLD_rips/Frank Zappa - Rotterdam, Netherlands, 5-25-80 (2017) [FLAC]/16 Ms Pinky.flac

Track gain : -8.89 dB
Peak : 0.988678
CRC32 hash (test run) : EC421A95
CRC32 hash : EC421A95
CRC32 hash (skip zero) : 56498783
AccurateRip v1 signature : 68E5906D
AccurateRip v2 signature : 46525F82
->Accurately ripped (v2, confidence 2/2)
Statistics
Read error : 0
Jitter error (maybe fixed) : 0
Retry sector count : 0
Damaged sector count : 0

Track 17
Filename : /Users/Shared/XLD_rips/Frank Zappa - Rotterdam, Netherlands, 5-25-80 (2017) [FLAC]/17 I Don't Want To Get Drafted.flac

Track gain : -9.62 dB
Peak : 0.988678
CRC32 hash (test run) : FBC4B360
CRC32 hash : FBC4B360
CRC32 hash (skip zero) : 1AA9108A
AccurateRip v1 signature : 2DE289B0
AccurateRip v2 signature : B397C09B
->Accurately ripped (v2, confidence 2/2)
Statistics
Read error : 0
Jitter error (maybe fixed) : 0
Retry sector count : 0
Damaged sector count : 0

Track 18
Filename : /Users/Shared/XLD_rips/Frank Zappa - Rotterdam, Netherlands, 5-25-80 (2017) [FLAC]/18 The Illinois Enima Bandit.flac

Track gain : -8.74 dB
Peak : 0.988647
CRC32 hash (test run) : FC3CD5E1
CRC32 hash : FC3CD5E1
CRC32 hash (skip zero) : 81865184
AccurateRip v1 signature : 034EEC9E
AccurateRip v2 signature : 46EC2FEA
->Accurately ripped (v2, confidence 2/2)
Statistics
Read error : 0
Jitter error (maybe fixed) : 0
Retry sector count : 0
Damaged sector count : 0

No errors occurred

End of status report

––-BEGIN XLD SIGNATURE––-
a.zuTxgOS62zXPCgVozvMTNV2azJSDy9294m0M8uJGD0Wxhp2.rLUcli.RPDzQS6k8iye9jLItaLktdqR4AOFFb1O8F_NSzpz.NFqh0
––-END XLD SIGNATURE––-
X Lossless Decoder version 20181019 (151.1)

XLD extraction logfile from 2018-11-27 23:27:57 -0500

Frank Zappa / Passaic, NJ 13th October 1978 | SNL 1976 & 1978

Used drive : HL-DT-ST DVDRW GS41N (revision UA04)
Media type : Pressed CD

Ripper mode : XLD Secure Ripper
Disable audio cache : OK for the drive with a cache less than 1375KiB
Make use of C2 pointers : NO
Read offset correction : 6
Max retry count : 100
Gap status : Analyzed, Appended (except HTOA)

TOC of the extracted CD
Track | Start | Length | Start sector | End sector
––––––––––––––––––––––––––––-
1 | 00:00:00 | 04:37:00 | 0 | 20774
2 | 04:37:00 | 06:38:44 | 20775 | 50668
3 | 11:15:44 | 04:41:28 | 50669 | 71771
4 | 15:56:72 | 09:37:23 | 71772 | 115069
5 | 25:34:20 | 06:48:59 | 115070 | 145728
6 | 32:23:04 | 02:36:50 | 145729 | 157478
7 | 34:59:54 | 03:35:56 | 157479 | 173659
8 | 38:35:35 | 04:03:58 | 173660 | 191942
9 | 42:39:18 | 03:15:43 | 191943 | 206610
10 | 45:54:61 | 04:22:11 | 206611 | 226271
11 | 50:16:72 | 03:33:28 | 226272 | 242274
12 | 53:50:25 | 04:07:53 | 242275 | 260852

AccurateRip Summary (DiscID: 001c6dc4-010371e5-a90d960c)
Track 01 : OK (v2, confidence 2/2)
Track 02 : OK (v2, confidence 2/2)
Track 03 : OK (v2, confidence 2/2)
Track 04 : OK (v2, confidence 2/2)
Track 05 : OK (v2, confidence 2/2)
Track 06 : OK (v2, confidence 1/1)
Track 07 : OK (v2, confidence 2/2)
Track 08 : OK (v2, confidence 1/1)
Track 09 : OK (v2, confidence 1/1)
Track 10 : NG (total 1 submission)
Track 11 : OK (v2, confidence 1/1)
Track 12 : NG (total 2 submissions)
->10 tracks accurately ripped, 2 tracks not

All Tracks
Album gain : -7.93 dB
Peak : 0.988617
Statistics
Read error : 0
Jitter error (maybe fixed) : 0
Retry sector count : 0
Damaged sector count : 0

Track 01
Filename : /Users/Shared/XLD_rips/Frank Zappa - Passaic, NJ 13th October 1978 | SNL 1976 & 1978 (2017) [FLAC]/01 Dancin Fool (Capitol Theatre 10-13-1978).flac
Pre-gap length : 00:02:00

Track gain : -7.71 dB
Peak : 0.977356
CRC32 hash (test run) : 15D15110
CRC32 hash : 15D15110
CRC32 hash (skip zero) : E0A8FE3F
AccurateRip v1 signature : BCC6B35D
AccurateRip v2 signature : C6A4FCAB
->Accurately ripped (v2, confidence 2/2)
Statistics
Read error : 0
Jitter error (maybe fixed) : 0
Retry sector count : 0
Damaged sector count : 0

Track 02
Filename : /Users/Shared/XLD_rips/Frank Zappa - Passaic, NJ 13th October 1978 | SNL 1976 & 1978 (2017) [FLAC]/02 Easy Meat (Capitol Theatre 10-13-1978).flac

Track gain : -8.67 dB
Peak : 0.988556
CRC32 hash (test run) : 9110E1AE
CRC32 hash : 9110E1AE
CRC32 hash (skip zero) : 3B0A0807
AccurateRip v1 signature : DC5AC7E0
AccurateRip v2 signature : 43816743
->Accurately ripped (v2, confidence 2/2)
Statistics
Read error : 0
Jitter error (maybe fixed) : 0
Retry sector count : 0
Damaged sector count : 0

Track 03
Filename : /Users/Shared/XLD_rips/Frank Zappa - Passaic, NJ 13th October 1978 | SNL 1976 & 1978 (2017) [FLAC]/03 Sy Borg (Capitol Theatre 10-13-1978).flac

Track gain : -6.70 dB
Peak : 0.988556
CRC32 hash (test run) : B87A5D8C
CRC32 hash : B87A5D8C
CRC32 hash (skip zero) : 34FDB086
AccurateRip v1 signature : D1E9D98A
AccurateRip v2 signature : C84031AD
->Accurately ripped (v2, confidence 2/2)
Statistics
Read error : 0
Jitter error (maybe fixed) : 0
Retry sector count : 0
Damaged sector count : 0

Track 04
Filename : /Users/Shared/XLD_rips/Frank Zappa - Passaic, NJ 13th October 1978 | SNL 1976 & 1978 (2017) [FLAC]/04 Suicide Chump (Capitol Theatre 10-13-1978).flac

Track gain : -7.92 dB
Peak : 0.977448
CRC32 hash (test run) : D8970080
CRC32 hash : D8970080
CRC32 hash (skip zero) : F7E99E0F
AccurateRip v1 signature : 9BD07A8D
AccurateRip v2 signature : E6046385
->Accurately ripped (v2, confidence 2/2)
Statistics
Read error : 0
Jitter error (maybe fixed) : 0
Retry sector count : 0
Damaged sector count : 0

Track 05
Filename : /Users/Shared/XLD_rips/Frank Zappa - Passaic, NJ 13th October 1978 | SNL 1976 & 1978 (2017) [FLAC]/05 Little House I Used To Live In (Capitol Theatre 10-13-1978).flac

Track gain : -6.69 dB
Peak : 0.978882
CRC32 hash (test run) : B8E0AA0F
CRC32 hash : B8E0AA0F
CRC32 hash (skip zero) : 2D274371
AccurateRip v1 signature : 4B20E780
AccurateRip v2 signature : 1D3379EB
->Accurately ripped (v2, confidence 2/2)
Statistics
Read error : 0
Jitter error (maybe fixed) : 0
Retry sector count : 0
Damaged sector count : 0

Track 06
Filename : /Users/Shared/XLD_rips/Frank Zappa - Passaic, NJ 13th October 1978 | SNL 1976 & 1978 (2017) [FLAC]/06 Magic Fingers (Capitol Theatre 10-13-1978).flac

Track gain : -7.25 dB
Peak : 0.988556
CRC32 hash (test run) : C448DBA8
CRC32 hash : C448DBA8
CRC32 hash (skip zero) : F2DE8B75
AccurateRip v1 signature : FBCD3802
AccurateRip v2 signature : BA68FBE9
->Accurately ripped (v2, confidence 1/1)
Statistics
Read error : 0
Jitter error (maybe fixed) : 0
Retry sector count : 0
Damaged sector count : 0

Track 07
Filename : /Users/Shared/XLD_rips/Frank Zappa - Passaic, NJ 13th October 1978 | SNL 1976 & 1978 (2017) [FLAC]/07 Peaches En Regalia (Saturday Night Live 12-11-1976).flac
Pre-gap length : 00:01:08

Track gain : -8.59 dB
Peak : 0.988617
CRC32 hash (test run) : 9AC96471
CRC32 hash : 9AC96471
CRC32 hash (skip zero) : 9F27DD7E
AccurateRip v1 signature : 52B539B5
AccurateRip v2 signature : DC57F835
->Accurately ripped (v2, confidence 2/2)
Statistics
Read error : 0
Jitter error (maybe fixed) : 0
Retry sector count : 0
Damaged sector count : 0

Track 08
Filename : /Users/Shared/XLD_rips/Frank Zappa - Passaic, NJ 13th October 1978 | SNL 1976 & 1978 (2017) [FLAC]/08 Purple Lagoon (Saturday Night Live 12-11-1976).flac

Track gain : -7.30 dB
Peak : 0.977478
CRC32 hash (test run) : BD0C9B39
CRC32 hash : BD0C9B39
CRC32 hash (skip zero) : 1D5F125D
AccurateRip v1 signature : 88FF2D88
AccurateRip v2 signature : 41945683
->Accurately ripped (v2, confidence 1/1)
Statistics
Read error : 0
Jitter error (maybe fixed) : 0
Retry sector count : 0
Damaged sector count : 0

Track 09
Filename : /Users/Shared/XLD_rips/Frank Zappa - Passaic, NJ 13th October 1978 | SNL 1976 & 1978 (2017) [FLAC]/09 I Am The Slime (Saturday Night Live 12-11-1976).flac
Pre-gap length : 00:01:00

Track gain : -8.27 dB
Peak : 0.977509
CRC32 hash (test run) : 90AB092B
CRC32 hash : 90AB092B
CRC32 hash (skip zero) : F385250C
AccurateRip v1 signature : C0856AB2
AccurateRip v2 signature : 53E774CA
->Accurately ripped (v2, confidence 1/1)
Statistics
Read error : 0
Jitter error (maybe fixed) : 0
Retry sector count : 0
Damaged sector count : 0

Track 10
Filename : /Users/Shared/XLD_rips/Frank Zappa - Passaic, NJ 13th October 1978 | SNL 1976 & 1978 (2017) [FLAC]/10 Dancing Fool (Saturday Night Live 10–21-1978).flac
Pre-gap length : 00:01:08

Track gain : -8.80 dB
Peak : 0.977234
CRC32 hash (test run) : 9E069ED6
CRC32 hash : 9E069ED6
CRC32 hash (skip zero) : FC0D754C
AccurateRip v1 signature : 23DDEAA4
AccurateRip v2 signature : 451D164A
->Rip may not be accurate (total 1 submission).
Statistics
Read error : 0
Jitter error (maybe fixed) : 0
Retry sector count : 0
Damaged sector count : 0

Track 11
Filename : /Users/Shared/XLD_rips/Frank Zappa - Passaic, NJ 13th October 1978 | SNL 1976 & 1978 (2017) [FLAC]/11 The Meek Shall Inherit Nothing (Saturday Night Live 10–21-1978).flac
Pre-gap length : 00:01:74

Track gain : -8.20 dB
Peak : 0.988586
CRC32 hash (test run) : 410846B8
CRC32 hash : 410846B8
CRC32 hash (skip zero) : A3621A62
AccurateRip v1 signature : 3A697D31
AccurateRip v2 signature : A3B71AE2
->Accurately ripped (v2, confidence 1/1)
Statistics
Read error : 0
Jitter error (maybe fixed) : 0
Retry sector count : 0
Damaged sector count : 0

Track 12
Filename : /Users/Shared/XLD_rips/Frank Zappa - Passaic, NJ 13th October 1978 | SNL 1976 & 1978 (2017) [FLAC]/12 St. Alphonzo's Pancake Breakfast-Rollo (Saturday Night Live 10–21-1978).flac
Pre-gap length : 00:01:34

Track gain : -8.38 dB
Peak : 0.977234
CRC32 hash (test run) : 52FE2889
CRC32 hash : 52FE2889
CRC32 hash (skip zero) : 43703C40
AccurateRip v1 signature : 5D79900A
AccurateRip v2 signature : 9633AB8A
->Rip may not be accurate (total 2 submissions).
Statistics
Read error : 0
Jitter error (maybe fixed) : 0
Retry sector count : 0
Damaged sector count : 0

No errors occurred

End of status report

––-BEGIN XLD SIGNATURE––-
tbJm_3uhv.Np3aKzo7bcwQwxE7EWki86Q026MqQcAAVFAw24deB3OYFytjU5gAapNBCn4eOHelnSsoR_s6YN40z6c5Q7.7H_ai5lw4a
––-END XLD SIGNATURE––-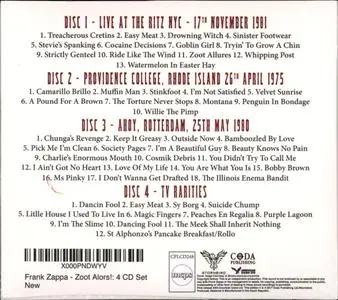 see more FZ…
===