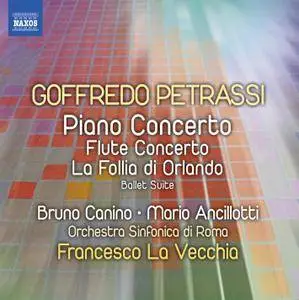 Goffredo Petrassi (1904-2003) - Piano Concerto, Flute Concerto - Canino, Ancillotti, Rome Symphony, La Vecchia (2014) {Digital Download}
FLAC (tracks) - 16bit/44kHz - Official Digital Download (chandos.net) -> 318 Mb | MP3 @320 -> 176 Mb
Full Artwork (jpg+pdf) -> 9 Mb | 5% repair rar
© 2014 Naxos | 8.573073
Classical / 20th Century / Concerto
Goffredo Petrassi's long creative life was marked by ceaseless absorption of ideas and by constant invention. His Flute Concerto is notable for its boldness of design and the surprise of its unorthodox sound world, where instruments rotate in block form. The Piano Concerto is more overtly virtuosic, even showing some influence from Prokofiev. The orchestral suite drawn from the ballet La follia di Orlando (The Madness of Orlando) is often clothed in Petrassi's experimental orchestral sonorities.
chandos.net INFO
musicweb-international.com INFOMusicians
Mario Ancillotti
(flute)
Bruno Canino
(piano)
Orchestra Sinfonica di Roma
Francesco La Vecchia
(conductor)
Track Listing

Flute Concerto
1. Flute Concerto 00:19:31
Piano Concerto
2. I. Non molto mosso, ma energico 00:12:10
3. II. Arietta con variazioni: Molto adagio e tranquillo 00:13:03
4. III. Rondo: Andantino mosso - Allegro agitato 00:06:56
La follia di Orlando Suite
5. Introduzione: Allegro sostenuto - Quadro I: Danza di Angelica: Andantino grazioso, con fantasia 00:05:22
6. Quadro II: Angelica e Medoro: Andante sereno 00:07:16
7. Quadro III: Danza di Astolfo: Presto, volante e leggero 00:03:50
8. Quadro I: Danza guerriera: Molto sostenuto 00:03:23
–––––––––––-
DON'T MODIFY THIS FILE
–––––––––––-
PERFORMER: auCDtect Task Manager, ver. 1.6.0 RC1 build 1.6.0.1
Copyright © 2008-2010 y-soft. All rights reserved
http://y-soft.org
ANALYZER: auCDtect: CD records authenticity detector, version 0.8.2
Copyright © 2004 Oleg Berngardt. All rights reserved.
Copyright © 2004 Alexander Djourik. All rights reserved.
FILE: 08 - Petrassi - La follia di Orlando (Suite) - IV. Danza guerriera.flac
Size: 19124762 Hash: 548C34C6D39CD131FB8C1E71AB438387 Accuracy: -m0
Conclusion: CDDA 100%
Signature: 0160D640546578DE7186C72A2281B4CE326BB68F
FILE: 07 - Petrassi - La follia di Orlando (Suite) - III. Danza di Astolfo.flac
Size: 18008630 Hash: 3D5C29BF8247589F68F139908AE1D7A7 Accuracy: -m0
Conclusion: CDDA 100%
Signature: 94116E1FCAED4032ACEC2F45D66CFB5EDD3E9D76
FILE: 06 - Petrassi - La follia di Orlando (Suite) - II. Angelica e Medoro.flac
Size: 29542830 Hash: 30DD29428C8CC3DE30CFCE00E2C5FD9C Accuracy: -m0
Conclusion: CDDA 99%
Signature: F0F9453997C84DA359DF6A70724E984E77BB90CC
FILE: 05 - Petrassi - La follia di Orlando (Suite) - I. Introduzione - Danza di Angelica.flac
Size: 24922950 Hash: 252E58BE02D169FD72C32DD419F328C1 Accuracy: -m0
Conclusion: CDDA 100%
Signature: E13A0C038ED92E842250EC473BB2EF11B5ED3155
FILE: 04 - Petrassi - Piano Concerto - III. Rondo.flac
Size: 33589243 Hash: 396C2F785ED0C9D708F0D8F967879989 Accuracy: -m0
Conclusion: CDDA 100%
Signature: 1D1E02AA9DDBBFF2B83818908149005947E70FD1
FILE: 03 - Petrassi - Piano Concerto - II. Arietta con variazioni.flac
Size: 49482823 Hash: 5913D0B9747BC962B3B76F4AA2241772 Accuracy: -m0
Conclusion: CDDA 100%
Signature: 5884787FC66BE66929DC1BE5665A29AF58328A27
FILE: 02 - Petrassi - Piano Concerto - I. Non molto mosso, ma energico.flac
Size: 55082569 Hash: B3DECB1EC6BCC80C5F76C79F02035D9A Accuracy: -m0
Conclusion: CDDA 100%
Signature: AEEA6A1E31D86D17CAF67F0002190D762F764C7B
FILE: 01 - Petrassi - Flute Concerto.flac
Size: 87119937 Hash: F41A6C40C3B3DB13157F9A9EECBB28CE Accuracy: -m0
Conclusion: CDDA 100%
Signature: 7D23A15117EF74B6DD3047081B0D4838D21251A0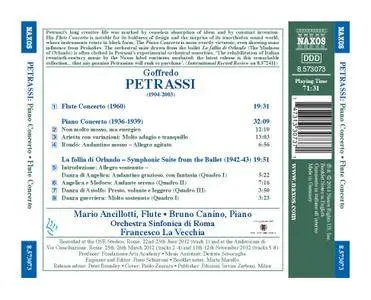 ===