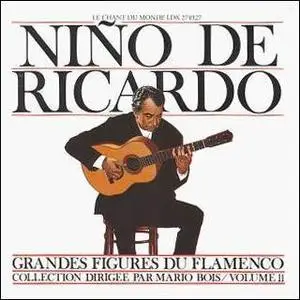 Niño Ricardo, Grandes Figuras del Flamenco (Vol. 11)
MP3 | 256 kbps | 17 tracks | 70.00+35.63 MB
Niño Ricardo is one the great guitar masters. His name can be found alongside Ramón Montoya, Javier Molina and Manolo de Huelva. He was a majestic guitarist, who managed to extract the maximum amount of expressiveness from his instrument, and who invented new styles of guitar playing for each cante (style), and for this reason he is considered superior to his own teachers.
He was not a virtuoso guitarist, mainly concerned with technique, although he controlled it without any problems. What did concern him was to seek the right balance between the guitar playing and singing, to find the emotion and depth. Although he was a great concert guitarist, he is especially remembered accompanying singing and dancing, due to the amount of important flamenco figures for whom he played: La Niña de los Peines, Pepe Pinto, Antonio Mairena…, and also for the ease with which he struck up a mutual understanding with whoever he accompanied.
- www.esflamenco.com