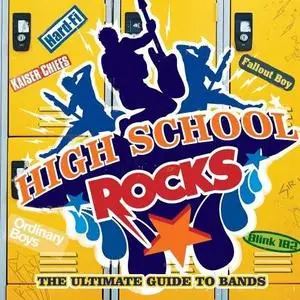 Various Artists - High School Rocks (June 2006)
MP3 224 Kbps | 120 Mb | Release date: 19-06-2006 | Label: UNIVERSAL Music TV
Have you jumped up and down on your bed with your air guitar, annoyed your parent's and neighbours alike whilst belting out Smooth Criminal like an extra band member of Alien Ant Farm? Well get ready to do it all over again…High School Rocks has landed & set to rock your world! Available from the 19th of June, HIGH SCHOOL ROCKS includes the offerings from some of the biggest bands. Hate To Say I Told You So (Hives) but this album is going to Burn Baby Burn (Ash) until you have rocked so hard that you feel more Alive (POD) then ever, and guaranteed to make your parents Faint (Linkin Park). If you want to be in the hottest kid at school you had better grab your copy of High School Rocks!
01 Oh My God - Kaiser Chiefs
02 Somebody Told Me - The Killers
03 No Tomorrow - Orson
04 Smooth Criminal - Alien Ant Farm
05 All The Small Things - Blink 182
06 Sugar We're Goin Down - Fallout Boy
07 Hard To Beat - Hard-Fi
08 Are You Gonna Be My Girl? - Jet
09 Boys Will Be Boys - Ordinary Boys
10 Buck Rogers - Feeder
11 California - Phantom Planet
12 Girls & Boys - Good Charlotte
13 Girl All The Bad Guys Want - Bowling For Soup
14 Better Off Dead - New Found Glory
15 Burn Baby Burn - ash
16 Hate To Say I Told You So - Hives
17 I Believe In A Thing Called Love - Darkness
18 Alive - Pod
19 Rock & Roll Queen - Subways
20 Rock 'N' Roll Lies - Razorlight
21 Beverley Hills - Weezer
22 Faint - Linkin Park
120 Mb
http://rapidshare.de/files/24044584/HSR.part1.rar.html
http://rapidshare.de/files/24044467/HSR.part2.rar.html
Pass :
gal_mu_chet
You are welcome to download From OxyShare:
http://www.oxyshare.com/get/704347030449e347051de15.34313066/HSR.part1.rar.html
http://www.oxyshare.com/get/470614747449e3470365f83.40179224/HSR.part2.rar.html