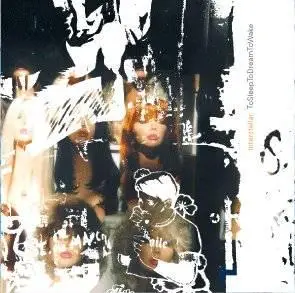 Interstellar - ToSleepToDreamToWake (2006)
MP3 VBR 196 kbps avg. | Time: 39'52'' | 52 MB RAR
Indie, Electronic, Leftfield, Downtempo
Take a recording device into your bedroom, and voila – the room turns from a banal, boring, asphyxiating closet to a gateway to worlds completely unheard of. Interstellar's sophomore album was created, over the course of three years, in vocalist/guitarist/bassist/synth player Dennis Dufour's bedroom(s) – he moved a lot – in Toronto. Interestingly, this never shows: "bedroom" doesn't necessarily translate as "lo-fi", and the intelligent sound design conceived by Dufour and fellow multi-instrumentalist Rob Boak (bass, guitar and synthesizer) is not only transparent and crisp, but dreamy and amazingly rich in range when the occasion requires it. For instance, broken syllables, a saturated Rhodes and dirty beats combine with a superbly clean and twangy Morricone-esque guitar line on opener "The Sun", an impossibly electroid zero-G spaghetti western cinematic miniature. The serene, avant loungey references on tracks like "Hawaiian Rehab", and particularly the lush single "Painting And Kissing" (with introspective vocals courtesy of the exquisite Lisa Nightswander, vocalist for post-shoegazer unit and former Boak vehicle Mean Red Spider), trigger The Inevitable Stereolab Comparison, but the drum programming and the lazy guitar sounds also recall the band's other crucial influence, TNT-era Tortoise. Shall we continue with this slightly annoying spot-the-influence thing? We definitely shall not. There is, of course, no reason to expect to hear radically innovative sounds from a contemporary rock band, and Interstellar make no exception to this awful truth (not that they have to, by the way): early nineties guitar-based post-rock, evocative ambient soundscapes, FX-enhanced shoegaze ethereality, minor touches of dub, jazz, exotica and even Kosmische rock resonate with varying degrees of prominence on these thirteen mostly instrumental tracks. They go beyond mere by-the-book derivativeness, fortunately, and draw listeners into their sonic fantasies with surprising confidence and ease. Perhaps Dufour and Boak were inspired and artistically liberated by not having to pay for studio time.
Records like ToSleepToDreamToWake remind us that there's a silent revolution in the works – one that demands our participation. It seems that no modern bedroom is complete without a multi-track recorder.
(Marco Rivera, splendidezine.com)
Tracklist:
01.
The Sun
02. Hawaiian Rehab
03.
Painting And Kissing
04. Basement Dub
05. 6 a.m.
06.
Rain Snow Sleet Hail
07. Me Telepathic, Curious
08. Don't Be Blue
09. Combinations
10. Radio Flyer
11. Archipelago
12. Let The Evening Light Go Through
Click above track 1, 3, 6 for album sampler.