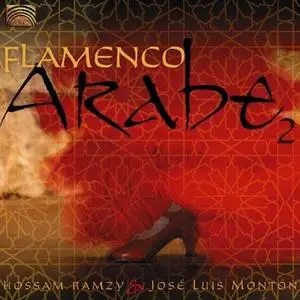 José Luis Monton & Hossam Ramzy: Flamenco Arabe 2 (2000)
Spanish Arabian Fusion Music
MP3 Lame Insane 320 kbs (RS 137 MB)
No prizes for guessing this is the second time the renowned Egyptian percussionist has teamed up with a flamenco artist in recent years. Last time it was German Rafa El Tachuela, this time Barcelona-born José Luis Montón, and the two collaborators share song-writing duties on a set of tunes that have been beautifully arranged and produced by Ramzy.
The flamenco guitar of Montón adds subtle shades of sound to the soulful fluidity of the Egyptian's compositions, whereas the Egyptian instruments: nay, qanun, violin, accordion and percussion tend to 'Arabise' the Spaniard's pieces, tilting the balance of the music more towards North Africa than Southern Europe.
Much has been made in the past about the Arabic/Moorish tone of much flamenco music, and there certainly seems to be a natural symbiosis between the dramatic rhythms of the flamenco guitar and the undulating cadenced chatter of Egyptian instrumentation. In fact, it seems a pity that the relationship is not explored even further here through the passionate Moorish-infused singing found in flamenco. Especially when you consider how well the one non-instrumental on the CD works — a beautifully sung buleria by cantaora (female flamenco singer) María Toledo — called 'Pensando en Ti' ('Thinking of You').
That aside, this is still a very charming set of instrumentals, ranging from a celebratory Arabic malfuf (Andalusian rhythm)-cum-rumba 'Sahret Ghawazy' to the entrancing song 'Amil', dedicated to Montón's mother and his Arabic past. The latter is a wonderful showcase for his exquisite guitar playing as he weaves his magic in a call-and-response with violinist Aziz Jorge.
All in all, then, a very pleasant journey around the common ground between North Africa and Southern Europe.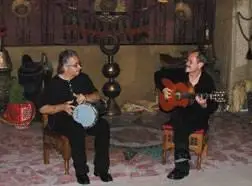 Some words by Hossam Ramzy :
It was a pleasure and a delight for me to work with Jose Luis. He is such a dedicated artist, a talented musician, a well seasoned performer, a captivating soloist and amazing rhythm guitarist and brilliant studio producer. A dear friend who taught me how to explore the world of true Flamenco and showed me the anchoring points where ancient Arabia met with the Spain of today. The result is yet another special work of art that combines both world together. This album crosses all the barriers between the Middle Eastern sounds and the world of Flamenco music, song and dancing. We attempted to bring history into the present. Moorish migrations, North African flavours, Passionate Flamenco with Egyptian Tabla, Palmas (clapping), Oud, Nay, Guitar, Qanun & Violin solos that melt the heart.
Download:
http://rapidshare.de/files/36386448/fa2.part1.rar.html
http://rapidshare.de/files/36389472/fa2.part2.rar.html
http://rapidshare.de/files/36399683/fa2.part3.rar.html

PW:
www.AvaxHome.ru
Sorry amigos, I have not the first volume.
Download:
http://rapidshare.de/files/36507547/NFAK_MB.part1.rar.html
http://rapidshare.de/files/36510697/NFAK_MB.part2.rar.html
http://rapidshare.de/files/36511909/NFAK_MB.part3.rar.html

PW:
www.AvaxHome.ru
Enjoy !
(You like my kind of music? Then please see
some of my other posts
!)