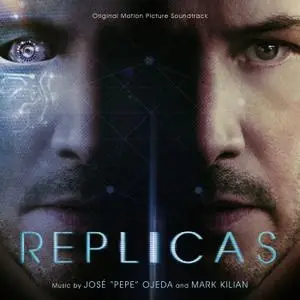 Jose "Pepe" Ojeda & Mark Killian - Replicas (Original Motion Picture Soundtrack) (2019)
WEB FLAC (tracks) ~ 340.66 Mb | MP3 CBR 320kbps ~ 172.38 Mb | 01:14:03 | Cover
Score | Label: Varèse Sarabande
The full details of the soundtrack album for the sci-fi thriller Replicas have been revealed. The album features the film's original music composed by Jose "Pepe" Ojeda and Mark Kilian (Tsotsi, Eye in the Sky, Pitch Perfect, Rendition). Also included is the song I Will Live Forever performed by Rick Garcia & Liela Avila. The soundtrack will be released digitally tomorrow, January 11 by Varese Sarabande and will be available to download on Amazon, where you can also check out audio samples. Replicas is directed by Jeffrey Nachmanoff and stars Keanu Reeves, Alice Eve, Thomas Middleditch and John Ortiz. The movie follows a scientist who becomes obsessed with bringing back his family members who died in a traffic accident. The thriller is being released in theaters nationwide this weekend by Entertainment Studios.
Track List:
01. Jose "Pepe" Ojeda - Opening Scene (2:32)
02. Jose "Pepe" Ojeda - Mona's Imprint (1:46)
03. Mark Killian - More That Makes Us Human (0:57)
04. Mark Killian - I Should Have Died Too (2:46)
05. Jose "Pepe" Ojeda - Mapping Sequence (1:43)
06. Mark Killian - Zoe Redux (1:08)
07. Mark Killian - Boat Abduction (2:16)
08. Mark Killian - I'll Delete Her (1:24)
09. Jose "Pepe" Ojeda - They're On The Move (4:22)
10. Mark Killian - Deleting Zoe (1:58)
11. Mark Killian - Breakfast (1:45)
12. Jose "Pepe" Ojeda - They're A Foot Taller (0:54)
13. Mark Killian - Only Three Pods (1:43)
14. Mark Killian - Pod Calculations (1:24)
15. Jose "Pepe" Ojeda - Why Are You Stuck On That? (4:51)
16. Mark Killian - Mona Wakes Up (1:47)
17. Mark Killian - Social Media Catchup (2:39)
18. Mark Killian - Zoe Packup (2:24)
19. Jose "Pepe" Ojeda - I'm Not Ready (2:55)
20. Mark Killian - Jones Redux (1:12)
21. Mark Killian - New Donor (2:23)
22. Jose "Pepe" Ojeda - Who Am I? (1:20)
23. Mark Killian - Unicorn Goes Home (0:51)
24. Jose "Pepe" Clarke - Bill Has Pneumonia (2:05)
25. Mark Killian - We've Been Looking In The Wrong Place (1:07)
26. Mark Killian - Ed Is Dead (2:41)
27. Jose "Pepe" Ojeda - Something's Wrong (2:09)
28. Mark Killian - Self Map (2:12)
29. Jose "Pepe" Ojeda - Bill's Imprint (1:30)
30. Mark Killian - What Would You Have Done? (0:55)
31. Jose "Pepe" Ojeda - Jones Knows (6:37)
32. Jose "Pepe" Ojeda - End Credits (2:07)
33. Rick Garcia, Liela Avila - I Will Live Forever (3:37)
34. Jose "Pepe" Ojeda - I Know It's Going To Work (Varien Remix) (2:21)
AUDIOCHECKER v2.0 beta (build 457) - by Dester - opdester@freemail.hu
~~~~~~~~~~~~~~~~~~~~~~~~~~~~~~~~~~
-=== DO NOT EDIT THIS FILE! ===-

Path: …\Jose 'Pepe' Ojeda, Mark Killian - Replicas (2019) [FLAC]

01 -=- 01. Jose Pepe Ojeda - Opening Scene.flac -=- CDDA (100%)
02 -=- 02. Jose Pepe Ojeda - Mona's Imprint.flac -=- CDDA (100%)
03 -=- 03. Mark Killian - More That Makes Us Human.flac -=- CDDA (100%)
04 -=- 04. Mark Killian - I Should Have Died Too.flac -=- CDDA (100%)
05 -=- 05. Jose Pepe Ojeda - Mapping Sequence.flac -=- CDDA (100%)
06 -=- 06. Mark Killian - Zoe Redux.flac -=- CDDA (100%)
07 -=- 07. Mark Killian - Boat Abduction.flac -=- CDDA (100%)
08 -=- 08. Mark Killian - I'll Delete Her.flac -=- CDDA (100%)
09 -=- 09. Jose Pepe Ojeda - They're On The Move.flac -=- CDDA (100%)
10 -=- 10. Mark Killian - Deleting Zoe.flac -=- CDDA (100%)
11 -=- 11. Mark Killian - Breakfast.flac -=- CDDA (100%)
12 -=- 12. Jose Pepe Ojeda - They're A Foot Taller.flac -=- CDDA (100%)
13 -=- 13. Mark Killian - Only Three Pods.flac -=- CDDA (100%)
14 -=- 14. Mark Killian - Pod Calculations.flac -=- CDDA (99%)
15 -=- 15. Jose Pepe Ojeda - Why Are You Stuck On That.flac -=- CDDA (100%)
16 -=- 16. Mark Killian - Mona Wakes Up.flac -=- CDDA (100%)
17 -=- 17. Mark Killian - Social Media Catchup.flac -=- CDDA (100%)
18 -=- 18. Mark Killian - Zoe Packup.flac -=- CDDA (100%)
19 -=- 19. Jose Pepe Ojeda - I'm Not Ready.flac -=- CDDA (100%)
20 -=- 20. Mark Killian - Jones Redux.flac -=- CDDA (100%)
21 -=- 21. Mark Killian - New Donor.flac -=- CDDA (100%)
22 -=- 22. Jose Pepe Ojeda - Who Am I.flac -=- CDDA (100%)
23 -=- 23. Mark Killian - Unicorn Goes Home.flac -=- CDDA (100%)
24 -=- 24. Jose Pepe Clarke - Bill Has Pneumonia.flac -=- CDDA (100%)
25 -=- 25. Mark Killian - We've Been Looking In The Wrong Place.flac -=- CDDA (100%)
26 -=- 26. Mark Killian - Ed Is Dead.flac -=- CDDA (100%)
27 -=- 27. Jose Pepe Ojeda - Something's Wrong.flac -=- CDDA (100%)
28 -=- 28. Mark Killian - Self Map.flac -=- CDDA (100%)
29 -=- 29. Jose Pepe Ojeda - Bill's Imprint.flac -=- CDDA (100%)
30 -=- 30. Mark Killian - What Would You Have Done.flac -=- CDDA (100%)
31 -=- 31. Jose Pepe Ojeda - Jones Knows.flac -=- CDDA (100%)
32 -=- 32. Jose Pepe Ojeda - End Credits.flac -=- CDDA (100%)
33 -=- 33. Rick Garcia, Liela Avila - I Will Live Forever.flac -=- CDDA (100%)
34 -=- 34. Jose Pepe Ojeda - I Know It's Going To Work (Varien Remix).flac -=- CDDA (100%)

Summary 99,97% CDDA

66709124