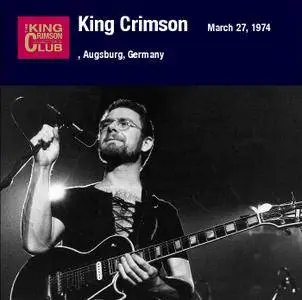 King Crimson - Augsburg, Germany - March 27, 1974 (2007) {DGM Official Digital Download}
FLAC (tracks) - 16bit/44kHz - Official Digital Download (dgmlive.com) -> 387 Mb | MP3 @320 -> 139 Mb | Artwork (pdf+jpg) | 5% repair rar
© 1974, 2007 Discipline Global Mobile / King Crimson / DGMlive.com
Rock / Art Rock / Progressive Rock
This gig appears to be a testimony to the recuperative powers of John Wetton's constitution. Having been out partying in the company of David Enthoven and Richard Palmer-James the night before in Munich, he still manages an impressive performance on Doctor Diamond and indeed throughout the rest of the gig. Though the good Doctor would forever elude them in the studio it seems that the band really beginning to find the soul of this song in concert. Fracture has a risky quality tonight; Bruford is in an adventurous mood whilst David's tron is a touch out of tune.

However he wreaks havoc on the Hohner by way of compensation as Fripp and co rock out. Short but terribly sweet, one can't help but wonder where the improv with its gorgeous violin outing might have ended up had it not been prematurely guided into the direction of Exiles. Whilst the improv Augsburg appeared on the 21st Century Guide To King Crimson, this is the first time the whole concert has been made available.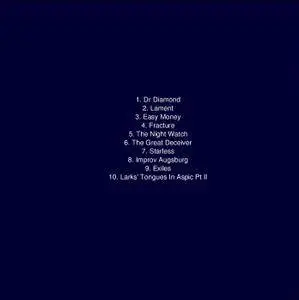 Audio Source: Soundboard Recording
DGM Audio Quality Rating: 4 starsPersonnel:
Bill Bruford
- Drums, Percussion
David Cross
- Violin, Viola, Mellotron, Electric Piano
Robert Fripp
- Guitar, Mellotron
John Wetton
- Bass Guitar & Lead Vocal
tracklist:
01 - Dr Diamond
02 - Lament
03 - Easy Money
04 - Fracture
05 - The Night Watch
06 - The Great Deceiver
07 - Starless
08 - Improv Augsburg
09 - Exiles
10 - Larks' Tongues In Aspic Pt II*
* source recording is incomplete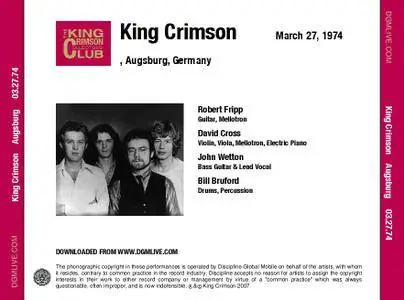 All thanks goes to the original releaser!
NEXT - > more King Crimson & Fripp DGM Official Digital Download on the way…