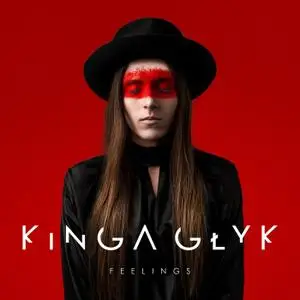 Kinga Głyk - Feelings (2019)
WEB FLAC (tracks) - 249 Mb | MP3 CBR 320 kbps - 100 Mb | 00:43:36
Jazz Fusion, Jazz-Funk | Label: Warner Music
"I can not sing that well, that's why I play bass," says Kinga Glyk. That sounds almost suspiciously modest given the hype that has been inflicted on them for a good two years. And yet, the bassist from Poland expresses exactly what her new album »Feelings« is about with this concise phrase.

With unique craftsmanship and nonchalance, she lets her bass tell stories. Sensitive and penetrating, rich in nuances and groove-strong at the same time, she sets emotions in scene. They immediately connect to Kinga Glyk's listening, create their own stories and reflect the personality of the young woman with the giant talent. There you have the courage to try yourself, to dare something new - to be happy despite all the rules.

"As a kid, I was interested in the bass because it gave me an unusually powerful voice that I did not have at that time," Kinga reflects her beginnings as an instrumentalist. "Meanwhile, his sounds have long since become my actual language, in which I can express my feelings much more intensively." However! It is not in their bass playing to the higher-fast-Next. Kinga Glyk does not play music for musicians, but for the many tens of thousands of souls she touched with her storytelling on the bass during her young career. In her stories she reveals her extremely humanistic, loving and compassionate worldview. It's human, in short, in the twelve tracks of their new album. And that makes "Feelings" especially valuable.

Her most personal work to date is when Kinga Glyk reflects on the work on »Feelings«. A look at the authors list of the new tracks also reveals why: seven pieces are exclusively from her pen, two others she wrote together with her pianist and producer Pawel Tomaszewski. "In contrast to my last album> Dream <, my band and I did not just improvise in the studio," says Kinga, describing the genesis of "Feelings". "Before we started recording, I worked out my compositions in more detail."
Tracklist:1.
Let's Play Some Funky Groove
(02:51)
2.
Lennie's Pennies
(06:28)
3.
Joy Joy (feat. Brett Williams)
(03:58)
4.
Intro to What Is Life
(01:06)
5.
What Is Life
(04:21)
6.
Mercy (feat. Brett Williams)
(03:21)
7.
OverDrive
(03:44)
8.
Ballada (feat. Brett Williams)
(03:12)
9.
Low Blow
(04:10)
10.
Classic (feat. Bobby Sparks II)
(04:09)
11.
5 Cookies (feat. Anomalie)
(03:22)
12.
Enu Maseti (feat. Mateus Asato & Ruth Waldron)
(02:49)
–––––––––––-

DON'T MODIFY THIS FILE

–––––––––––-

PERFORMER: auCDtect Task Manager, ver. 1.6.0 RC1 build 1.6.0.1
Copyright © 2008-2010 y-soft. All rights reserved

ANALYZER: auCDtect: CD records authenticity detector, version 0.8.2
Copyright © 2004 Oleg Berngardt. All rights reserved.
Copyright © 2004 Alexander Djourik. All rights reserved.


FILE: 12 Enu Maseti (feat. Mateus Asato & Ruth Waldron).flac
Size: 16039739 Hash: 33E581947072DF29D85358E4DF237D66 Accuracy: -m0
Conclusion: CDDA 99%
Signature: A5E6B34242CDB96CECD30F74FA0F9A9866A5780D
FILE: 11 5 Cookies (feat. Anomalie).flac
Size: 21706594 Hash: E2F128EB87516966E68039206E3EEE79 Accuracy: -m0
Conclusion: CDDA 100%
Signature: 5E10B5C34CD88C4C8710046BDD41A0E9F8040EE6
FILE: 10 Classic (feat. Bobby Sparks II).flac
Size: 22142041 Hash: D27003F8D2CA683400203C575F66BE72 Accuracy: -m0
Conclusion: CDDA 100%
Signature: 47A2F7FC7D999BD22916E5522E103D5543C6424F
FILE: 09 Low Blow.flac
Size: 27183747 Hash: 2001D7B62A88EE486F9525E83FF093BA Accuracy: -m0
Conclusion: CDDA 100%
Signature: DA2C339419D19B5B3F37330476ACF3609377D09E
FILE: 08 Ballada (feat. Brett Williams).flac
Size: 15539642 Hash: 3B435C1D62D9C2D1BFC70350AEBE4D05 Accuracy: -m0
Conclusion: CDDA 99%
Signature: C5B093AC87DA617A8D4C95C4BB7E225ED16CFC0C
FILE: 07 OverDrive.flac
Size: 21572537 Hash: C16F80139F8E8D5194ACD1F0470524BF Accuracy: -m0
Conclusion: CDDA 99%
Signature: 557746BCB8EB385CD172BA670AE6F9C72ECFBEE7
FILE: 06 Mercy (feat. Brett Williams).flac
Size: 21280933 Hash: 5951A24A31C1D4A5A52E30AE3CB9879B Accuracy: -m0
Conclusion: CDDA 100%
Signature: 5DD7E57FAEFAAE8430C45C7F300AD6B076E98CDA
FILE: 05 What Is Life.flac
Size: 25115645 Hash: 8D2AFB5547F6897DEF27BFD6C697367D Accuracy: -m0
Conclusion: CDDA 100%
Signature: D363C8E0DFB649560A525D80195FAC032CF00D9E
FILE: 04 Intro to What Is Life.flac
Size: 5770481 Hash: B18E955A63C31255FE44D1300C50819E Accuracy: -m0
Conclusion: CDDA 100%
Signature: C7871BEA5030278069A3D81F3BA63F35A10D0E99
FILE: 03 Joy Joy (feat. Brett Williams).flac
Size: 26088832 Hash: 179A8038F5DC7173543B85A6B9BCD146 Accuracy: -m0
Conclusion: CDDA 100%
Signature: B5753360D3898C167D5135C4BDB8E82A14D58DFE
FILE: 02 Lennie's Pennies.flac
Size: 39997984 Hash: CA2C1DFB29A4375E3A86DA4515CB86BB Accuracy: -m0
Conclusion: CDDA 100%
Signature: 1C09F4AA1BA8B0674CDB9841A94AA75F21C08D17
FILE: 01 Let's Play Some Funky Groove.flac
Size: 18081110 Hash: 24F71FEBDEF78A2AEDA80A9E0D5A76F2 Accuracy: -m0
Conclusion: CDDA 100%
Signature: C491FEED77DA4B6B0F2B017BC504DDF9F084D3EC