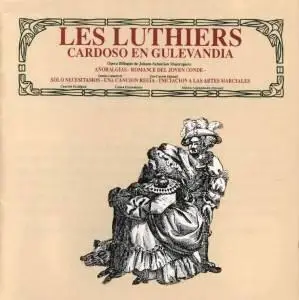 Les Luthiers - Cardoso en Gulevandia | 1991 | Genre: Humor (Spanish)
mp3 | CBR 192 Kbps 44100 Stereo | 50:15 | 70 Mb
Les Luthiers - Cardoso en Gulevandia (1991)
Les Luthiers is a comedy-musical group from Argentina, very popular also in several other Spanish speaking countries such as Spain, Colombia, Mexico, Peru, Chile, Uruguay and Venezuela. They were formed in 1967 by Gerardo Masana, during the height of a period of very intense choral activity in Argentina's state universities. Their outstanding characteristic are the home-made musical instruments (hence the name luthiers, French for "musical instrument maker"), some of them extremely sophisticated, which they skillfully employ in their recitals to produce music and texts full of high class and refined humor.
Octavo album de Les Luthiers.
Esta obra, Cardoso en Gulevandia, presenta la característica singular de aparecer bajo dos versiones muy distintas entre sí: la del espectáculo, interpretada por Les Luthiers, y la del disco, (del cual es la obra principal), aunque en esta última los cantantes y la orquesta han sido buscados fuera del grupo, quedando a Les Luthiers la composición de la obra, y su dirección musical, (si pasamos por alto que el pequeño papel del intérprete corre a cargo de Carlos Núñez Cortés).
Editado por Ariola en Octubre de 1991, esta es la última placa de Les Luthiers hasta el momento. Es una de las más difíciles de conseguir y tiene obras desde 1981 ("Añoralgias") hasta 1987 ("Iniciación a la artes marciales"). En este último disco participan los Luthiers que aún hoy están arriba del escenario.
Espero lo disfruten.
Tracks:
1. Iniciación a las Artes Marciales (Música Lejanamente Oriental)
2. Sólo Necesitamos (Canción Ecológica)
3. Una Canción Regia (Canon Escandaloso)
4. Añoralgias (Zamba Catástrofe)
5. Romance del Joven Conde, la Sirena y el Pájaro Cucú. Y la Oveja (Zoo-cuento Infantil)
6. Cardoso en Gulevandia (Opera Bilingüe)
Download:
*Ha quedado arreglado el error del enlace*
No Pass
Other Albums by Les Luthiers:
Cantata Laxaton
Volumen 3
Volumen 4
Mastropiero
Muchas Gracias