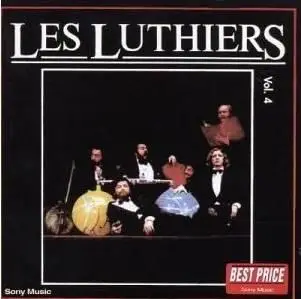 Les Luthiers - Volumen 4 | 1976 | Genre: Humor (Spanish)
mp3 | CBR 192 Kbps 44100 Stereo | 36:40 | 51 Mb
Les Luthiers - Volumen 4 (1976)
Les Luthiers is a comedy-musical group from Argentina, very popular also in several other Spanish speaking countries such as Spain, Colombia, Mexico, Peru, Chile, Uruguay and Venezuela. They were formed in 1967 by Gerardo Masana, during the height of a period of very intense choral activity in Argentina's state universities. Their outstanding characteristic are the home-made musical instruments (hence the name luthiers, French for "musical instrument maker"), some of them extremely sophisticated, which they skillfully employ in their recitals to produce music and texts full of high class and refined humor.
Esta colección de Les Luthiers es una de sus mejores obras, a pesar de no contar con un gran número de piezas. Es uno de sus discos en estudio, grabado en 1976.
"Teresa y el Oso" es una pieza narrada que cuenta la historia de la búsqueda del príncipe que realiza la princesa, y los avances del oso 'Libidinoso' – una ingeniosa representación de diversos animales utilizando los ya famosos instrumentos diseñados y construidos por el grupo (Tubófono Silicónico Cromático, Dactilófono, Yerbomatófono d'amore, entre otros).
"Mi aventura por la India" habla no del país, sino de una indiecita (indieciiiiiiiiiiiiiiiiiiiiiiiiita) de la que se enamora el cantante.
"Yegua mia" es una 'triunfo/empate' entre dos cantores que discuten las bondades de su yegua, ambos con opiniones encontradas, pero siempre hallando un punto intermedio en sus puntos de vista.
"Doctor Bob Gordon shops hot dogs from Boston" es una obra instrumental del género foxtrot, utilizando, nuevamente, los particulares instrumentos de la banda.
"Serenata Mariachi" es el encuentro entre dos enamorados de la misma mujer, que luchan por su amor mediante una serenata de marichis, con un final inesperado.
(Amazon.com review)
Tracks:
1. Teresa y el Oso
2. Mi Aventura Por la India
3. Yegua Mia
4. Doctor Bob Gordon Shops Hot Dogs from Boston
5. Serenata Mariachi
Download:
No Pass
Other Albums by Les Luthiers:Les Luthiers - Cantata Laxaton
Laxaton
Les Luthiers - Volumen 3
Volumen_3