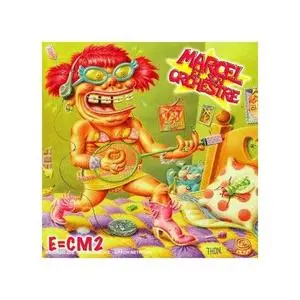 Marcel Et Son Orchestre - E=CM2 (2006)
Genre: Chanson | Quality: VBR/44.1Hz/Joint-Stereo | 78,8 Mb | Label: Meso/V2/Warner
Le collectif Marcel et son Orchestre, une sacrée bande de sept joyeux lurons, a fait ses débuts dans le nord de la France au début des années 90. Au coeur du ska festif français, mouvement qui explose dans toute la France, Marcel a parcouru l'Hexagone par monts et par vaux, proposant lors de ses prestations live de oufs, son mélange détonnant, entre rock, reggae et guinguette, version perruques et col pelle à tarte, humour, gaudriole et 56e degré, avec chorégraphies adaptées, s'il vous plaît.
Marcel aime son public et il le lui rend bien. Après avoir donc écumé tous les festivals, Marcel sort un premier album auto-produit, Sâle Batard, en 1997, suivi en 1998 de Crâne pas t'es chauve, avec les titres Arrête ton Crincrin, Raoul et Alain, Comme un Balai (in the Wind) ou Les Vaches, devenus cultes pour les fans. A peine le CD dans les bacs, les Nordistes repartent sur les routes, délivrant des shows de plus en plus loufoques, où le public participe en entonant "Meuh, meuh font les vaches…", d'un seul choeur. Début 2001, Marcel sort un troisième opus, Si t'en reveux, y'en re n'a, tout un programme!, toujours aussi déjanté et drôle. En 2003, il sort un nouvel album baptisé Un pour tous chacun ma gueule. La formation décide ensuite de sortir en juin 2005,
Bornes to be en live, un CD/DVD live, immortalisant les moments forts de sa tournée dans l'hexagone en 2003-2004. Son dernier opus sort en 2006 et s'intitule E=CM2.