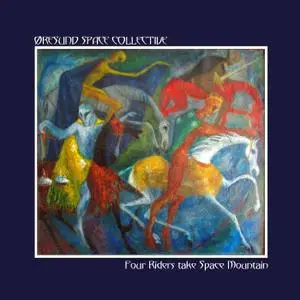 Øresund Space Collective - Four Riders Take Space Mountain (2020)
WEB FLAC (tracks) - 570 Mb | MP3 CBR 320 kbps - 193 Mb | 01:24:14
Psychedelic Rock, Space Rock | Label: Space Rock Productions
The Scandinavian Space Rock super group are back with their 33rd release. The CD/LP features one 62min track split over 3 album sides., that we recorded in the studio back in 2014. The same session that gave us the Different Creatures and Visions of, LPs and features some of the best musicians from the Scandinavian prog rock field. This is about as Prog Rock as the band has ever been with the track taking many different musical journeys over the 3 album sides. Side D of the vinyl contains a full length version (CD contains an edit) that is a unique mixture of Indian raga and space music with just synthesizer (Dr Space), sitar (KG), violin (Jonathan), bass (Hasse) and drums (Tim) from our 2016 studio session.
Tracklist:1.
Øresund Space Collective – Approach
(20:55)
2.
Øresund Space Collective – Ascent
(19:59)
3.
Øresund Space Collective – Summit
(21:20)
4.
Øresund Space Collective – Descent to Reality
(21:58)
–––––––––––-

DON'T MODIFY THIS FILE

–––––––––––-

PERFORMER: auCDtect Task Manager, ver. 1.6.0 RC1 build 1.6.0.1
Copyright © 2008-2010 y-soft. All rights reserved

ANALYZER: auCDtect: CD records authenticity detector, version 0.8.2
Copyright © 2004 Oleg Berngardt. All rights reserved.
Copyright © 2004 Alexander Djourik. All rights reserved.


FILE: 04 Descent to Reality.flac
Size: 144040612 Hash: FCDB43381617F76C28FFEC191B624355 Accuracy: -m8
Conclusion: CDDA 100%
Signature: 337F0DACCDF19F25C4071E76C7CCF70A873F5C1C
FILE: 03 Summit.flac
Size: 152760889 Hash: BCD5BDA669202B328A2B039A97DC66BD Accuracy: -m8
Conclusion: CDDA 100%
Signature: B658F2821C12895296C38D33BD29A2AE08B49B72
FILE: 02 Ascent.flac
Size: 146840392 Hash: 1A4A0C270ECAA659DE47E396727DDC6F Accuracy: -m8
Conclusion: CDDA 100%
Signature: 7BF23BBD2DA3A7701A3E9F33FD6375F098CA579F
FILE: 01 Approach.flac
Size: 153959707 Hash: 04F25B39ED3FE11E61EF4BCF0AA14638 Accuracy: -m8
Conclusion: CDDA 100%
Signature: 58375B6DBF97F64F589297FE2421123FAC1FD654