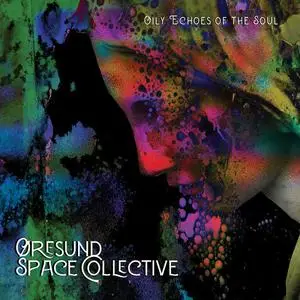 Øresund Space Collective - Oily Echoes of the Soul (2022)
WEB FLAC (tracks) - 596 Mb | MP3 CBR 320 kbps - 266 Mb | 01:54:29
Space Rock, Psychedelic Rock | Label: Space Rock Productions
This is the bands 27th (?) studio album release and 38th physical release. The material on this record was recorded in October 2010 on the 2nd day of recording and featured a lot of different musicians from Days 1 and 3. Some of the material from this session was previously released on a bandcamp subscriber LP. The main track on that album, Crusin´with the Alien Crew, appears as a bonus track on the CD version as well as one additional bonus track not on the LP (*). Some of the tracks have been edited for the vinyl edition which will come out later in the year. A lot of the material has a funky nature but it is a very diverse album with a nice chill out sitar number, a uptempo country track and a lot of space rock!!!
Tracklist:
1.
Bump and Grind OSC Style
(31:29)
2.
Peace of Mynd
(13:27)
3.
Oily Echoes of the Soul
(23:52)
4.
Look to the Sky, People
(25:39)
5.
Deep Breath for the EARTH (Bonus Track)
(15:51)
6.
Shit Kickin'
(04:10)
–––––––––––-

DON'T MODIFY THIS FILE

–––––––––––-

PERFORMER: auCDtect Task Manager, ver. 1.6.0 RC1 build 1.6.0.1
Copyright © 2008-2010 y-soft. All rights reserved

ANALYZER: auCDtect: CD records authenticity detector, version 0.8.2
Copyright © 2004 Oleg Berngardt. All rights reserved.
Copyright © 2004 Alexander Djourik. All rights reserved.


FILE: 06 - Shit Kickin'.flac
Size: 23568814 Hash: 90B158C99A3C51E27C05D6AED8D146D1 Accuracy: -m8
Conclusion: CDDA 100%
Signature: 18F16DD37E381B860C5B369AD4BCD6A609A056DD
FILE: 05 - Deep Breath for the EARTH (Bonus Track).flac
Size: 90276322 Hash: 2F28CEE4B486B36ACC0599C951DEB066 Accuracy: -m8
Conclusion: CDDA 100%
Signature: A929DCF7D8762A7FB8247FE172B2DEB4F3442165
FILE: 04 - Look to the Sky, People.flac
Size: 141026785 Hash: A9947C8DD8D09D6E430E1FA165D06310 Accuracy: -m8
Conclusion: CDDA 99%
Signature: D52D7420EEEAFEC225F8B0A60DF5DDEDA17152F8
FILE: 03 - Oily Echoes of the Soul.flac
Size: 123929007 Hash: D737A0CA31595B3D483DDB18796B7A16 Accuracy: -m8
Conclusion: CDDA 94%
Signature: F0CEF89CDFEBFCF29BB730CC65EC9064E28276C1
FILE: 02 - Peace of Mynd.flac
Size: 69368255 Hash: 47A7511822918889545B8499223C89DE Accuracy: -m8
Conclusion: MPEG 95%
Signature: DFC2A341E037CFC9B021B450F9A33FD1CFF6C15B
FILE: 01 - Bump and Grind OSC Style.flac
Size: 173127146 Hash: 263C4946C4EE5BC4159DA50A2925AEA5 Accuracy: -m8
Conclusion: CDDA 100%
Signature: 309458777628FD4887FDFEA0D47F84BB0FD08BAF