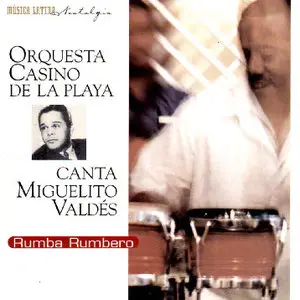 Orquesta Casino de la Playa - Rumba Rumbero
Cuba | MP3 | 320 Kbps | 143 MB
Intermusic 1999
Miguelito Valdés, born Miguel Ángel Eugenio Lázaro Zacarias Izquierdo Valdés Hernández (Havana, 6 September 1912 – Bogotá, 9 November 1978), also called Mr. Babalú, was a Cuban popular singer of high quality. His performances were characterized by a strong voice and a particular sense of cubanismo.
Miguelito Valdés (vocals, congas, bongos); Alfredo Saenz (violin, tenor saxophone); Guillermo Portela (violin); Liduvino Pereira (clarinet, saxophone); Anselmo Sacasas (piano).
01. Rumba Rumbero
02. Dejate Enganar
03. El Limpiabotas
04. Se va el Caramelero
05. No Te Importe Saber
06. Yo Soy Morua
07. Vamos a Arrollar
08. Mis Cinco Hijos
09. Negro de Sociedad
10. Dolor Cobarde
11. Fufunando
12. Macurije
13. Suave Papi
14. No Hay Nadie Como Tu
15. Los Venecianos
16. Atesame el Bastidor
17. Suavecito
18. Yo Soy Macua
19. Negra Leona
20. Jose Isabel