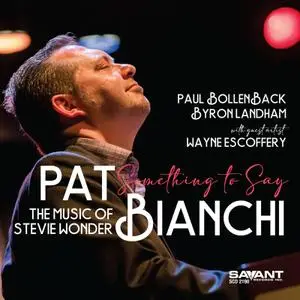 Pat Bianchi - Something to Say: The Music of Stevie Wonder (2021)
WEB FLAC (tracks) - 288 Mb | MP3 CBR 320 kbps - 113 Mb | Digital booklet | 00:46:32
Soul Jazz, Bebop | Label: Savant Records
Perhaps no other instrument in jazz boasts such a classic and beloved status as the Hammond B3 organ. On stage it sits like a majestic relic from jazz's distant past, a slightly odd Rube Goldberg machine whose spinning speakers produce a saturated, unmistakable sound imbuing every performance with it's own recognizable style. That style has set deep roots in American music including, of course, jazz and blues, but it has also provided undeniable contributions to pop, funk and soul. So it should really be no surprise that organist Pat Bianchi would choose a program of Stevie Wonder's music for his second Savant Records release. Stevie Wonder himself played a number of keyboards during the early 1970s including the B3 and Bianchi shows just how well suited the venerable instrument is to Wonder's oeuvre. Pat Bianchi stands at the forefront of today's B3 players with a Grammy nomination and a lengthy list of credits on his resume. He has performed with Lou Donaldson, Javon Jackson, Bud Shank, Joe Locke and guitar legend Pat Martino. (Bianchi plays a MAG Custom Organ, considered to be among the best of the available portable B3 clones.) With band mates Paul Bollenback on guitar and Byron Landham on drums, the trio's tight phrasing and razor-sharp ensemble keep the setlist moving along with arrangements which are never ostentatious but rather subtly layered with remarkable details that sneak up on you between the solo spots peppered liberally throughout. Lending his talents to the proceedings is the dynamic tenor saxophonist Wayne Escoffery on two tracks.
Tracklist:
1.
Go Home
(04:42)
2.
Until You Come Back to Me (That's What I'm Gonna Do)
(05:23)
3.
Superstition
(07:18)
4.
Moon Blue
(06:22)
5.
Isn't She Lovely
(05:06)
6.
If It's Magic
(05:52)
7.
Something to Say
(04:54)
8.
Just Callin'
(04:32)
9.
Ribbon in the Sky
(02:19)
–––––––––––-

DON'T MODIFY THIS FILE

–––––––––––-

PERFORMER: auCDtect Task Manager, ver. 1.6.0 RC1 build 1.6.0.1
Copyright © 2008-2010 y-soft. All rights reserved

ANALYZER: auCDtect: CD records authenticity detector, version 0.8.2
Copyright © 2004 Oleg Berngardt. All rights reserved.
Copyright © 2004 Alexander Djourik. All rights reserved.


FILE: 09 - Ribbon in the Sky.flac
Size: 7884009 Hash: 4D470054CDF52DECFE20DF2F383FA1F4 Accuracy: -m8
Conclusion: MPEG 80%
Signature: F9D140851E77061CB9092211C3C8CC241D04238A
FILE: 08 - Just Callin'.flac
Size: 33212833 Hash: DECD45999BAB3F808193D4A0A99B590F Accuracy: -m8
Conclusion: CDDA 99%
Signature: 6DFF3C6EDB76AAD65EF8F692A5FBDCAEBE816115
FILE: 07 - Something to Say.flac
Size: 32546002 Hash: 15E4A21D06C428BB27771865EFE085A3 Accuracy: -m8
Conclusion: CDDA 100%
Signature: 38F779FB3B1CBF8343BEDD854C53D842832726D3
FILE: 06 - If It's Magic.flac
Size: 35302494 Hash: 89DC6C192F6EBCBB9024A9C212655942 Accuracy: -m8
Conclusion: CDDA 100%
Signature: 1B11F4D6612CE72D3E06045AC0D6C81AE9A8FAD5
FILE: 05 - Isn't She Lovely.flac
Size: 36456781 Hash: 77DD4CDED9212AAF08283B3BECC2FFBA Accuracy: -m8
Conclusion: CDDA 99%
Signature: 48946C8E9F216AF6B141B52AEEDFCC87B76CEB66
FILE: 04 - Moon Blue.flac
Size: 36242236 Hash: 9CA265985D573C62EAA47D7FB3E41B5B Accuracy: -m8
Conclusion: CDDA 100%
Signature: 0E142C887DEF99FAB1C9AB4333971331C5985A3C
FILE: 03 - Superstition.flac
Size: 49094821 Hash: C454CED4BCE625BB6361689DCED76582 Accuracy: -m8
Conclusion: CDDA 100%
Signature: 5C07D3CC06F45296C7F419EA41017345BB6ED3BB
FILE: 02 - Until You Come Back to Me (That's What I'm Gonna Do).flac
Size: 33832540 Hash: 84F246C5D49936C2D869E8B8E5D69BA9 Accuracy: -m8
Conclusion: CDDA 100%
Signature: CB2EA83769F31B561DB1E0ECC3353297233ED10C
FILE: 01 - Go Home.flac
Size: 30519467 Hash: A576752BD6CAC2443A483265266B4C28 Accuracy: -m8
Conclusion: CDDA 100%
Signature: 478776431A186BB854C5A692691E8CDDC721589B