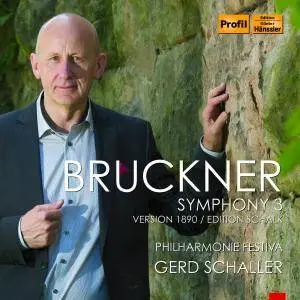 Philharmonie Festiva & Gerd Schaller - Bruckner: Symphony No. 3 (1890 Version, Ed. T. Raettig) (2018)
MP3 CBR 320 kbps | 00:57:22 | 131 Mb
Classical | Label: Haenssler classic
Immediately after completing the Second Symphony, Anton Bruckner (1824 1896) continued a fruitful compositional spree by starting the draft of his Third. He had no way of knowing then that this work would continue to occupy him for the rest of his life. Dedicated to Richard Wagner, the work was written in 1873, revised in 1877, and again in 1890. It is regarded by many as Bruckners artistic breakthrough. According to Rudolf Kloiber, the third symphony opens the sequence of Bruckners masterpieces, in which his creativity meets monumental ability of symphonic construction. On this release, Gerd Schaller leads the Philharmonie Festiva in the performance of the Third Symphony in its 1890 revised version. German conductor Gerd Schaller is best known for his performance and recording of rare works. He conducted the first full recordings of Bruckners output.
Tracklist:
1. Symphony No. 3 in D Minor, WAB 103 (1890 Version, Ed. T. Raettig): I. Mäßig bewegt
2. Symphony No. 3 in D Minor, WAB 103 (1890 Version, Ed. T. Raettig): II. Adagio, quasi andante
3. Symphony No. 3 in D Minor, WAB 103 (1890 Version, Ed. T. Raettig): III. Scherzo. Ziemlich schnell
4. Symphony No. 3 in D Minor, WAB 103 (1890 Version, Ed. T. Raettig): IV. Finale. Allegro