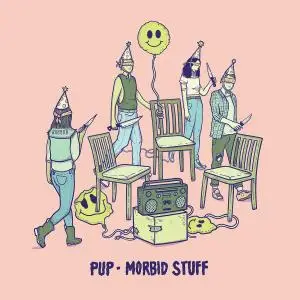 PUP - Morbid Stuff (2019)
XLD Rip | FLAC (tracks+.cue, log) ~ 258.44 Mb | MP3 CBR 320kbps ~ 91.41 Mb | 36:59 | Cover
Punk Rock, Pop Punk | Country: Canada | Label: Rise Records - RISE 441
There are musicians who suffer for their art, and then there's Stefan Babcock. The guitarist and lead screamer for Toronto pop-punk ragers PUP has often used his music as a bullhorn to address the physical and mental toll of being in a touring rock band. The band's 2016 album The Dream Is Over was inspired by Babcock seeking treatment for his ravaged vocal cords and being told by a doctor he'd never be able to sing again. Now, with that scare behind him, he's using the aptly titled Morbid Stuff to address a more insidious ailment: depression. "The Dream Is Over was riddled with anxiety and uncertainties, but I think I was expressing myself in a more immature way," Babcock tells Apple Music. "I feel I've found the language to better express those things."
Certainly, Morbid Stuff pulls no punches: This is an album whose idea of an opening line is "I was bored as f**k/Sitting around and thinking all this morbid stuff/Like if anyone I slept with is dead." But of course, this being PUP—a band that built their fervent fan base through their wonderfully absurd high-concept videos—they can't help but make a little light of the darkest subject matter.
"I'm pretty aware of the fact I'm making money off my own misery—what Phoebe Bridgers called 'the commodification of depression,'" Babcock says. "It's a weird thing to talk about mood disorders for a living. But my intention with this record was to explore the darker things with a bit of humor, and try to make people feel less alone while they listen to it." To that end, Babcock often directs his most scathing one-liners at himself. On the instant shout-along anthem "Free at Last," he issues a self-diagnosis that hits like a glass of cold water in the face: "Just because you're sad again/It doesn't make you special at all."
"The conversation around mental health that's happening now is such a positive thing," Babcock says, "but one of the small drawbacks is that people are now so sympathetic to it that some people who suffer from mood disorders—and I speak from experience here—tend to use it as a crutch. I can sometimes say something to my bandmates or my girlfriend that's pretty s**tty, and they'll be like, 'It's okay, Stefan's in a different headspace right now'—and that's not okay. It's important to remind myself and other people that being depressed and being an a**hole are not mutually exclusive."
Complementing Babcock's fearless lyricism is the band's growing confidence to step outside of the circle pit: "Scorpion Hill" begins as a lonesome barstool serenade before kicking into a dusty cowpunk gallop, while the power-pop rave-up "Closure" simmers into a sweet psychedelic breakdown that nods to one of Babcock's all-time favorite bands, Built to Spill. And the closing "City" is PUP's most vulnerable statement to date, a pulverizing power ballad where Babcock takes stock of his conflicted relationship with Toronto, his lifelong home.
"The beginning of 'Scorpion Hill' and 'City' are by far the most mellow, softest moments we've ever created as a band," Babcock says. "And I think on the last two records, we never would've gone there—not because we didn't want to, but just because we didn't think people would accept PUP if PUP wasn't always cranked up to 10. And this time, we felt a bit more confident to dial it back in certain parts when it felt right. I feel like we've grown a lot as a band and shed some of our inhibitions."
Track List:
01. Morbid Stuff (02:44)
02. Kids (03:30)
03. Free At Last (02:34)
04. See You At Your Funeral (03:40)
05. Scorpion Hill (05:08)
06. Closure (03:08)
07. Bloody Mary, Kate And Ashley (02:44)
08. Sibling Rivalry (03:27)
09. Full Blown Meltdown (02:32)
10. Bare Hands (03:35)
11. City (03:51)
X Lossless Decoder version 20181019 (151.1)

XLD extraction logfile from 2019-04-11 15:04:44 -0700

PUP / Morbid Stuff

Used drive : HL-DT-ST DVDRAM GE24NU40 (revision 3.00)
Media type : Pressed CD

Ripper mode : XLD Secure Ripper
Disable audio cache : OK for the drive with a cache less than 1375KiB
Make use of C2 pointers : NO
Read offset correction : 6
Max retry count : 20
Gap status : Analyzed, Appended (except HTOA)

TOC of the extracted CD
Track | Start | Length | Start sector | End sector
––––––––––––––––––––––––––––-
1 | 00:00:00 | 02:44:45 | 0 | 12344
2 | 02:44:45 | 03:30:12 | 12345 | 28106
3 | 06:14:57 | 02:34:61 | 28107 | 39717
4 | 08:49:43 | 03:40:10 | 39718 | 56227
5 | 12:29:53 | 05:08:10 | 56228 | 79337
6 | 17:37:63 | 03:08:31 | 79338 | 93468
7 | 20:46:19 | 02:44:03 | 93469 | 105771
8 | 23:30:22 | 03:27:63 | 105772 | 121359
9 | 26:58:10 | 02:32:73 | 121360 | 132832
10 | 29:31:08 | 03:35:23 | 132833 | 148980
11 | 33:06:31 | 03:51:65 | 148981 | 166370

AccurateRip Summary
Disc not found in AccurateRip DB.

All Tracks
Album gain : -12.39 dB
Peak : 0.999969
Statistics
Read error : 0
Jitter error (maybe fixed) : 0
Retry sector count : 0
Damaged sector count : 0

Track 01
Filename : /Rips-HL/PUP - Morbid Stuff (2019) [FLAC]/1-01 Morbid Stuff.flac
/Rips-HL/PUP - Morbid Stuff (2019) [ALAC]/1-01 Morbid Stuff.m4a
Pre-gap length : 00:02:00

Track gain : -12.45 dB
Peak : 0.999969
CRC32 hash (test run) : 833D8E20
CRC32 hash : 833D8E20
CRC32 hash (skip zero) : CDF8BA2A
AccurateRip v1 signature : 0163764B
AccurateRip v2 signature : 021A82FE
->Track not present in AccurateRip database.
Statistics
Read error : 0
Jitter error (maybe fixed) : 0
Retry sector count : 0
Damaged sector count : 0

Track 02
Filename : /Rips-HL/PUP - Morbid Stuff (2019) [FLAC]/1-02 Kids.flac
/Rips-HL/PUP - Morbid Stuff (2019) [ALAC]/1-02 Kids.m4a

Track gain : -12.33 dB
Peak : 0.999969
CRC32 hash (test run) : A887E14A
CRC32 hash : A887E14A
CRC32 hash (skip zero) : A2F959D9
AccurateRip v1 signature : E458A91B
AccurateRip v2 signature : 29369EEA
->Track not present in AccurateRip database.
Statistics
Read error : 0
Jitter error (maybe fixed) : 0
Retry sector count : 0
Damaged sector count : 0

Track 03
Filename : /Rips-HL/PUP - Morbid Stuff (2019) [FLAC]/1-03 Free At Last.flac
/Rips-HL/PUP - Morbid Stuff (2019) [ALAC]/1-03 Free At Last.m4a

Track gain : -13.80 dB
Peak : 0.999969
CRC32 hash (test run) : 6DCFF6A2
CRC32 hash : 6DCFF6A2
CRC32 hash (skip zero) : 50AA7B52
AccurateRip v1 signature : D562AEAC
AccurateRip v2 signature : 579411E1
->Track not present in AccurateRip database.
Statistics
Read error : 0
Jitter error (maybe fixed) : 0
Retry sector count : 0
Damaged sector count : 0

Track 04
Filename : /Rips-HL/PUP - Morbid Stuff (2019) [FLAC]/1-04 See You At Your Funeral.flac
/Rips-HL/PUP - Morbid Stuff (2019) [ALAC]/1-04 See You At Your Funeral.m4a

Track gain : -12.89 dB
Peak : 0.999969
CRC32 hash (test run) : A5BE613D
CRC32 hash : A5BE613D
CRC32 hash (skip zero) : EF3C79F6
AccurateRip v1 signature : 6FF62FF1
AccurateRip v2 signature : 8F48D9C2
->Track not present in AccurateRip database.
Statistics
Read error : 0
Jitter error (maybe fixed) : 0
Retry sector count : 0
Damaged sector count : 0

Track 05
Filename : /Rips-HL/PUP - Morbid Stuff (2019) [FLAC]/1-05 Scorpion Hill.flac
/Rips-HL/PUP - Morbid Stuff (2019) [ALAC]/1-05 Scorpion Hill.m4a

Track gain : -11.57 dB
Peak : 0.999969
CRC32 hash (test run) : 76440E68
CRC32 hash : 76440E68
CRC32 hash (skip zero) : 943C4C13
AccurateRip v1 signature : 7271164C
AccurateRip v2 signature : 64148CE8
->Track not present in AccurateRip database.
Statistics
Read error : 0
Jitter error (maybe fixed) : 0
Retry sector count : 0
Damaged sector count : 0

Track 06
Filename : /Rips-HL/PUP - Morbid Stuff (2019) [FLAC]/1-06 Closure.flac
/Rips-HL/PUP - Morbid Stuff (2019) [ALAC]/1-06 Closure.m4a

Track gain : -11.06 dB
Peak : 0.999969
CRC32 hash (test run) : F1F166B7
CRC32 hash : F1F166B7
CRC32 hash (skip zero) : AEBA933C
AccurateRip v1 signature : DF0C63CE
AccurateRip v2 signature : F0A367F3
->Track not present in AccurateRip database.
Statistics
Read error : 0
Jitter error (maybe fixed) : 0
Retry sector count : 0
Damaged sector count : 0

Track 07
Filename : /Rips-HL/PUP - Morbid Stuff (2019) [FLAC]/1-07 Bloody Mary, Kate and Ashley.flac
/Rips-HL/PUP - Morbid Stuff (2019) [ALAC]/1-07 Bloody Mary, Kate and Ashley.m4a

Track gain : -12.92 dB
Peak : 0.999969
CRC32 hash (test run) : 45D469BD
CRC32 hash : 45D469BD
CRC32 hash (skip zero) : 2C9F9CC7
AccurateRip v1 signature : 70A49842
AccurateRip v2 signature : 0EAC2E7B
->Track not present in AccurateRip database.
Statistics
Read error : 0
Jitter error (maybe fixed) : 0
Retry sector count : 0
Damaged sector count : 0

Track 08
Filename : /Rips-HL/PUP - Morbid Stuff (2019) [FLAC]/1-08 Sibling Rivalry.flac
/Rips-HL/PUP - Morbid Stuff (2019) [ALAC]/1-08 Sibling Rivalry.m4a

Track gain : -12.44 dB
Peak : 0.999969
CRC32 hash (test run) : FB70035D
CRC32 hash : FB70035D
CRC32 hash (skip zero) : D97757FB
AccurateRip v1 signature : 1185DBF8
AccurateRip v2 signature : 51AD1C9C
->Track not present in AccurateRip database.
Statistics
Read error : 0
Jitter error (maybe fixed) : 0
Retry sector count : 0
Damaged sector count : 0

Track 09
Filename : /Rips-HL/PUP - Morbid Stuff (2019) [FLAC]/1-09 Full Blown Meltdown.flac
/Rips-HL/PUP - Morbid Stuff (2019) [ALAC]/1-09 Full Blown Meltdown.m4a

Track gain : -12.96 dB
Peak : 0.999969
CRC32 hash (test run) : C60C49B0
CRC32 hash : C60C49B0
CRC32 hash (skip zero) : 9752431F
AccurateRip v1 signature : 83742098
AccurateRip v2 signature : 7C7E58A5
->Track not present in AccurateRip database.
Statistics
Read error : 0
Jitter error (maybe fixed) : 0
Retry sector count : 0
Damaged sector count : 0

Track 10
Filename : /Rips-HL/PUP - Morbid Stuff (2019) [FLAC]/1-10 Bare Hands.flac
/Rips-HL/PUP - Morbid Stuff (2019) [ALAC]/1-10 Bare Hands.m4a

Track gain : -12.68 dB
Peak : 0.999969
CRC32 hash (test run) : 64A38A83
CRC32 hash : 64A38A83
CRC32 hash (skip zero) : C9F661E1
AccurateRip v1 signature : 49029B28
AccurateRip v2 signature : 786101B3
->Track not present in AccurateRip database.
Statistics
Read error : 0
Jitter error (maybe fixed) : 0
Retry sector count : 0
Damaged sector count : 0

Track 11
Filename : /Rips-HL/PUP - Morbid Stuff (2019) [FLAC]/1-11 City.flac
/Rips-HL/PUP - Morbid Stuff (2019) [ALAC]/1-11 City.m4a

Track gain : -9.98 dB
Peak : 0.999969
CRC32 hash (test run) : E9079995
CRC32 hash : E9079995
CRC32 hash (skip zero) : EDFDA0E7
AccurateRip v1 signature : ACDC3F5A
AccurateRip v2 signature : B12083B5
->Track not present in AccurateRip database.
Statistics
Read error : 0
Jitter error (maybe fixed) : 0
Retry sector count : 0
Damaged sector count : 0

No errors occurred

End of status report

––-BEGIN XLD SIGNATURE––-
unFJPvyKcNTYp2eG8nQl0edevtVxApx9RDExqj3MZe5.p4zljMoe0PnRQcKGyy9Mzo0ywxLwX_rC6QP1fUOJ07.e6NR4fIRvFidGgHy
––-END XLD SIGNATURE––-
All thanks go to the red