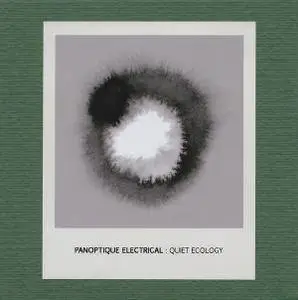 Panoptique Electrical - Quiet Ecology (2017)
Electronic, Ambient | 45:33 min | WEB FLAC (tracks) | 179 MB
Label: Sound In Silence
In 2016 I undertook a 'quiet odyssey' across four Australian cities (Adelaide, Perth, Sydney and Melbourne), searching out and mapping quiet spaces in and amongst these built environments. I wanted to discover as many zones of quiet or retreat in these cities and make compositions in response to these locations. I created maps and listening walks that took me from space to space. My desire was to ask a simple question: can you find a way to release yourself, if only temporarily, from the noise of the world? This collection is a sonic memorial to these spaces and a musical act of quiet preservation.
Tracklist:
01. Panoptique Electrical - The World Is So Loud
02. Panoptique Electrical - In A Vow Of Silence
03. Panoptique Electrical - Footfalls
04. Panoptique Electrical - Upon A Map
05. Panoptique Electrical - A Place With Trees
06. Panoptique Electrical - In Between Buildings
fooCDtect - foobar2000 + auCDtect, baralgin.

auCDtect: CD records authenticity detector, version 0.8.2
Copyright © 2004 Oleg Berngardt. All rights reserved.
Copyright © 2004 Alexander Djourik. All rights reserved.

mode: 0

===========================================
Track: 04. Panoptique Electrical - Upon A Map

Processing file: [04. Panoptique Electrical - Upon A Map.aucdtect]
Detected average hi-boundary frequency: 2.029285e+004 Hz
Detected average lo-boundary frequency: 1.409821e+004 Hz
Detected average hi-cut frequency: 1.965611e+004 Hz
Detected average lo-cut frequency: 8.272320e+003 Hz
Maximum probablis boundary frequency: 2.189100e+004 Hz
Coefficient of nonlinearity of a phase: 1.100355e+000
First order smothness: 3.032319e-001
Second order smothness: 7.268695e-001

––––––––––––––––––––––––––––––
This track looks like MPEG with probability 100%

===========================================
Track: 01. Panoptique Electrical - The World Is So Loud

Processing file: [01. Panoptique Electrical - The World Is So Loud.aucdtect]
Detected average hi-boundary frequency: 2.055527e+004 Hz
Detected average lo-boundary frequency: 1.358353e+004 Hz
Detected average hi-cut frequency: 2.196694e+004 Hz
Detected average lo-cut frequency: 1.709896e+004 Hz
Maximum probablis boundary frequency: 2.189100e+004 Hz
Coefficient of nonlinearity of a phase: 9.789207e-001
First order smothness: 3.515275e-001
Second order smothness: 8.134420e-001

––––––––––––––––––––––––––––––
This track looks like CDDA with probability 100%

===========================================
Track: 03. Panoptique Electrical - Footfalls

Processing file: [03. Panoptique Electrical - Footfalls.aucdtect]
Detected average hi-boundary frequency: 2.041503e+004 Hz
Detected average lo-boundary frequency: 1.240595e+004 Hz
Detected average hi-cut frequency: 2.198081e+004 Hz
Detected average lo-cut frequency: 1.173196e+004 Hz
Maximum probablis boundary frequency: 2.189100e+004 Hz
Coefficient of nonlinearity of a phase: 6.606238e-001
First order smothness: 4.395397e-001
Second order smothness: 7.353556e-001

––––––––––––––––––––––––––––––
This track looks like CDDA with probability 100%

===========================================
Track: 02. Panoptique Electrical - In A Vow Of Silence

Processing file: [02. Panoptique Electrical - In A Vow Of Silence.aucdtect]
Detected average hi-boundary frequency: 2.017670e+004 Hz
Detected average lo-boundary frequency: 1.340052e+004 Hz
Detected average hi-cut frequency: 1.978948e+004 Hz
Detected average lo-cut frequency: 4.783894e+003 Hz
Maximum probablis boundary frequency: 2.189100e+004 Hz
Coefficient of nonlinearity of a phase: 6.329699e-001
First order smothness: 3.256173e-001
Second order smothness: 5.490741e-001

––––––––––––––––––––––––––––––
This track looks like CDDA with probability 43%

===========================================
Track: 05. Panoptique Electrical - A Place With Trees

Processing file: [05. Panoptique Electrical - A Place With Trees.aucdtect]
Detected average hi-boundary frequency: 2.056963e+004 Hz
Detected average lo-boundary frequency: 1.178781e+004 Hz
Detected average hi-cut frequency: 2.197907e+004 Hz
Detected average lo-cut frequency: 1.752572e+004 Hz
Maximum probablis boundary frequency: 2.189100e+004 Hz
Coefficient of nonlinearity of a phase: 4.338983e-001
First order smothness: 4.460922e-001
Second order smothness: 8.593186e-001

––––––––––––––––––––––––––––––
This track looks like CDDA with probability 100%

===========================================
Track: 06. Panoptique Electrical - In Between Buildings

Processing file: [06. Panoptique Electrical - In Between Buildings.aucdtect]
Detected average hi-boundary frequency: 2.035471e+004 Hz
Detected average lo-boundary frequency: 1.276460e+004 Hz
Detected average hi-cut frequency: 2.197005e+004 Hz
Detected average lo-cut frequency: 1.194934e+004 Hz
Maximum probablis boundary frequency: 2.189100e+004 Hz
Coefficient of nonlinearity of a phase: 1.039566e+000
First order smothness: 3.943928e-001
Second order smothness: 7.354661e-001

––––––––––––––––––––––––––––––
This track looks like CDDA with probability 100%

===========================================