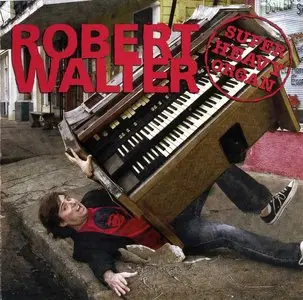 Robert Walter - Super Heavy Organ (2005)
[New Orleans] Funk, Instrumental | MP3 256 Kbps | scans, tags, playlist | 117 MB
"I just love the instrument," Robert Walter enthuses. He knows the mantle he wears when he plays the Hammond and the Leslie. He knows the lineage, which, in no particular order, includes Jimmy Smith, Brother Jack McDuff, Jimmy McGriff, and newcomers like Joey DeFrancesco. Walter wasn't born behind an organ; in fact, he began gigging with a piano and a Fender Rhodes. The story goes that he wanted something more powerful, wider in bandwidth—something… heavier.
Tracklist:
1. Adelita 5:27
2. Kickin' Up Dust 3:14
3. Spell 2:33
4. El Cuervo 7:30
5. Criminals Have a Name For It 5:12
6. 34 Small 7:15
7. Don't Hate, Congratulate 3:38
8. Poor Tom 2:56
9. (smells like) Dad's Drunk Again 6:05
10. Big Dummy 4:57
11. Hardware 5:01
12. Cabrillo 9:02
Personnel:
Robert Walter - Hammond Organ, Clavinet, Piano, Melodica and Percussion
Stanton Moore – Drums and Percussion
Johnny Vidacovich – Drums and Cymbals
Tim Green – Tenor Sax
James Singleton – Bass
Anthony Farrell – Vocals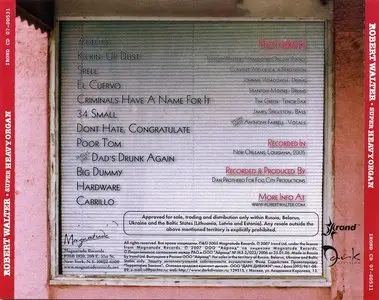 Preview on Amazon