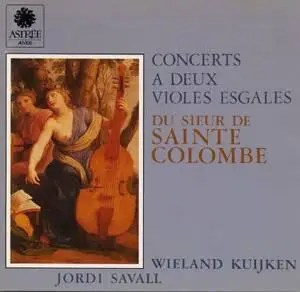 Le Sieur de SAINTE COLOMBE (second part of XVIIth century) - 'CONCERTS À DEUX VIOLES ESGALES' (Tome I)
Jordi Savall & Wieland Kuijken
Recorded at the Roman church of Saint Lambert des Bois, Yvelines, january 1976
APE (EAC Rip) + CUE | 3% Recovery | Covers & booklet | 257 MB | Rapidshare | TT 53:15
This XVIIth century master of the viol still is largely shrouded in mystery. It is thought that he added a seventh string to the instrument for greater depth. It is reported that Marais, who was his pupil, secretly hid under the treehouse where his reclusive master would play and improvise, to eavesdrop and marvel (and perhaps borrow a few ideas). Debate about who this Sieur de Sainte Colombe really was continues, but at least he finally got a real face in "Tous les Matins des Monde", the 1991 film about him, which characterised him as a grieve-stricken, impenetrable man.
The music is of great melancholy - as dark, charged and unpredictable as a distant thunder storm on an delicate summer evening.
Furthermore, if you want to demonstrate to someone what a viola da gamba (or better: two) can do, I suggest playing the first minute of this recording to make that person sit upright and marvel. At least that's what happened to me and I was hooked to the instrument ever since. -Edmond
Le Sieur de Sainte Colombe
Concerts à deux violes esgales
Wieland Kuijken / Jordi Savall - basses de viole à sept cordes
Astrée (Auvidis) E 7729 [CD]
Astrée (Naïve) « Musica Gallica » ES 9968 [CD]
Content:
1. Concert XXVIIe: Bourrasque (Bourrasque - Balet - Sarabande - Gavote - 2e Sarabande gaye)
2. Concert XLVIIIe: Le Raporté (Le raporté - La belle - Passacaille du raporté - Chacone raporté)
3. Concert XLVe: Le Retour (Le retour - en gigue - en menuet - en courante - balet tendre - en pianelle)
4. Concert XLIVe: Tombeau. Les Regrets (Tombeau Les Regrets - Quarillon - Les pleurs - Joye des Élizées - Les Élizées)
5. Concert LIVe: [La] Dubois ([La] Dubois - Gigue - 2e Gigue en bourrasque - Menuet - Chacone Dubois - Gavote)
DOWNLOAD:
http://rapidshare.com/files/18229495/LeSieurdeSainteColombe.part1.rar
http://rapidshare.com/files/18233562/LeSieurdeSainteColombe.part2.rar
http://rapidshare.com/files/18237082/LeSieurdeSainteColombe.part3.rar
or from my folder:
http://rapidshare.com/users/P9H2JW
No password needed.
How to:
1. Decompress the media file with Monkey's Audio [
http://www.monkeysaudio.com/
]
2. Add Burrrn Cue file in Burrrn [
http://www.burrrn.net/?page_id=6
]
3. Burrrn
–-Enjoy!–-