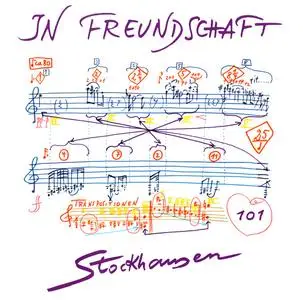 Karlheinz Stockhausen - In Freundschaft für Blockflöte, Fagott, Horn, Kontrabass (2012) {Stockhausen-Verlag No. 101}
XLD rip (secure mode) | FLAC (tracks)+CUE+LOG -> 231 Mb | MP3 @320 -> 158 Mb
Full Artwork @ 600 dpi (png) -> 50 Mb | 5% repair rar
© 2012 Stockhausen-Verlag | Stockhausen 101
Classical / Avant-Garde / Experimental / 20th Century
Since 1991, a complete edition of all recordings in which Karlheinz Stockhausen has personally participated is being released on compact discs. Each CD in this series is identified by Stockhausen's signature followed by an encircled number. The numbers indicate the general historical order of the works. Stockhausen realised the electronic music and participated in these recordings as conductor, performer, sound projectionist, and musical director. He personally mixed down the recordings, mastered them for CDs, wrote the texts and drew the covers.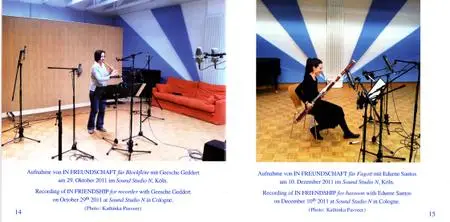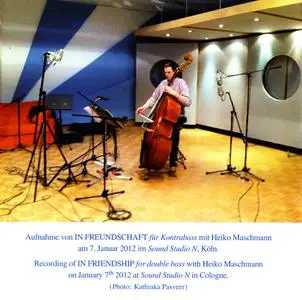 Works on This Recording
101
IN FREUNDSCHAFT
This CD contains four new arrangements of the solo work IN FREUNDSCHAFT (IN FRIENDSHIP).
IN FREUNDSCHAFT for recorder (1977/84), feat. Geesche Geddert, rec. 2011.
IN FREUNDSCHAFT for bassoon (1977/82), feat. Edurne Santos, rec. 2011.
IN FREUNDSCHAFT for horn (1977/83), feat. Christine Chapman, rec. 2011.
IN FREUNDSCHAFT for double bass (1977/2008), feat. Heiko Maschmann, rec. 2012.
X Lossless Decoder version 20151128 (149.0)

XLD extraction logfile from 2015-12-01 14:16:10 -0500

Karlheinz Stockhausen / In Freundschaft (Stockhausen CD 101)

Used drive : HL-DT-ST DVDRW GX30N (revision RP09)
Media type : Pressed CD

Ripper mode : XLD Secure Ripper
Disable audio cache : OK for the drive with a cache less than 1375KiB
Make use of C2 pointers : NO
Read offset correction : 6
Max retry count : 20
Gap status : Analyzed, Appended (except HTOA)

TOC of the extracted CD
Track | Start | Length | Start sector | End sector
––––––––––––––––––––––––––––-
1 | 00:00:00 | 16:00:00 | 0 | 71999
2 | 16:00:00 | 16:00:00 | 72000 | 143999
3 | 32:00:00 | 17:34:74 | 144000 | 223123
4 | 49:34:74 | 16:55:24 | 223124 | 299272

AccurateRip Summary
Disc not found in AccurateRip DB.

All Tracks
Album gain : -3.06 dB
Peak : 0.945190
Statistics
Read error : 0
Jitter error (maybe fixed) : 0
Retry sector count : 0
Damaged sector count : 0

Track 01
Filename : /Users/Shared/Rips/Karlheinz Stockhausen - In Freundschaft (Stockhausen CD 101) (2012) [FLAC]/01 In Freundschaft (for recorder).flac
Pre-gap length : 00:02:00

Track gain : -3.64 dB
Peak : 0.756409
CRC32 hash (test run) : 22AAD000
CRC32 hash : 22AAD000
CRC32 hash (skip zero) : 63E78266
AccurateRip v1 signature : C10B79B6
AccurateRip v2 signature : 3414B9AA
->Track not present in AccurateRip database.
Statistics
Read error : 0
Jitter error (maybe fixed) : 0
Retry sector count : 0
Damaged sector count : 0

Track 02
Filename : /Users/Shared/Rips/Karlheinz Stockhausen - In Freundschaft (Stockhausen CD 101) (2012) [FLAC]/02 In Freundschaft (for bassoon).flac

Track gain : -3.61 dB
Peak : 0.820465
CRC32 hash (test run) : 11020A3B
CRC32 hash : 11020A3B
CRC32 hash (skip zero) : 9076B4E5
AccurateRip v1 signature : C36F0786
AccurateRip v2 signature : 1588D05C
->Track not present in AccurateRip database.
Statistics
Read error : 0
Jitter error (maybe fixed) : 0
Retry sector count : 0
Damaged sector count : 0

Track 03
Filename : /Users/Shared/Rips/Karlheinz Stockhausen - In Freundschaft (Stockhausen CD 101) (2012) [FLAC]/03 In Freundschaft (for horn).flac

Track gain : -2.46 dB
Peak : 0.945190
CRC32 hash (test run) : 2F72D953
CRC32 hash : 2F72D953
CRC32 hash (skip zero) : 08A632B8
AccurateRip v1 signature : 10C169EE
AccurateRip v2 signature : 46BF7A34
->Track not present in AccurateRip database.
Statistics
Read error : 0
Jitter error (maybe fixed) : 0
Retry sector count : 0
Damaged sector count : 0

Track 04
Filename : /Users/Shared/Rips/Karlheinz Stockhausen - In Freundschaft (Stockhausen CD 101) (2012) [FLAC]/04 In Freundschaft (for double bass).flac

Track gain : -2.41 dB
Peak : 0.926208
CRC32 hash (test run) : 1D80F7D6
CRC32 hash : 1D80F7D6
CRC32 hash (skip zero) : 4BBDCF17
AccurateRip v1 signature : 85D0EB73
AccurateRip v2 signature : 765CDE93
->Track not present in AccurateRip database.
Statistics
Read error : 0
Jitter error (maybe fixed) : 0
Retry sector count : 0
Damaged sector count : 0

No errors occurred

End of status report

––-BEGIN XLD SIGNATURE––-
boRZIITgXTaqanzmUYE7YvLYWp2Oy1.vpxmx14QWsKWmS6GQwqo2qY1cjWZOrOSEBbyVGHExY3YckCJUaZmYsA1O6S_DZdxd9FSszZC
––-END XLD SIGNATURE––-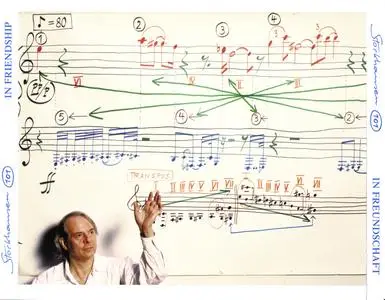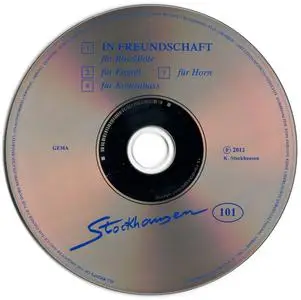 see more Karlheinz Stockhausen…
===