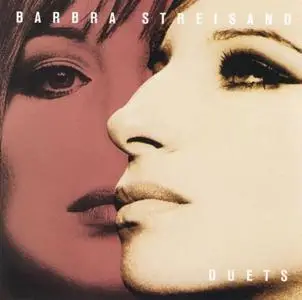 Compilation | MP3 | 256 Kbps | 77:16 | 148:679 Mb | Full Covers
Barbara Streisand - Duets [Original Recording Remastered]
..: Track List :..
01. I Won't Be The One To Let Go (Duet with Barry Manilow)
02. Guilty (Duet with Barry Gibb)
03. You Don't Bring Me Flowers (Duet with Neil Diamond)
04. I Finally Found Someone (Duet with Bryan Adams)
05. Cryin' Time (Duet with Ray Charles)
06. I've Got A Crush On You (Duet with Frank Sinatra)
07. Tell Him (Duet with Celine Dion)
08. No More Tears (Enough Is Enough) (Duet with Donna Summer)
09. What Kind Of Fool (Duet with Barry Gibb)
10. I Have A Love One Hand, One Heart (Duet with Johnny Mathis)
11. One Less Bell To Answer, A House Is Not A Home (Duet with Barbra Streisand)
12. Lost Inside Of You (Duet with Kris Kristofferson)
13. Till I Loved You (Duet with Don Johnson)
14. Make No Mistake, He's Mine (Duet with Kim Carnes)
15. If You Ever Leave Me (Duet with Vince Gill)
16. The Music Of The Night (Duet with Michael Crawford)
17. Ding-Dong! The Witch Is Dead (Duet with Harold Arlen)
18. Get Happy, Happy Days Are Here Again (Duet with Judy Garland)
19. All I Know Of Love (Duet with Josh Groban)
Audio CD :
(November 26, 2002)
Number of Discs :
1
Format :
Original recording remastered
Label :
Sony Music
..: RapidShare :..
http://rapidshare.de/files/35822693/l_tEr__dUeT.part1.rar.html
http://rapidshare.de/files/35823875/l_tEr__dUeT.part2.rar.html
http://rapidshare.de/files/35825023/l_tEr__dUeT.part3.rar.html
No Pasword