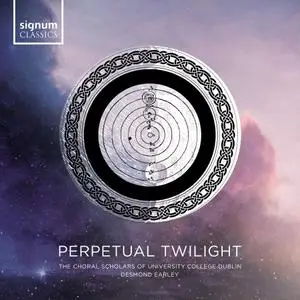 The Choral Scholars of University College Dublin & Desmond Earley - Perpetual Twilight (2019)
WEB FLAC (tracks) - 242 Mb | MP3 CBR 320 kbps - 153 Mb | Digital booklet | 01:06:27
Classical, Choral | Label: Signum Records
The Choral Scholars of University College Dublin and Artistic Director Desmond Earley follow up their debut release with a programme of new choral music inspired by the evocative imagery of the natural world in traditional Irish and Scottish folksong and poetry. The disc includes a number of world-premiere recordings of new works and arrangements commissioned by the choir. The choir's first release Invisible Stars was praised by critics and reviewers: 'The choir's singing is crystal clear' The Lady 'Blending 'folk' voices with choral precision and tight harmony isn't easy, but Desmond Earley has a passionate stake in both and doesn't put a foot wrong' Choir and Organ.
Tracklist:
1 Dúlamán (Arr. Desmond Earley)
2 My Love is like a Red, Red Rose (Arr. Ēriks Ešenvalds)
3 Body of the Moon
4 At That Hour When All Things Have Repose
5 The Maid of Culmore (Arr. Kevin Whyms)
6 A Star
7 Elegy
8 Danny Boy (Arr. Desmond Earley)
9 Oxen of the Sun
10 Bó na Leathadhairce (Arr. Desmond Earley)
11 Aimhirgín
12 Wild Mountain Thyme (Arr. Eoin Conway)
13 Strings in the Earth and Air
14 Bright Cap and Streamers
–––––––––––-

DON'T MODIFY THIS FILE

–––––––––––-

PERFORMER: auCDtect Task Manager, ver. 1.6.0 RC1 build 1.6.0.1
Copyright © 2008-2010 y-soft. All rights reserved

ANALYZER: auCDtect: CD records authenticity detector, version 0.8.2
Copyright © 2004 Oleg Berngardt. All rights reserved.
Copyright © 2004 Alexander Djourik. All rights reserved.


FILE: 9 Oxen of the Sun.flac
Size: 18501149 Hash: 00A914DCB532B0E1DA79B991234088B2 Accuracy: -m0
Conclusion: CDDA 100%
Signature: 8A06CD23EC141AEEA09CC105F37AA8C1F805FB46
FILE: 8 Danny Boy (Arr. Desmond Earley).flac
Size: 14428011 Hash: DA9F839997682CE479C2AE9688B738BC Accuracy: -m0
Conclusion: CDDA 100%
Signature: 2B2BA50289EB07F5F52D997A1C9A397D1E8B9899
FILE: 7 Elegy.flac
Size: 25981423 Hash: 2B84BF01BF62CDF50EEDA061F5CD6FD5 Accuracy: -m0
Conclusion: CDDA 99%
Signature: 25408D5BD021266B7187E3A295DD1B603480440E
FILE: 6 A Star.flac
Size: 19470809 Hash: 45C2FD407B83766E6ADF9AC352F7117E Accuracy: -m0
Conclusion: CDDA 100%
Signature: 1304F55DCFF3B505A4C9C88AF8AE4C353ADF2707
FILE: 5 The Maid of Culmore (Arr. Kevin Whyms).flac
Size: 15169359 Hash: A76071C31713FC2E28F65826668CD068 Accuracy: -m0
Conclusion: CDDA 100%
Signature: 420878AB46A193130878A1A30888BDA69334EF96
FILE: 4 At That Hour When All Things Have Repose.flac
Size: 23755120 Hash: 117F77EBF472AFCC41A738795D002A62 Accuracy: -m0
Conclusion: CDDA 100%
Signature: 17CF3C6984BCD6B73FAA8C85EE5F0E1B518808ED
FILE: 3 Body of the Moon.flac
Size: 25060707 Hash: 5271BE6090B8A151520BC2E7E629D53E Accuracy: -m0
Conclusion: CDDA 100%
Signature: E4D401882A600A4AF06CAC32D6FDE30F9C0F1C1C
FILE: 2 My Love is like a Red, Red Rose (Arr. Ēriks Ešenvalds).flac
Size: 15141478 Hash: 073A87C92B2DE9763A048B54EE924FA9 Accuracy: -m0
Conclusion: CDDA 100%
Signature: A3FB4835A8968D1EF8F74FA862FAF81598D4B669
FILE: 14 Bright Cap and Streamers.flac
Size: 12831382 Hash: 1C480369233D121351E8495A852F486A Accuracy: -m0
Conclusion: CDDA 100%
Signature: 30AD54D93E2A2E2D7EE5ACBB4CEA8ABD2623A063
FILE: 13 Strings in the Earth and Air.flac
Size: 19489264 Hash: 7F91561AA8373574CA2050CDC4E200FD Accuracy: -m0
Conclusion: CDDA 99%
Signature: A7457A104E1403490D3611D04B7390D038DA1335
FILE: 12 Wild Mountain Thyme (Arr. Eoin Conway).flac
Size: 11150462 Hash: F78B2024DDE0DDF4DD07AE5D43134DB4 Accuracy: -m0
Conclusion: CDDA 100%
Signature: 42EC96D406E26FC4F36643B095D6DF82C8C984FE
FILE: 11 Aimhirgín.flac
Size: 21850856 Hash: 1960623868BE5928667A3ED8CDADF97C Accuracy: -m0
Conclusion: CDDA 100%
Signature: 638FE1BAAE2DA78335B10C62D765C69043A107F1
FILE: 10 Bó na Leathadhairce (Arr. Desmond Earley).flac
Size: 14599882 Hash: 6422449D3C18D9238A96A8184AD89391 Accuracy: -m0
Conclusion: CDDA 100%
Signature: 3F52F3B0628766CD1C87D93752175A63C3261B7B
FILE: 1 Dúlamán (Arr. Desmond Earley).flac
Size: 14902166 Hash: 6AC2692E8B5AE4653EFD22461839D605 Accuracy: -m0
Conclusion: CDDA 100%
Signature: C7FC53FED4E68F58912BC10C9A68EBC3142D0836