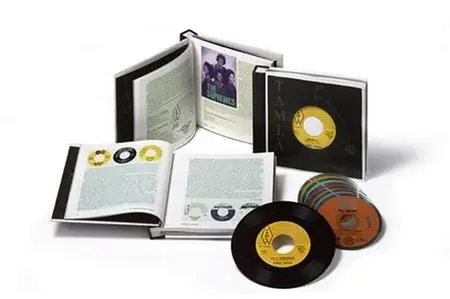 The Complete Motown Singles, Volume 1; 1959-1961 6CD Box Set
MP3@320kbps
Each disc is from 143-167mb per. CD
159 tracks on 6 CDs. AMAZING
Release Date Jan 14th 2005
Edition limited to 5000 non-numbered limited edition copies
Say the word "Motown," and an immediate image forms in your head: maybe Smokey, or Diana, or Stevie, or the Temptations doing their famous steps. Or one of dozens of other classic Motown artists. But before the Motown sound had written itself into America's musical DNA, before there was even a Motown label, there was an idea in the head of Berry Gordy, Jr.
Gordy's empire began even before the house at 2648 W. Grand Blvd. became 'Hitsville U.S.A.' The Complete Motown Singles, Part 1: 1959-1961 documents Motown's earliest days, from Marv Johnson's "Come To Me" on Tamla 101 through The Twistin' Kings' "Congo (Part 1)" on Motown 1023.
This six-CD set offers an amazing insight into the development of the Motown Sound. You can follow along, single by single, as Gordy pursues his dream, often to unexpected places. It features the A-side and B-side of every single released by Motown and its subsidiaries during the label's first three years of existence. Over the course of the set's 155 tracks, you can hear the recorded debuts of the Temptations, the Supremes, Mary Wells, and many others. You'll also hear Motown's first big hits: Barrett Strong's "Money (That's What I Want)," The Miracles' "Shop Around," and The Marvelettes' "Please Mr. Postman."
The luxurious packaging resembles a scaled-down 78-rpm-era "album," with cardboard sleeves to hold each of the discs, and 92 pages of rare photos, detailed annotations and scholarly - as well as personal - liner notes. It also features a reproduction 45-rpm single from its era; in this case, it's Barrett Strong's "Money" b/w "Oh I Apologize." Berry Gordy, who co-wrote and co-produced nearly every track in this first set, contributes a brief, personally signed note in the booklet's opening page. It introduces an eyewitness account of the early days from singer Mable John, the first female solo act signed to Motown. Also included is a historical overview by author and scholar Craig Werner of the University of Wisconsin, and track-by-track annotations, with not just song credits but stories and context of each song, by noted authors and discographers Bill Dahl and Keith Hughes.
The Complete Motown Singles, Volume 1: 1959-1961 is a limited-edition set. Most of the songs contained on it are unavailable anywhere else; many had never been re-released on vinyl, let alone on compact disc. When the edition is sold out, it's gone for good, so act now.
Keep in mind, too, that this Volume 1 is the first step in a proposed 12-Vol. series.
PW:P&K
Disc 1: 155mb
01. Come To Me - Marv Johnson
02. Whisper - Marv Johnson
03. Merry-Go-Round - Eddie Holland
04. It Moves Me - Eddie Holland
05. Let's Rock - Barrett Strong
06. Do The Very Best You Can - Barrett Strong
07. Solid Sender - Chico Leverett
08. I'll Never Love Again - Chico Leverett
09. Snake Walk (Part 1) - The Swinging Tigers
10. Snake Walk (Part 2) - The Swinging Tigers
11. It - Ron & Bill
12. Don't Say Bye Bye - Ron & Bill
13. Going To The Hop - The Satintones
14. Motor City - The Satintones
15. Money (That's What I Want) - Barrett Strong
16. Oh I Apologize - Barrett Strong
17. Ich-i-bon #1 - Nick & The Jaguars
18. Cool And Crazy - Nick & The Jaguars
19. Bad Girl - The Miracles
20. I Love Your Baby - The Miracles
21. The Feeling Is So Fine - The Miracles
22. (You Can) Depend On Me - The Miracles [first version]
23. My Beloved - The Satintones [without strings]
24. Sugar Daddy - The Satintones
25. You Never Miss A Good Thing - Eugene Remus [without strings]
26. Hold Me Tight - Eugene Remus
27. Gotta Have Your Lovin' - Eugene Remus
Download:
http://rapidshare.de/files/19566923/TCMSV1CD1.part1.rar
http://rapidshare.de/files/19567605/TCMSV1CD1.part2.rar
Disc 2: 167mb
01. Way Over There - The Miracles [without strings]
02. (You Can) Depend On Me - The Miracles [second version]
03. Way Over There - The Miracles [with strings]
04. My Beloved - The Satintones [with strings]
05. You Never Miss A Good Thing - Eugene Remus [with strings]
06. Yes, No, Maybe So - Barrett Strong
07. You Knows What To Do - Barrett Strong
08. Custer's Last Man - Popcorn And The Mohawks
09. Shimmy Gully - Popcorn And The Mohawks
10. Who Wouldn't Love A Man Like That - Mable John [first version]
11. You Made A Fool Out Of Me - Mable John
12. Whirlwind - Barrett Strong
13. I'm Gonna Cry (If You Quit Me) - Barrett Strong
14. Bye Bye Baby - Mary Wells
15. Please Forgive Me - Mary Wells
16. What Makes You Love Him - Singin' Sammy Ward [first version]
17. That Child Is Really Wild - Singin' Sammy Ward
18. Who's The Fool - Singin' Sammy Ward
19. Shop Around - The Miracles [regional version]
20. Who's Lovin' You - The Miracles
21. True Love - Herman Griffin
22. It's You - Herman Griffin
23. Shop Around - The Miracles [national version]
24. Oh Lover - Sherri Taylor & Singin' Sammy Ward
25. That's Why I Love You So Much - Sherri Taylor & Singin' Sammy Ward
26. I've Got A Notion - Henry Lumpkin
27. We Really Love Each Other - Henry Lumpkin
Download:
http://rapidshare.de/files/19569733/TCMSV1CD2.part1.rar
http://rapidshare.de/files/19571261/TCMSV1CD2.part2.rar
Disc 3: 163mb
01. Don't Feel Sorry For Me - Jimmy Ruffin
02. Heart - Jimmy Ruffin
03. Don't Let Him Shop Around - Debbie Dean
04. A New Girl - Debbie Dean
05. Ain't It Baby - The Miracles
06. The Only One I Love - The Miracles
07. Money And Me - Barrett Strong
08. You've Got What It Takes - Barrett Strong
09. When I Needed You - Little Iva & Her Band
10. Continental Strut - Little Iva & Her Band
11. Whole Lotta Woman - The Contours [regional version]
12. Come On And Be Mine - The Contours
13. I Want A Guy - The Supremes
14. Never Again - The Supremes
15. He Lifted Me - The Gospel Stars [unedited version]
16. Behold The Saints Of God - The Gospel Stars
17. Poor Sam Jones - Mickey Woods
18. They Rode Through The Valley - Mickey Woods
19. Money (That's What I Want) - Richard Wylie & his Band
20. I'll Still Be Around - Richard Wylie & his Band
21. Tomorrow And Always - The Satintones [without strings]
22. A Love That Can Never Be - The Satintones
23. Tomorrow And Always - The Satintones [with strings]
24. Whole Lotta Woman - The Contours [national version]
25. Blibberin' Blabbin' Blues - Gino Parks
26. Don't Say Bye Bye - Gino Parks
Download:
http://rapidshare.de/files/19577108/TCMSV1CD3.part1.rar
http://rapidshare.de/files/19577774/TCMSV1CD3.part2.rar
Disc 4: 154mb
01. Angel - The Satintones
02. (I'm Afraid) The Masquerade Is Over - Marvin Gaye
03. Witchcraft - Marvin Gaye
04. Let Your Conscience Be Your Guide - Marvin Gaye
05. Never Let You Go (Sha Lu Bop) - Marvin Gaye
06. I Don't Want To Take A Chance - Mary Wells
07. I'm So Sorry - Mary Wells
08. Rosa Lee (Stay Off The Bell) - Andre Williams
09. Shoo-Doo - Andre Williams
10. Misery - Barrett Strong
11. Two Wrongs Don't Make A Right - Barrett Strong
12. Broken Hearted - The Miracles
13. Mighty Good Lovin' - The Miracles
14. No Love - Mable John [without strings]
15. Looking For A Man - Mable John
16. Same Thing - Gino Parks
17. That's No Lie - Gino Parks
18. I Know How It Feels - The Satintones
19. My Kind Of Love - The Satintones
20. No Love - Mable John [with strings]
21. Buttered Popcorn - The Supremes [first version] (snippet of this tune will be up soon)
22. Who's Lovin' You - The Supremes
23. Buttered Popcorn - The Supremes [second version]
24. Oh Mother Of Mine - The Temptations
25. Romance Without Finance - The Temptations
26. I Am Bound - Golden Harmoneers
27. Precious Memories - Golden Harmoneers
Download:
http://rapidshare.de/files/19579218/TCMSV1CD4.part1.rar
http://rapidshare.de/files/19580084/TCMSV1CD4.part2.rar
Disc 5: 143mb
01. Please Mr. Postman - The Marvelettes
02. So Long Baby - The Marvelettes
03. The Stretch - The Contours
04. Funny - The Contours
05. Itsy Bity Pity Love - Debbie Dean
06. But I'm Afraid - Debbie Dean
07. They Shall Be Mine - Rev. Columbus Mann
08. Jesus Loves - Rev. Columbus Mann
09. Someone To Call My Own - The Equadors
10. You're My Desire - The Equadors
11. Love Me - Pete Hartfield
12. Darling Tonight - Pete Hartfield
13. Everybody's Gotta Pay Some Dues - The Miracles
14. I Can't Believe - The Miracles
15. Angel In Blue - Joel Sebastian
16. Blue Cinderella - Joel Sebastian
17. Strange Love - Mary Wells
18. Come To Me - Mary Wells
19. The Day Will Come - Freddie Gorman
20. Just For You - Freddie Gorman
21. Have I The Right - Popcorn And The Mohawks
22. Real Good Lovin' - Popcorn And The Mohawks
23. Zing Went The Strings Of My Heart - The Satintones
24. Faded Letter - The Satintones
Download:
http://rapidshare.de/files/19581690/TCMSV1CD5.part1.rar
http://rapidshare.de/files/19582116/TCMSV1CD5.part2.rar
Disc 6: 143mb
01. Jamie - Eddie Holland
02. Take A Chance On Me - Eddie Holland
03. Greetings (This Is Uncle Sam) - The Valadiers
04. Take A Chance - The Valadiers
05. Actions Speak Louder Than Words - Mable John
06. Take Me - Mable John
07. What Makes You Love Him - Sammy Ward [second version]
08. Don't Take It Away - Sammy Ward
09. Check Yourself - The Temptations
10. Your Wonderful Love - The Temptations
11. Small Sad Sam - Bob Kayli
12. Tie Me Tight - Bob Kayli
13. Whose Heart (Are You Gonna Break Now) - Don McKenzie
14. I'll Call You - Don McKenzie
15. Xmas Twist - The Twistin' Kings
16. White House Twist - The Twistin' Kings
17. Please Mr. Kennedy - Mickey Woods
18. (They Call Me) Cupid - Mickey Woods
19. Twistin' Postman - The Marvelettes
20. I Want A Guy - The Marvelettes
21. What's So Good About Good Bye - The Miracles
22. I've Been Good To You - The Miracles
23. Congo (Part 1) - The Twistin' Kings
24. Congo (Part 2) - The Twistin' Kings
Download:
http://rapidshare.de/files/19584153/TCMSV1CD6.part1.rar
http://rapidshare.de/files/19584689/TCMSV1CD6.part2.rar