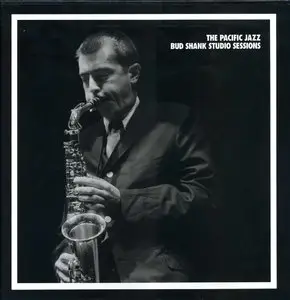 Bud Shank - The Pacific Jazz Bud Shank Studio Sessions (1998) {5CD Box Set Mosaic MD5-180 rec 1956-1961}
EAC rip (secure mode) | FLAC (tracks)+CUE+LOG -> 1.78 Gb | MP3 @320 -> 696 Mb
Full Artwork @ 600 dpi (jpg) -> 144 Mb | 5% repair rar
© 1956-61, 1998 Pacific Jazz / Mosaic Records / Blue Note / EMI-Capitol | MD5-180 | 20-bit Super Bit Mapping
Jazz / Cool / West Coast Jazz / Hard Bop / Saxophone
When one thinks of altoist/flutist Bud Shank's recordings of the 1950s, it is normally of his work with Stan Kenton's orchestra or collaborations with Laurindo Almeida or Bob Cooper. However, Shank led a superior quartet from 1956-1958 that also included pianist Claude Williamson, bassist Don Prell, and either Chuck Flores or Jimmy Pratt on drums. This typically magnificent five-CD limited-edition box set from Mosaic has the quartet's four albums (including a set that was recorded in Johannesburg, South Africa), a selection by Shank with a sextet that includes vibraphonist Larry Bunker, and three slightly later sets.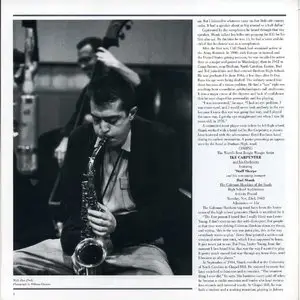 The latter feature either Billy Bean or Dennis Budimir on guitar, bassist Gary Peacock and Chuck Flores, Mel Lewis or Shelly Manne on drums; one set adds trumpeter Carmell Jones, and the other has both Jones and tenor saxophonist Bob Cooper. All of this music was fairly obscure but has dated quite well. In addition to alto and occasional flute, Shank took one of the quartet sets exclusively on tenor, which he has rarely played since; the two Carmell Jones dates find Shank doubling on alto and baritone. The music is consistently straight-ahead, featuring cool tones but hard swinging. Bud Shank and West Coast jazz fans are advised to order this 1998 set before it goes out of print.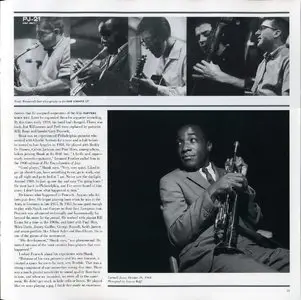 AAJ INFO
JazzTimes INFOAlbum Index:
Pacific Jazz PJ-1215 The Bud Shank Quartet
Pacific Jazz PJ-1230 The Bud Shank Quartet Featuring Claude Williamson
Pacific Jazz ST-4 Bud Shank Plays Tenor
Pacific Jazz JWC 509 Have Blues Will Travel - various artists
Pacific Jazz PJX-5000 Bud Shank In Africa (issued in South Africa only)
World Pacific ST-1265 Bud shank - Slippery When Wet
Pacific Jazz JWC 512, ST 1029 Blowin' The Blues - various artists
Pacific Jazz ST-21 Bud Shank - New Groove
Pacific Jazz ST-35 Bud Shank - Barefoot AdventurePersonnel:
Shank
(as, fl),
Claude Williamson
(p),
Don Prell
(b),
Chuck Flores
(d),
Jimmy Pratt
(d),
Larry Bunker
(vbs),
Al Hendrickson
(g),
Jimmy Rowles
(p),
Joe Mondragon
(b),
Mel Lewis
(d),
Billy Bean
(g),
Gary Peacock
(b),
Carmell Jones
(tp),
Dennis Budimir
(g),
Bob Cooper
(ts),
Shelly Manne
(d).
tracklist:
CD1
01. Bag Of Blues
02. Nature Boy
03. All This And Heaven Too
04. Jubilation
05. Do Nothing Till You Hear
06. Nocturne For The Future
07. Walkin'
08. Carioca
09. A Night In Tunisia
10. Tertia
11. All Of You
12. Theme
CD2
01. Jive At Five
02. Softly As In A Morning
03. Polka Dots And Moonbeams
04. The Lamp Is Low
05. Tangerine
06. A Tribute To The African
07. I'll Remeber April
08. Charity Rag
09. Just Squeeze Me
10. My Funny Valentine
11. Misty Eyes
12. Waltzin' The Blues Away
CD3
01. Thou Swell
02. Tenderly
03. Over The Rainbow
04. Long Ago And Far Away
05. I Never Knew
06. All The Things You Are
07. Body And Soul
08. Blue Lou
09. Have Blues, Will Travel
CD4
01. Misty Eyes
02. Mook's Theme
03. Surf Pipers
04. The Surf And I
05. Up In Velseyland
06. Surf For Two
07. Slippery When Wet
08. Going My Wave
09. Old King Nep's Tune
10. Walkin' On The Water
11. Soupsville
12. Blues In The Distance
13. Blues In The Surf
CD5
01. New Groove
02. The Awakening
03. White Lightnin'
04. Sulty Serenade
05. Well, You Needn't
06. Liddledabllduya
07. Barefoot Adventure
08. Shoeless Beach Meeting
09. Jungle Cruise
10. How High The Makaha
11. Well, 'pon My Soul
12. Ala Moana
13. Bruce Is Loose
14. Dance Of The Sea Monsters
Recording engineer: John Palladino, Bones Howe, George Balla, Richard Bock
Mastered by Ron McMaster using 20-bit Super Bit Mapping
Photo research: Cynthia Sesso
Special thanks to Jim Harrod and Bud Shank
Design direction: Richard Mantel
Design production: InkWell, Inc.
EAC extraction logfile from 15. April 2008, 17:53 for CD
Bud Shank / The Pacific Jazz Studio Session, Disc 1

Used drive : PLEXTOR DVDR PX-810SA Adapter: 2 ID: 3
Read mode : Secure with NO C2, accurate stream, disable cache
Read offset correction : 48
Overread into Lead-In and Lead-Out : No

Used output format : C:\Program Files\FLAC\flac.exe (User Defined Encoder)
32 kBit/s
Additional command line options : -8 -A tukey(0.25) -A gauss(0.1875) -b 4096 -V -T "artist=%a" -T "title=%t" -T "album=%g" -T "date=%y" -T "tracknumber=%n" -T "genre=%m" %s –sector-align

Other options :
Fill up missing offset samples with silence : Yes
Delete leading and trailing silent blocks : No
Native Win32 interface for Win NT & 2000


Track 1
Filename M:\Musique\Shank Bud\The Pacific Jazz Studio Session\The Pacific Jazz Studio Session, Disc 1\01 - Bag of Blues - Bud Shank.wav

Peak level 98.8 %
Track quality 100.0 %
Test CRC 1CA04236
Copy CRC 1CA04236
Copy OK

Track 2
Filename M:\Musique\Shank Bud\The Pacific Jazz Studio Session\The Pacific Jazz Studio Session, Disc 1\02 - Nature Boy - Bud Shank.wav

Peak level 91.8 %
Track quality 99.9 %
Test CRC D37DDF65
Copy CRC D37DDF65
Copy OK

Track 3
Filename M:\Musique\Shank Bud\The Pacific Jazz Studio Session\The Pacific Jazz Studio Session, Disc 1\03 - All This and Heaven Too - Bud Shank.wav

Peak level 98.8 %
Track quality 100.0 %
Test CRC 97FE7664
Copy CRC 97FE7664
Copy OK

Track 4
Filename M:\Musique\Shank Bud\The Pacific Jazz Studio Session\The Pacific Jazz Studio Session, Disc 1\04 - Jubilation - Bud Shank.wav

Peak level 93.3 %
Track quality 99.9 %
Test CRC B0B46F42
Copy CRC B0B46F42
Copy OK

Track 5
Filename M:\Musique\Shank Bud\The Pacific Jazz Studio Session\The Pacific Jazz Studio Session, Disc 1\05 - Do Nothing Till You Hear - Bud Shank.wav

Peak level 98.8 %
Track quality 100.0 %
Test CRC A5FF09AE
Copy CRC A5FF09AE
Copy OK

Track 6
Filename M:\Musique\Shank Bud\The Pacific Jazz Studio Session\The Pacific Jazz Studio Session, Disc 1\06 - Nocturne for the Future - Bud Shank.wav

Peak level 95.4 %
Track quality 99.9 %
Test CRC 23A92A74
Copy CRC 23A92A74
Copy OK

Track 7
Filename M:\Musique\Shank Bud\The Pacific Jazz Studio Session\The Pacific Jazz Studio Session, Disc 1\07 - Walkin' - Bud Shank.wav

Peak level 98.8 %
Track quality 100.0 %
Test CRC C37804C5
Copy CRC C37804C5
Copy OK

Track 8
Filename M:\Musique\Shank Bud\The Pacific Jazz Studio Session\The Pacific Jazz Studio Session, Disc 1\08 - Carioca - Bud Shank.wav

Peak level 98.8 %
Track quality 100.0 %
Test CRC D244926E
Copy CRC D244926E
Copy OK

Track 9
Filename M:\Musique\Shank Bud\The Pacific Jazz Studio Session\The Pacific Jazz Studio Session, Disc 1\09 - A Night in Tunisia - Bud Shank.wav

Peak level 92.6 %
Track quality 100.0 %
Test CRC CEBF2006
Copy CRC CEBF2006
Copy OK

Track 10
Filename M:\Musique\Shank Bud\The Pacific Jazz Studio Session\The Pacific Jazz Studio Session, Disc 1\10 - Tertia - Bud Shank.wav

Peak level 93.3 %
Track quality 100.0 %
Test CRC C3AD08FE
Copy CRC C3AD08FE
Copy OK

Track 11
Filename M:\Musique\Shank Bud\The Pacific Jazz Studio Session\The Pacific Jazz Studio Session, Disc 1\11 - All of You - Bud Shank.wav

Peak level 98.8 %
Track quality 100.0 %
Test CRC 88E73BD1
Copy CRC 88E73BD1
Copy OK

Track 12
Filename M:\Musique\Shank Bud\The Pacific Jazz Studio Session\The Pacific Jazz Studio Session, Disc 1\12 - Theme - Bud Shank.wav

Peak level 98.8 %
Track quality 99.9 %
Test CRC C8F544CA
Copy CRC C8F544CA
Copy OK

No errors occured


End of status report

EAC extraction logfile from 15. April 2008, 18:16 for CD
Bud Shank / The Pacific Jazz Studio Sessions, Disc 2

Used drive : PLEXTOR DVDR PX-810SA Adapter: 2 ID: 3
Read mode : Secure with NO C2, accurate stream, disable cache
Read offset correction : 48
Overread into Lead-In and Lead-Out : No

Used output format : C:\Program Files\FLAC\flac.exe (User Defined Encoder)
32 kBit/s
Additional command line options : -8 -A tukey(0.25) -A gauss(0.1875) -b 4096 -V -T "artist=%a" -T "title=%t" -T "album=%g" -T "date=%y" -T "tracknumber=%n" -T "genre=%m" %s –sector-align

Other options :
Fill up missing offset samples with silence : Yes
Delete leading and trailing silent blocks : No
Native Win32 interface for Win NT & 2000


Track 1
Filename M:\Musique\Shank Bud\The Pacific Jazz Studio Session\The Pacific Jazz Studio Session, Disc 2\01 - Jive at Five - Bud Shank.wav

Peak level 98.8 %
Track quality 100.0 %
Test CRC 8325005E
Copy CRC 8325005E
Copy OK

Track 2
Filename M:\Musique\Shank Bud\The Pacific Jazz Studio Session\The Pacific Jazz Studio Session, Disc 2\02 - Softly as in a Morning - Bud Shank.wav

Peak level 93.3 %
Track quality 100.0 %
Test CRC 1C56E199
Copy CRC 1C56E199
Copy OK

Track 3
Filename M:\Musique\Shank Bud\The Pacific Jazz Studio Session\The Pacific Jazz Studio Session, Disc 2\03 - Polka Dots and Moonbeams - Bud Shank.wav

Peak level 88.2 %
Track quality 100.0 %
Test CRC D17212C9
Copy CRC D17212C9
Copy OK

Track 4
Filename M:\Musique\Shank Bud\The Pacific Jazz Studio Session\The Pacific Jazz Studio Session, Disc 2\04 - The Lamp is Low - Bud Shank.wav

Peak level 78.5 %
Track quality 100.0 %
Test CRC 298EA21F
Copy CRC 298EA21F
Copy OK

Track 5
Filename M:\Musique\Shank Bud\The Pacific Jazz Studio Session\The Pacific Jazz Studio Session, Disc 2\05 - Tangerine - Bud Shank.wav

Peak level 86.3 %
Track quality 100.0 %
Test CRC 7650C78C
Copy CRC 7650C78C
Copy OK

Track 6
Filename M:\Musique\Shank Bud\The Pacific Jazz Studio Session\The Pacific Jazz Studio Session, Disc 2\06 - A Tribute to the African - Bud Shank.wav

Peak level 98.8 %
Track quality 100.0 %
Test CRC E824BCE9
Copy CRC E824BCE9
Copy OK

Track 7
Filename M:\Musique\Shank Bud\The Pacific Jazz Studio Session\The Pacific Jazz Studio Session, Disc 2\07 - I'll Remeber April - Bud Shank.wav

Peak level 93.3 %
Track quality 100.0 %
Test CRC 9B9D6D16
Copy CRC 9B9D6D16
Copy OK

Track 8
Filename M:\Musique\Shank Bud\The Pacific Jazz Studio Session\The Pacific Jazz Studio Session, Disc 2\08 - Charity Rag - Bud Shank.wav

Peak level 83.1 %
Track quality 100.0 %
Test CRC 9BAF2C4F
Copy CRC 9BAF2C4F
Copy OK

Track 9
Filename M:\Musique\Shank Bud\The Pacific Jazz Studio Session\The Pacific Jazz Studio Session, Disc 2\09 - Just Squeeze Me - Bud Shank.wav

Peak level 92.2 %
Track quality 100.0 %
Test CRC 9BED4ACB
Copy CRC 9BED4ACB
Copy OK

Track 10
Filename M:\Musique\Shank Bud\The Pacific Jazz Studio Session\The Pacific Jazz Studio Session, Disc 2\10 - My Funny Valentine - Bud Shank.wav

Peak level 98.8 %
Track quality 100.0 %
Test CRC 110C9228
Copy CRC 110C9228
Copy OK

Track 11
Filename M:\Musique\Shank Bud\The Pacific Jazz Studio Session\The Pacific Jazz Studio Session, Disc 2\11 - Misty Eyes - Bud Shank.wav

Peak level 98.8 %
Track quality 99.9 %
Test CRC F40A27AB
Copy CRC F40A27AB
Copy OK

Track 12
Filename M:\Musique\Shank Bud\The Pacific Jazz Studio Session\The Pacific Jazz Studio Session, Disc 2\12 - Waltzin' the Blues Away - Bud Shank.wav

Peak level 83.1 %
Track quality 100.0 %
Test CRC D25BB11B
Copy CRC D25BB11B
Copy OK

No errors occured


End of status report

EAC extraction logfile from 15. April 2008, 18:35 for CD
Bud Shank / The Pacific Jazz Studio Session, Disc 3

Used drive : PLEXTOR DVDR PX-810SA Adapter: 2 ID: 3
Read mode : Secure with NO C2, accurate stream, disable cache
Read offset correction : 48
Overread into Lead-In and Lead-Out : No

Used output format : C:\Program Files\FLAC\flac.exe (User Defined Encoder)
32 kBit/s
Additional command line options : -8 -A tukey(0.25) -A gauss(0.1875) -b 4096 -V -T "artist=%a" -T "title=%t" -T "album=%g" -T "date=%y" -T "tracknumber=%n" -T "genre=%m" %s –sector-align

Other options :
Fill up missing offset samples with silence : Yes
Delete leading and trailing silent blocks : No
Native Win32 interface for Win NT & 2000


Track 1
Filename M:\Musique\Shank Bud\The Pacific Jazz Studio Session\The Pacific Jazz Studio Session, Disc 3\01 - Thou Swell - Bud Shank.wav

Peak level 98.8 %
Track quality 100.0 %
Test CRC 5ABD70AF
Copy CRC 5ABD70AF
Copy OK

Track 2
Filename M:\Musique\Shank Bud\The Pacific Jazz Studio Session\The Pacific Jazz Studio Session, Disc 3\02 - Tenderly - Bud Shank.wav

Peak level 96.5 %
Track quality 100.0 %
Test CRC DB5FB501
Copy CRC DB5FB501
Copy OK

Track 3
Filename M:\Musique\Shank Bud\The Pacific Jazz Studio Session\The Pacific Jazz Studio Session, Disc 3\03 - Over the Rainbow - Bud Shank.wav

Peak level 74.9 %
Track quality 100.0 %
Test CRC 4D5E537C
Copy CRC 4D5E537C
Copy OK

Track 4
Filename M:\Musique\Shank Bud\The Pacific Jazz Studio Session\The Pacific Jazz Studio Session, Disc 3\04 - Long Ago and Far Away - Bud Shank.wav

Peak level 98.8 %
Track quality 100.0 %
Test CRC E373E2F1
Copy CRC E373E2F1
Copy OK

Track 5
Filename M:\Musique\Shank Bud\The Pacific Jazz Studio Session\The Pacific Jazz Studio Session, Disc 3\05 - I Never Knew - Bud Shank.wav

Peak level 98.8 %
Track quality 100.0 %
Test CRC 81A07DA1
Copy CRC 81A07DA1
Copy OK

Track 6
Filename M:\Musique\Shank Bud\The Pacific Jazz Studio Session\The Pacific Jazz Studio Session, Disc 3\06 - All the Things You Are - Bud Shank.wav

Peak level 93.4 %
Track quality 99.9 %
Test CRC BED29C24
Copy CRC BED29C24
Copy OK

Track 7
Filename M:\Musique\Shank Bud\The Pacific Jazz Studio Session\The Pacific Jazz Studio Session, Disc 3\07 - Body and Soul - Bud Shank.wav

Peak level 84.0 %
Track quality 100.0 %
Test CRC D14B7103
Copy CRC D14B7103
Copy OK

Track 8
Filename M:\Musique\Shank Bud\The Pacific Jazz Studio Session\The Pacific Jazz Studio Session, Disc 3\08 - Blue Lou - Bud Shank.wav

Peak level 98.8 %
Track quality 100.0 %
Test CRC 83A56EF3
Copy CRC 83A56EF3
Copy OK

Track 9
Filename M:\Musique\Shank Bud\The Pacific Jazz Studio Session\The Pacific Jazz Studio Session, Disc 3\09 - Have Blues, Will Travel - Bud Shank.wav

Peak level 94.8 %
Track quality 100.0 %
Test CRC 511BF0FA
Copy CRC 511BF0FA
Copy OK

No errors occured


End of status report

EAC extraction logfile from 15. April 2008, 19:03 for CD
Bud Shank / The Pacific Jazz Studio Sessions (disc 4)

Used drive : PLEXTOR DVDR PX-810SA Adapter: 2 ID: 3
Read mode : Secure with NO C2, accurate stream, disable cache
Read offset correction : 48
Overread into Lead-In and Lead-Out : No

Used output format : C:\Program Files\FLAC\flac.exe (User Defined Encoder)
32 kBit/s
Additional command line options : -8 -A tukey(0.25) -A gauss(0.1875) -b 4096 -V -T "artist=%a" -T "title=%t" -T "album=%g" -T "date=%y" -T "tracknumber=%n" -T "genre=%m" %s –sector-align

Other options :
Fill up missing offset samples with silence : Yes
Delete leading and trailing silent blocks : No
Native Win32 interface for Win NT & 2000


Track 1
Filename M:\Musique\Shank Bud\The Pacific Jazz Studio Session\The Pacific Jazz Studio Session, Disc 4\01 - Misty Eyes - Bud Shank.wav

Peak level 87.4 %
Track quality 100.0 %
Test CRC 75247F52
Copy CRC 75247F52
Copy OK

Track 2
Filename M:\Musique\Shank Bud\The Pacific Jazz Studio Session\The Pacific Jazz Studio Session, Disc 4\02 - Mook's Theme - Bud Shank.wav

Peak level 98.8 %
Track quality 100.0 %
Test CRC FCED43CD
Copy CRC FCED43CD
Copy OK

Track 3
Filename M:\Musique\Shank Bud\The Pacific Jazz Studio Session\The Pacific Jazz Studio Session, Disc 4\03 - Surf Pipers - Bud Shank.wav

Peak level 85.3 %
Track quality 100.0 %
Test CRC 2E23DC79
Copy CRC 2E23DC79
Copy OK

Track 4
Filename M:\Musique\Shank Bud\The Pacific Jazz Studio Session\The Pacific Jazz Studio Session, Disc 4\04 - The Surf and I - Bud Shank.wav

Peak level 89.8 %
Track quality 100.0 %
Test CRC 1073FC8D
Copy CRC 1073FC8D
Copy OK

Track 5
Filename M:\Musique\Shank Bud\The Pacific Jazz Studio Session\The Pacific Jazz Studio Session, Disc 4\05 - Up in Velseyland - Bud Shank.wav

Peak level 98.8 %
Track quality 100.0 %
Test CRC 0992D322
Copy CRC 0992D322
Copy OK

Track 6
Filename M:\Musique\Shank Bud\The Pacific Jazz Studio Session\The Pacific Jazz Studio Session, Disc 4\06 - Surf for Two - Bud Shank.wav

Peak level 98.8 %
Track quality 100.0 %
Test CRC AE36C818
Copy CRC AE36C818
Copy OK

Track 7
Filename M:\Musique\Shank Bud\The Pacific Jazz Studio Session\The Pacific Jazz Studio Session, Disc 4\07 - Slippery When Wet - Bud Shank.wav

Peak level 74.3 %
Track quality 100.0 %
Test CRC 82818B00
Copy CRC 82818B00
Copy OK

Track 8
Filename M:\Musique\Shank Bud\The Pacific Jazz Studio Session\The Pacific Jazz Studio Session, Disc 4\08 - Going My Wave - Bud Shank.wav

Peak level 76.3 %
Track quality 99.9 %
Test CRC BBDE9524
Copy CRC BBDE9524
Copy OK

Track 9
Filename M:\Musique\Shank Bud\The Pacific Jazz Studio Session\The Pacific Jazz Studio Session, Disc 4\09 - Old King Nep's Tune - Bud Shank.wav

Peak level 94.7 %
Track quality 100.0 %
Test CRC 1DA522A7
Copy CRC 1DA522A7
Copy OK

Track 10
Filename M:\Musique\Shank Bud\The Pacific Jazz Studio Session\The Pacific Jazz Studio Session, Disc 4\10 - Walkin' on the Water - Bud Shank.wav

Peak level 98.8 %
Track quality 100.0 %
Test CRC A5C60144
Copy CRC A5C60144
Copy OK

Track 11
Filename M:\Musique\Shank Bud\The Pacific Jazz Studio Session\The Pacific Jazz Studio Session, Disc 4\11 - Soupsville - Bud Shank.wav

Peak level 88.7 %
Track quality 100.0 %
Test CRC BC00F7DE
Copy CRC BC00F7DE
Copy OK

Track 12
Filename M:\Musique\Shank Bud\The Pacific Jazz Studio Session\The Pacific Jazz Studio Session, Disc 4\12 - Blues in the Distance - Bud Shank.wav

Peak level 96.8 %
Track quality 100.0 %
Test CRC 0FC30C22
Copy CRC 0FC30C22
Copy OK

Track 13
Filename M:\Musique\Shank Bud\The Pacific Jazz Studio Session\The Pacific Jazz Studio Session, Disc 4\13 - Blues in the Surf - Bud Shank.wav

Peak level 98.8 %
Track quality 100.0 %
Test CRC 23987E9B
Copy CRC 23987E9B
Copy OK

No errors occured


End of status report

EAC extraction logfile from 15. April 2008, 23:36 for CD
Bud Shank / The Pacific Jazz Studio Sessions (disc 5)

Used drive : PLEXTOR DVDR PX-810SA Adapter: 2 ID: 3
Read mode : Secure with NO C2, accurate stream, disable cache
Read offset correction : 48
Overread into Lead-In and Lead-Out : No

Used output format : C:\Program Files\FLAC\flac.exe (User Defined Encoder)
32 kBit/s
Additional command line options : -8 -A tukey(0.25) -A gauss(0.1875) -b 4096 -V -T "artist=%a" -T "title=%t" -T "album=%g" -T "date=%y" -T "tracknumber=%n" -T "genre=%m" %s –sector-align

Other options :
Fill up missing offset samples with silence : Yes
Delete leading and trailing silent blocks : No
Native Win32 interface for Win NT & 2000


Track 1
Filename M:\Musique\Shank Bud\The Pacific Jazz Studio Session\The Pacific Jazz Studio Session, Disc 5\01 - New Groove - Bud Shank.wav

Peak level 98.8 %
Track quality 100.0 %
Test CRC DDC68330
Copy CRC DDC68330
Copy OK

Track 2
Filename M:\Musique\Shank Bud\The Pacific Jazz Studio Session\The Pacific Jazz Studio Session, Disc 5\02 - The Awakening - Bud Shank.wav

Peak level 98.8 %
Track quality 100.0 %
Test CRC 2CC56608
Copy CRC 2CC56608
Copy OK

Track 3
Filename M:\Musique\Shank Bud\The Pacific Jazz Studio Session\The Pacific Jazz Studio Session, Disc 5\03 - White Lightnin' - Bud Shank.wav

Peak level 98.7 %
Track quality 100.0 %
Test CRC E04A0087
Copy CRC E04A0087
Copy OK

Track 4
Filename M:\Musique\Shank Bud\The Pacific Jazz Studio Session\The Pacific Jazz Studio Session, Disc 5\04 - Sulty Serenade - Bud Shank.wav

Peak level 96.9 %
Track quality 100.0 %
Test CRC 8CA9A3ED
Copy CRC 8CA9A3ED
Copy OK

Track 5
Filename M:\Musique\Shank Bud\The Pacific Jazz Studio Session\The Pacific Jazz Studio Session, Disc 5\05 - Well, You Needn't - Bud Shank.wav

Peak level 93.3 %
Track quality 100.0 %
Test CRC A45C6738
Copy CRC A45C6738
Copy OK

Track 6
Filename M:\Musique\Shank Bud\The Pacific Jazz Studio Session\The Pacific Jazz Studio Session, Disc 5\06 - Liddledabllduya - Bud Shank.wav

Peak level 98.8 %
Track quality 99.9 %
Test CRC FF3A1A43
Copy CRC FF3A1A43
Copy OK

Track 7
Filename M:\Musique\Shank Bud\The Pacific Jazz Studio Session\The Pacific Jazz Studio Session, Disc 5\07 - Barefoot Adventure - Bud Shank.wav

Peak level 98.8 %
Track quality 100.0 %
Test CRC 15B2B362
Copy CRC 15B2B362
Copy OK

Track 8
Filename M:\Musique\Shank Bud\The Pacific Jazz Studio Session\The Pacific Jazz Studio Session, Disc 5\08 - Shoeless Beach Meeting - Bud Shank.wav

Peak level 98.8 %
Track quality 100.0 %
Test CRC 0CAE7E8B
Copy CRC 0CAE7E8B
Copy OK

Track 9
Filename M:\Musique\Shank Bud\The Pacific Jazz Studio Session\The Pacific Jazz Studio Session, Disc 5\09 - Jungle Cruise - Bud Shank.wav

Peak level 98.8 %
Track quality 100.0 %
Test CRC 4519C8C2
Copy CRC 4519C8C2
Copy OK

Track 10
Filename M:\Musique\Shank Bud\The Pacific Jazz Studio Session\The Pacific Jazz Studio Session, Disc 5\10 - How High the Makaha - Bud Shank.wav

Peak level 88.1 %
Track quality 100.0 %
Test CRC CDA95585
Copy CRC CDA95585
Copy OK

Track 11
Filename M:\Musique\Shank Bud\The Pacific Jazz Studio Session\The Pacific Jazz Studio Session, Disc 5\11 - Well, 'Pon My Soul - Bud Shank.wav

Peak level 98.8 %
Track quality 100.0 %
Test CRC 5548FBC5
Copy CRC 5548FBC5
Copy OK

Track 12
Filename M:\Musique\Shank Bud\The Pacific Jazz Studio Session\The Pacific Jazz Studio Session, Disc 5\12 - Ala Moana - Bud Shank.wav

Peak level 98.8 %
Track quality 99.9 %
Test CRC B5205F44
Copy CRC B5205F44
Copy OK

Track 13
Filename M:\Musique\Shank Bud\The Pacific Jazz Studio Session\The Pacific Jazz Studio Session, Disc 5\13 - Bruce Is Loose - Bud Shank.wav

Peak level 98.8 %
Track quality 99.9 %
Test CRC 5D97D4D4
Copy CRC 5D97D4D4
Copy OK

Track 14
Filename M:\Musique\Shank Bud\The Pacific Jazz Studio Session\The Pacific Jazz Studio Session, Disc 5\14 - Dance of the Sea Monsters - Bud Shank.wav

Peak level 85.1 %
Track quality 99.9 %
Test CRC 4E012005
Copy CRC 4E012005
Copy OK

No errors occured


End of status report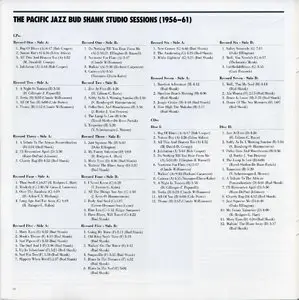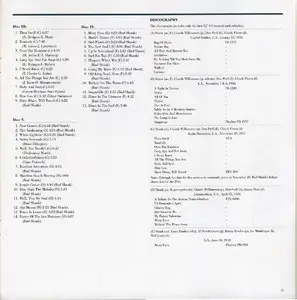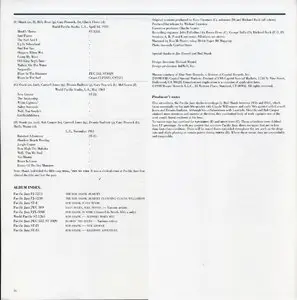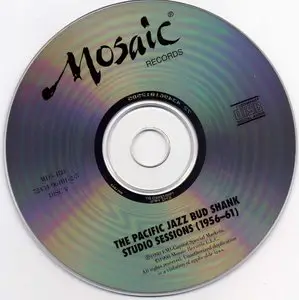 ===