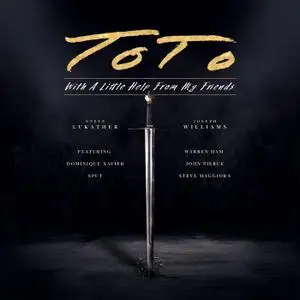 Toto - With a Little Help From My Friends (Live) (2021)
WEB FLAC (tracks) - 487 Mb | MP3 CBR 320 kbps - 172 Mb | 01:15:00
Melodic Hard Rock, AOR, Soft Rock | Label: Mascot Records
The performance captures one special night on November 21, 2020 when Steve Lukather, Joseph Williams and David Paich appeared with the new line-up of TOTO for a global event originating from Los Angeles, CA. Joining Lukather, Williams and Paich for this next chapter in their indelible history are new band members bassist John Pierce (Huey Lewis and The News), drummer Robert "Sput" Searight (Ghost-Note / Snarky Puppy), and keyboardist / background vocalist Steve Maggiora (Robert Jon & The Wreck). Keyboardist Dominique "Xavier" Taplin (Prince, Ghost-Note) and multi-instrumentalist / vocalist Warren Ham (Ringo Starr) segued over continuing their tenure in the ensemble. This marks the fifteenth incarnation of the TOTO line-up in consideration of band members or sidemen who joined or exited. The setlist is a broader mix from the TOTO catalog that includes deep cuts and the hits, all played to perfection by the new incarnation of the band. As Luke says: "The TOTO model holds strong and true. A band of the very best musicians and singers writing and performing all manner of cool songs. That's how it began, and that's how it continues."
Tracklist:
1.
Toto – Till The End (Live)
(05:06)
2.
Toto – Hold The Line (Live)
(04:15)
3.
Toto – Pamela (Live)
(06:11)
4.
Toto – Kingdom Of Desire (Live)
(08:13)
5.
Toto – White Sister (Live)
(09:28)
6.
Toto – You Are The Flower (Live)
(05:15)
7.
Totò – I Won't Hold You Back (Live)
(05:36)
8.
Totò – Stop Loving You (Live)
(06:01)
9.
Toto – Band Introductions (Live)
(03:27)
10.
Toto – Home Of The Brave (Live)
(08:06)
11.
Toto – Rosanna (Live)
(07:06)
12.
Toto – With A Little Help From My Friends (Live)
(06:11)
–––––––––––-

DON'T MODIFY THIS FILE

–––––––––––-

PERFORMER: auCDtect Task Manager, ver. 1.6.0 RC1 build 1.6.0.1
Copyright © 2008-2010 y-soft. All rights reserved

ANALYZER: auCDtect: CD records authenticity detector, version 0.8.2
Copyright © 2004 Oleg Berngardt. All rights reserved.
Copyright © 2004 Alexander Djourik. All rights reserved.


FILE: 03 Pamela (Live).flac
Size: 42345980 Hash: 1FC26FEF591CDAF1D7DB03583E5E0BAE Accuracy: -m8
Conclusion: CDDA 100%
Signature: DFF049D2F636DAF95C5F1DAF4C5A0AFC024B6641
FILE: 02 Hold The Line (Live).flac
Size: 32645141 Hash: 64D187769B2244EE9C31D43EB4C4D681 Accuracy: -m8
Conclusion: CDDA 100%
Signature: BD187CA2866E84D3E12E102F1AE6D7DF0B2F3BB7
FILE: 01 Till The End (Live).flac
Size: 35246679 Hash: 1FCD59D8BF2B79476753F2192E1DE8E0 Accuracy: -m8
Conclusion: CDDA 100%
Signature: DF850754D85757BFC203AE902432125D4C7B3704
FILE: 12 With A Little Help From My Friends (Live).flac
Size: 41494137 Hash: 78B66801D15F7B319303FF1F949532BD Accuracy: -m8
Conclusion: CDDA 100%
Signature: EF6B1937954947B4D53C65FC276B58BCBB25AA02
FILE: 11 Rosanna (Live).flac
Size: 50125702 Hash: 4BCBA69734EE1923AB8326349DD0F113 Accuracy: -m8
Conclusion: CDDA 100%
Signature: 6D8425DBD685EBF372A2F2F70EF6004D1A05B901
FILE: 10 Home Of The Brave (Live).flac
Size: 58843575 Hash: 89B6D5D35D62D77F2C951B440F7FB595 Accuracy: -m8
Conclusion: CDDA 99%
Signature: CD07B1E237CE6D22F55DA2455B44288737D0B615
FILE: 09 Band Introductions (Live).flac
Size: 14287376 Hash: D611C122838A990A225EB3A2793CB58E Accuracy: -m8
Conclusion: CDDA 99%
Signature: BA298E9E897E28C2C57B23A8C9DE525B712AA1B3
FILE: 08 Stop Loving You (Live).flac
Size: 41174697 Hash: 72DE0F2D4A9EDF7DA5929068D581572F Accuracy: -m8
Conclusion: CDDA 100%
Signature: B71B2CE0E73DED40079B197604B8D1942985A93F
FILE: 07 I Won't Hold You Back (Live).flac
Size: 36861320 Hash: 15FA6B06323905E4DCAAE4E9B6A9B4E0 Accuracy: -m8
Conclusion: CDDA 99%
Signature: CBE26C7B4EF82A37CA57D6DCB92B2E9592DDAF02
FILE: 06 You Are The Flower (Live).flac
Size: 36567387 Hash: 2C57B38F008C01EA61B935CC85B3A077 Accuracy: -m8
Conclusion: CDDA 100%
Signature: 8769DA7B3339C38C5131346FE5CB090BC535BB8B
FILE: 05 White Sister (Live).flac
Size: 64364855 Hash: AC6C0E1D9F6771BCBBE5F268B9ECAC56 Accuracy: -m8
Conclusion: CDDA 100%
Signature: 6F8F29EA97E4757979E163B983E64D89A3128AE0
FILE: 04 Kingdom Of Desire (Live).flac
Size: 56279718 Hash: F4398F9DB3072F4E2AE6713F121057AF Accuracy: -m8
Conclusion: CDDA 100%
Signature: 855AEDB263CCC4F707EE9F69CBF02ECDCD7DF234