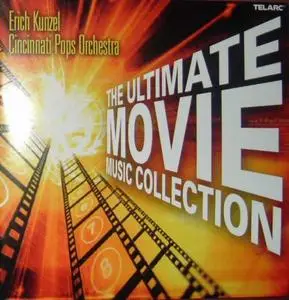 Erich Kunzel & Cincinnati Pops Orchestra - The Ultimate Movie Music Collection (CD 2)
APE+CUE | 100.00+100.00+86.79 MB
MP3 | 320 kbps | 80.00+55.01 MB
MP3 | 192 kbps | 82.38 MB
This collection of movie themes, will allow you to relive the chilling experiences from practically all (4 CDs) of the great movies. Great movies would not be great without great music. The Cincinnati Pop with Eric Kunzel are unbeatable recordings. Every minute is more beautiful and inspiring to the next. If you love Pops music, this is the begin all, end all.
- Raymond L. Niehoff, Amazon.com
Tracks:
1. Batman Theme: Batman
2. Bicycle Chase: E.T. The Extra Terrestrial
3. Suite: Independance Day
4. Love Theme: Romeo & Juliet
5. Theme: Back To The Future
6. End Credits: Contact
7. Theme: Breakfast At Tiffany's
8. Main Theme: Star Trek
9. May It Be And Themes: Lord Of The Rings: The Fellowship Ring
10. Love Theme: Cousins
11. Sean's Theme: Minority Report
12. I Will Wait From You: The Umbrellas Of Cherbourg
13. Theme: Rocky
14. The Sand Volcano: The Mummy
15. The Raider's March: Raiders Of The Lost Ark
CD1:
http://www.avaxhome.ws/music/ultimate_movie_music_collection_cd1.html