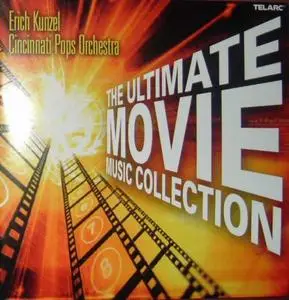 Erich Kunzel & Cincinnati Pops Orchestra - The Ultimate Movie Music Collection (CD 3)
APE+CUE | 100.00+100.00+78.00 MB
MP3 | 320 kbps | 80.00+57.17 MB
MP3 | 192 kbps | 83.61 MB
This collection of movie themes, will allow you to relive the chilling experiences from practically all (4 CDs) of the great movies. Great movies would not be great without great music. The Cincinnati Pop with Eric Kunzel are unbeatable recordings. Every minute is more beautiful and inspiring to the next. If you love Pops music, this is the begin all, end all.
- Raymond L. Niehoff, Amazon.com
Tracks:
1. Theme: Mission Impossible
2. Casablanca Suite
3. Book Of Days: Far And Away
4. Love Theme: Superman
5. Tara's Theme: Gone With The Wind
6. Don't Mess With: Z
7. Main Title: The Mask Of Zorro
8. Finale: Victor / Victoria
9. Carol Ann's Theme: Poltergeist
10. Love Theme: Star Wars: Episode ll: Attack Of The Clones
11. Main Theme: Willow
12. Main Title: Star Trek ll: The Wrath Of Kahn
13. MAin Theme: On Golden Pond
14. Theme: A Summer Place
15. Theme: Chariots Of Fire
CD1:
http://www.avaxhome.ws/music/ultimate_movie_music_collection_cd1.html
CD2:
http://www.avaxhome.ws/music/ultimate_movie_music_collection_cd2.html