VA - Platinum Disco House 3CD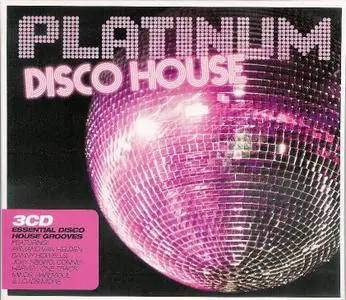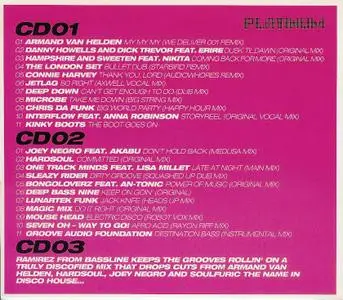 PLATINUM DISCO HOUSE is a 2005 set that brings together some of the best disco-influenced house tracks by the Shapeshifters, Bini & Martini, Deep Dish, Cevin Fisher, and others.
2005 collection of the best from the dancefloors of the world with tracks from Shapeshifters, Cevin Fisher, Bini & Martini, Armand Van Helden, Joey Negro, Deep Dish, Westway, Wawa (ft. Eddie Amador) and many more!!!
CD 1
Artist……………: Various Artists
Album…………….: Platinum Disco House
Genre…………….: House
Source……………: CD
Year……………..: 2005
Ripper……………: EAC
Codec…………….: LAME 3.90
Version…………..: MPEG 1 Layer III
Quality…………..: Standard, (avg. bitrate: 206kbps)
Channels………….: Joint Stereo / 44100 hz
Tags……………..: ID3 v1.1, ID3 v2.3
Tracklist
1. (00:06:38) Armand van Helden - My My My (We Deliver 001 Remix)
2. (00:08:57) Danny Howells and Dick Trevor feat. Erire - Dusk Til Dawn (Original Mix)
3. (00:07:03) Hampshire and Sweeten feat. Nikita - Coming Back For More (Original Mix)
4. (00:06:27) The London Set - Bullet Dub (Starbird Remix)
5. (00:07:27) Connie Harvey - Thank You, Lord (Audiowhores Remix)
6. (00:07:44) Jetlag - So Right (Axwell Vocal Mix)
7. (00:05:49) Deep Down - Can't Get Enough To Do (Dub Mix)
8. (00:06:07) Microbe - Take Me Down (Big String Mix)
9. (00:06:14) Chris Da Funk - Big World Party (Happy Hour Mix)
10. (00:06:33) Interflow feat. Anna Robinson - Storyreel (Original Vocal Mix)
11. (00:07:26) Kinky Boots - The Boot Goes On
Playing Time………: 01:16:26
Total Size………..: 113,16 MB
Download
http://rapidshare.de/files/35769057/platina.a.rar.html
http://rapidshare.de/files/35770118/platina.b.rar.html
CD 2
Artist……………: Various Artists
Album…………….: Platinum Disco House
Genre…………….: House
Source……………: CD
Year……………..: 2005
Ripper……………: EAC
Codec…………….: LAME 3.90
Version…………..: MPEG 1 Layer III
Quality…………..: Standard, (avg. bitrate: 194kbps)
Channels………….: Joint Stereo / 44100 hz
Tags……………..: ID3 v1.1, ID3 v2.3
Tracklist
1. (00:08:27) Joey Negro feat. Akabu - Don't Hold Back (Medusa Mix)
2. (00:07:59) Hardsoul - Committed (Original Mix)
3. (00:07:45) One Track Minds feat. Lisa Millet - Late At Night (Main Mix)
4. (00:07:34) Sleazy Rider - Dirty Groove (Squashed Up Dub Mix)
5. (00:08:10) Bongoloverz feat. An-Tonic - Power Of Music (Original Mix)
6. (00:06:41) Deep Bass Nine - Keep On Goin' (Original)
7. (00:07:28) Lunartek Funk - Jack Knife (Heads Up Mix)
8. (00:05:58) Magic Mix - Do It Right (Original Mix)
9. (00:06:27) Mouse Head - Electric Disco (Robot Vox Mix)
10. (00:06:28) Seven Oh - Way To Go! - Afro Acid (Rayon Riff Mix)
11. (00:06:41) Groove Audio Foundation - Destination Bass (Instrumental Mix)
Playing Time………: 01:19:39
Total Size………..: 111,13 MB
Download
http://rapidshare.de/files/35771452/zoloto.a.rar.html
http://rapidshare.de/files/35772566/zoloto.b.rar.html
CD 3
va_-_platinum_disco_house_cd3_mixed_by_ramire
CUE+MP3
Total Size: 65.87 MB
Download
http://rapidshare.de/files/35762885/brulik.rar.html