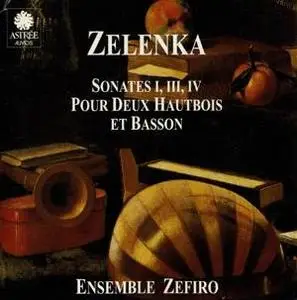 Jan Dismas ZELENKA (1679-1745) - Sonates I, III, IV Pour Deux Hautbois Et Basson
Ensemble Zefiro
Recorded at the Auditorium of Tibor Varga, Switzerland, 1995
APE (EAC) & CUE | 3% Recovery | Covers & booklet | 247 MB | DDD | Rapidshare | TT 52:13
"In chamber music Zelenka left only 6 trio sonatas, but this nearly uniquely small output was enough to make his name as one of the most unusual composers of the Bach era.
These are works with such an own nature that sometimes they touch the bizarre: they are very long (even longer than most of Bach's chamber music), very complex and worked out with a never weakening intensity (little chamber music of the baroque, again with the exception of Bach, put so many demands on the listener), yet overflowing with musical invention."
Reclams Kammermusikführer
Ensemble Zefiro
sur instruments d'époquePaulo GRAZZI, Alfredo BERNARDINI
,
hautbois baroque
Alberto GRAZZI,
basson baroque
Rinaldo ALESSANDRINI
,
clavicin, orgue
Manfred KRAMER
,
violon
Lorenz DUFTSCHMID
,
violone
Gian Carlo RADO
,
théorbe
Contents:
Sonate I
1. Adagio ma non troppo
2. Allegro
3. Larghetto
4. Allegro assai
Sonate III
5. Adagio
6. Allegro
7. Largo
8. Tempo giusto (Allegro)
Sonate IV
9. Andante
10. Allegro
11. Adagio
12. Allegro (ma non troppo)
DOWNLOAD
:
http://rapidshare.com/files/18885242/ZelZef.part1.rar
http://rapidshare.com/files/18888371/ZelZef.part2.rar
http://rapidshare.com/files/18890548/ZelZef.part3.rar
No password needed.
How to:
1. Decompress the media file with Monkey's Audio [
http://www.monkeysaudio.com/
]
2. Add Burrrn Cue file in Burrrn [
http://www.burrrn.net/?page_id=6
]
3. Burrrn
–-Enjoy!–-