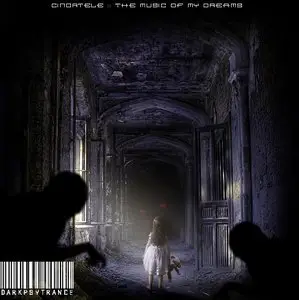 Cinortele - The Music Of My Dreams
Genre: Dark Psytrance | MP3 | CBR 256 Kbps | 167 Mb
27 Jule 2011 | Publisher: Vitor | Rapidshare
Dark Psychedelic Trance (Psychedelic Trance Obscure), also known as Dark Psy Trance or Psytrance Dark is one of Psychedelic Trance subvertente that has a dark character, dark and sinister, unlike Dark Trance melodies that have little bleak. It is characterized also by having effects short, quick hits ranging 140-200 bpm, without a sticky melody synthesizer, upright bass or in some cases 'groovy' bass drum (kick) and heavy samples (sound samples) macabre Movies like: screams, laughter, animal sounds, interjections. Moreover, it has synth effects characteristic of horror movies and every song has a very distinctive cadence, and may be dancing or not (in most cases very heavy or accelerated). Ideologically, demonstrates the extra information present in the form of music, subliminally causing a dark side and weighed twenty-first century, where society has a repetitive behavior, consumption, consumed by routine and alienation.
Label Dj Set:…………………The Music Of My Dreams
Genre:……………………….Dark Psytrance
URL:…………………………
http://www.myspace.com/cinortele
Bitrate:……………………..256 KBps
Mode:………………………..44.1kHz/Full Stereo
Release Date:…………………26/06/11
Play Time:……………………01:31:24
Release Size:…………………167 MB
Youtube DarkVideo……………..
http://www.youtube.com/user/cinortele2012?feature=mhum
TRACKLIST:
01. Creepy Children Song
02. Frequency Modulator - Coexist ( Urucubaca RMX )
03. Trioxide - Cyber dose
04. Soundwist Vs EDS - Kosmic Konspiracy
05. Psychosis - Stoned Immaculate
06. Project Deadalus - Fool On
07. Project Deadalus - Speaking But Not Talking
08. Internal Collapse - Weapons Of Mass Destruction
09. Claw - Little Bit Of A Freak
10. Internal Collapse Vs Poltergeist - Dutch Sushi
11. Phobix Vs Project Daedalus - Phaze Out
12. Motorbrain - Multiverse
13. Lusco Fusco - They Are Here
14. Digitalx - Immortality
15. Komfuzius - Lucid Dream