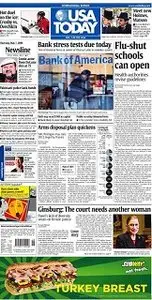 USA Today - 7 May 2009
English | 24 pages | PDF | 6.6 MB
USA TODAY is a national American daily newspaper published by the Gannett Company. It was founded by Allen 'Al' Neuharth. The paper has the widest circulation of any newspaper in the United States (averaging over 2.25 million copies every weekday), and among English-language broadsheets, it comes second worldwide, behind only the 2.6 million daily paid copies of The Times of India. USA Today is distributed in all fifty states, the District of Columbia, Puerto Rico and Guam.